Product summary
Product details
Compare models
Reviews
Athletes in this liner
GFT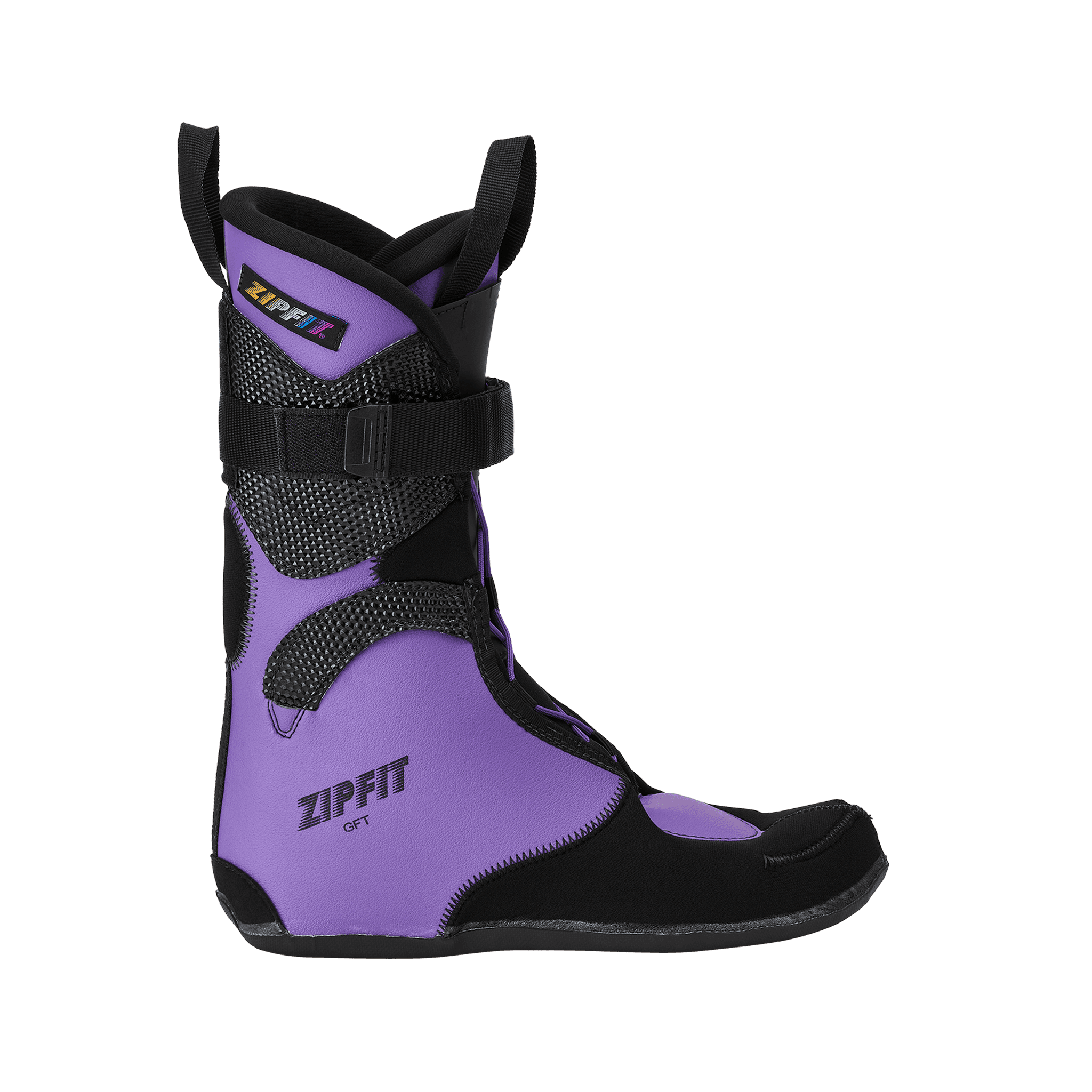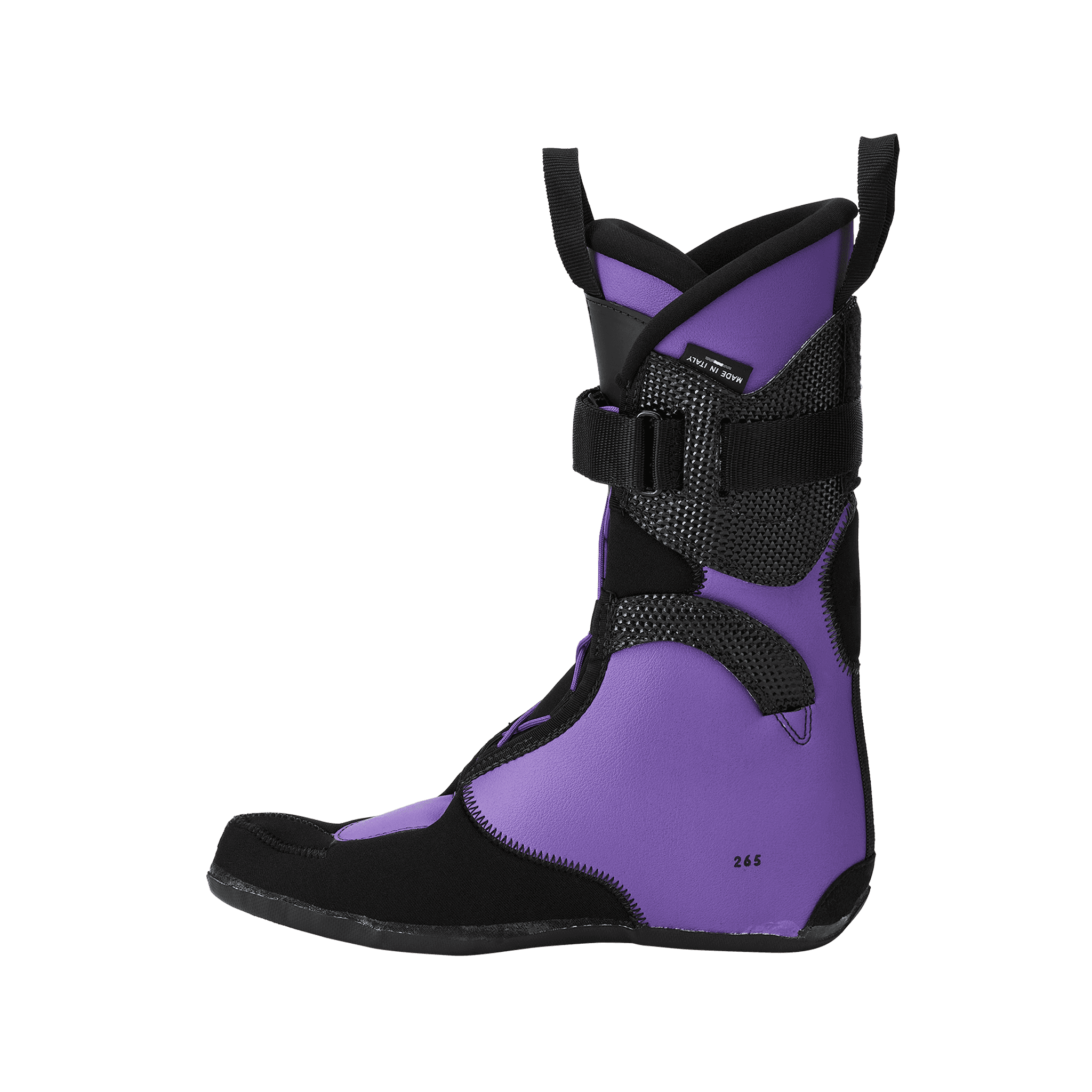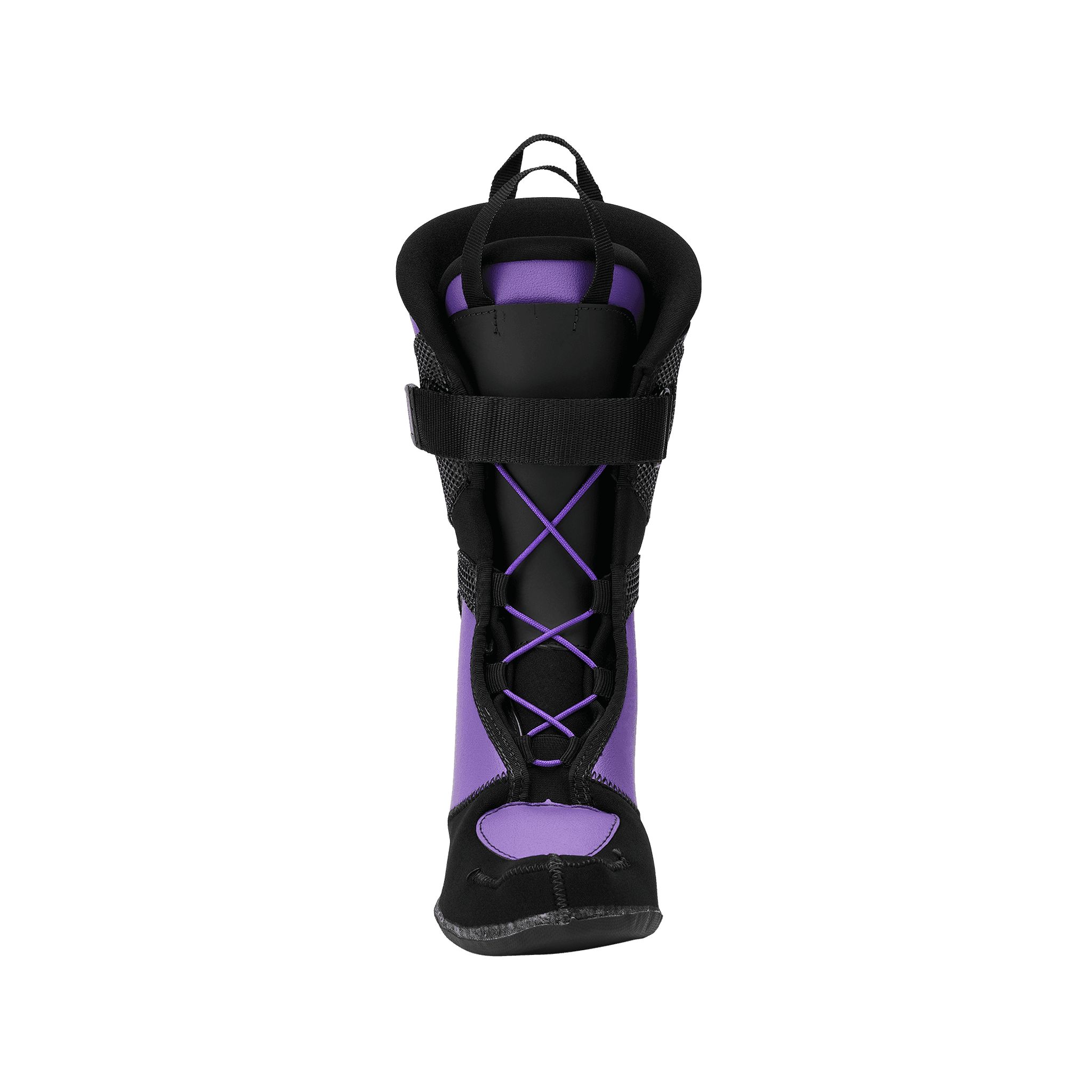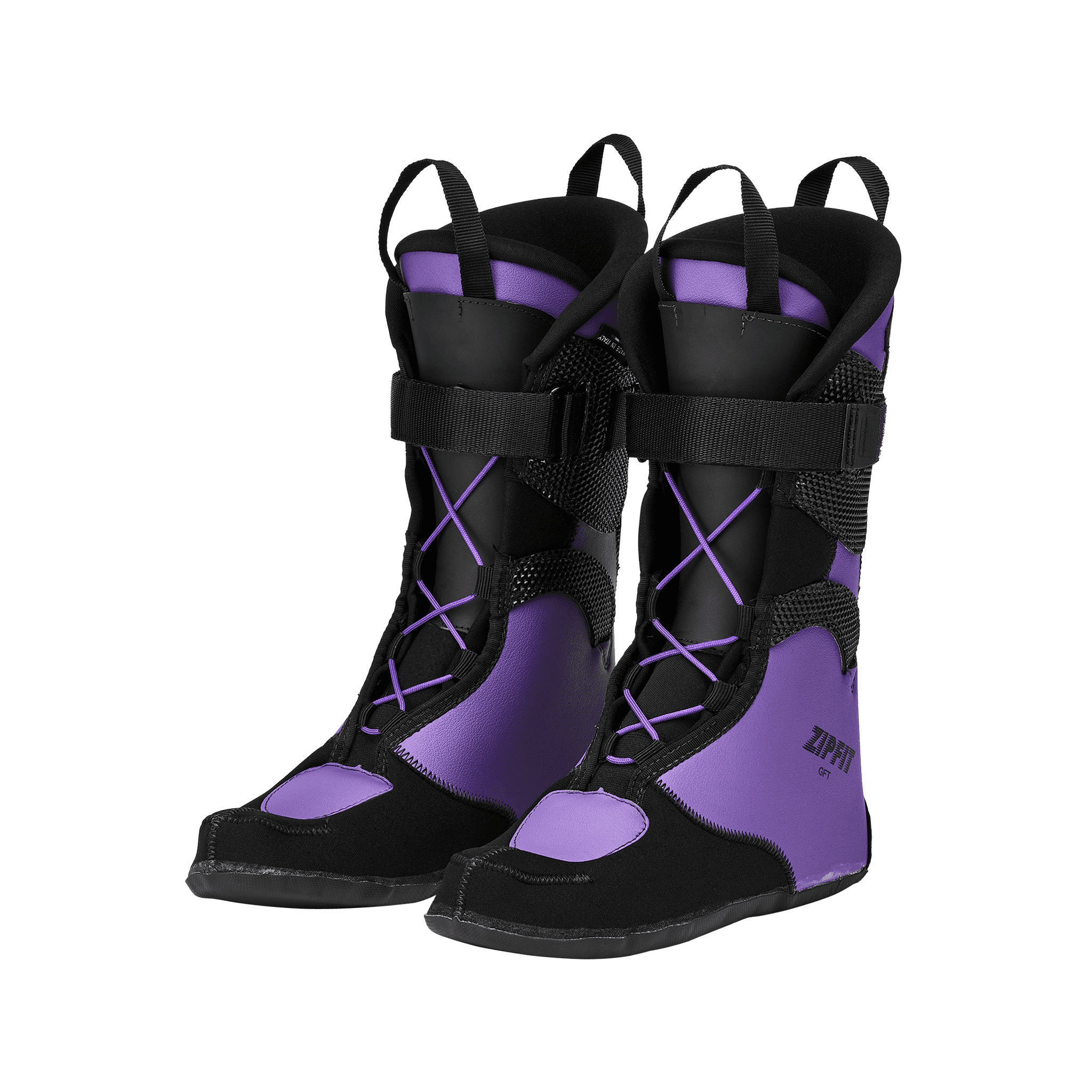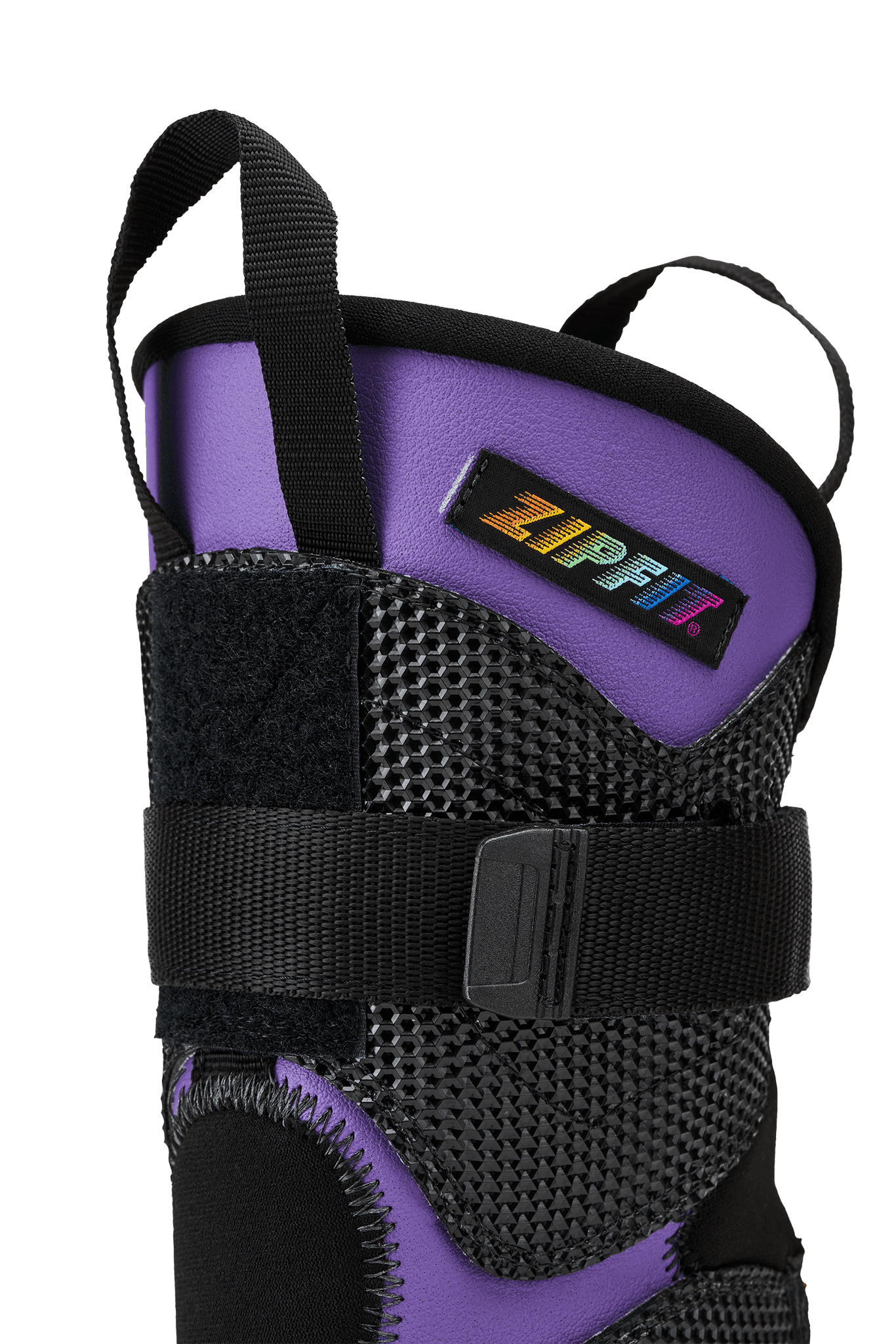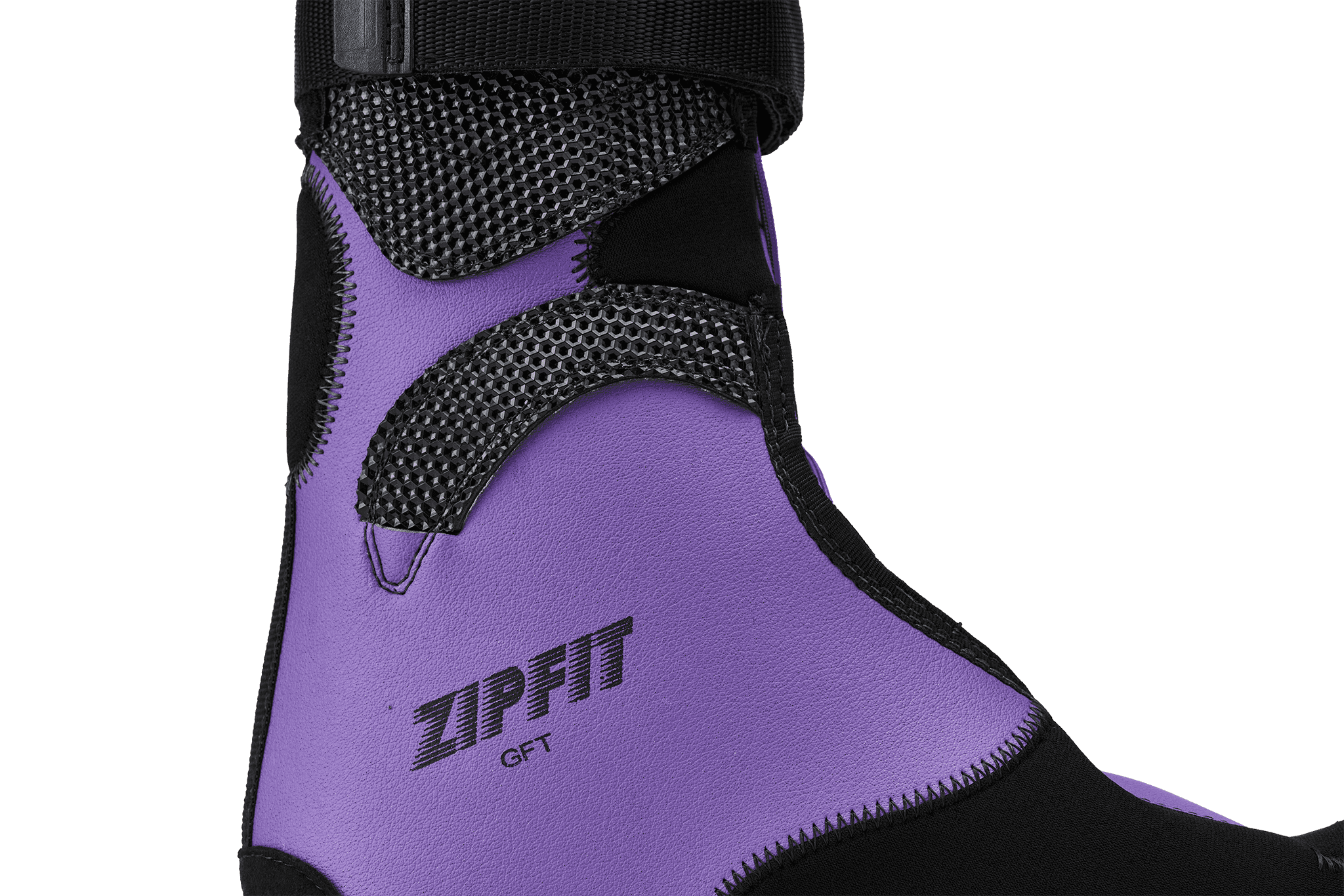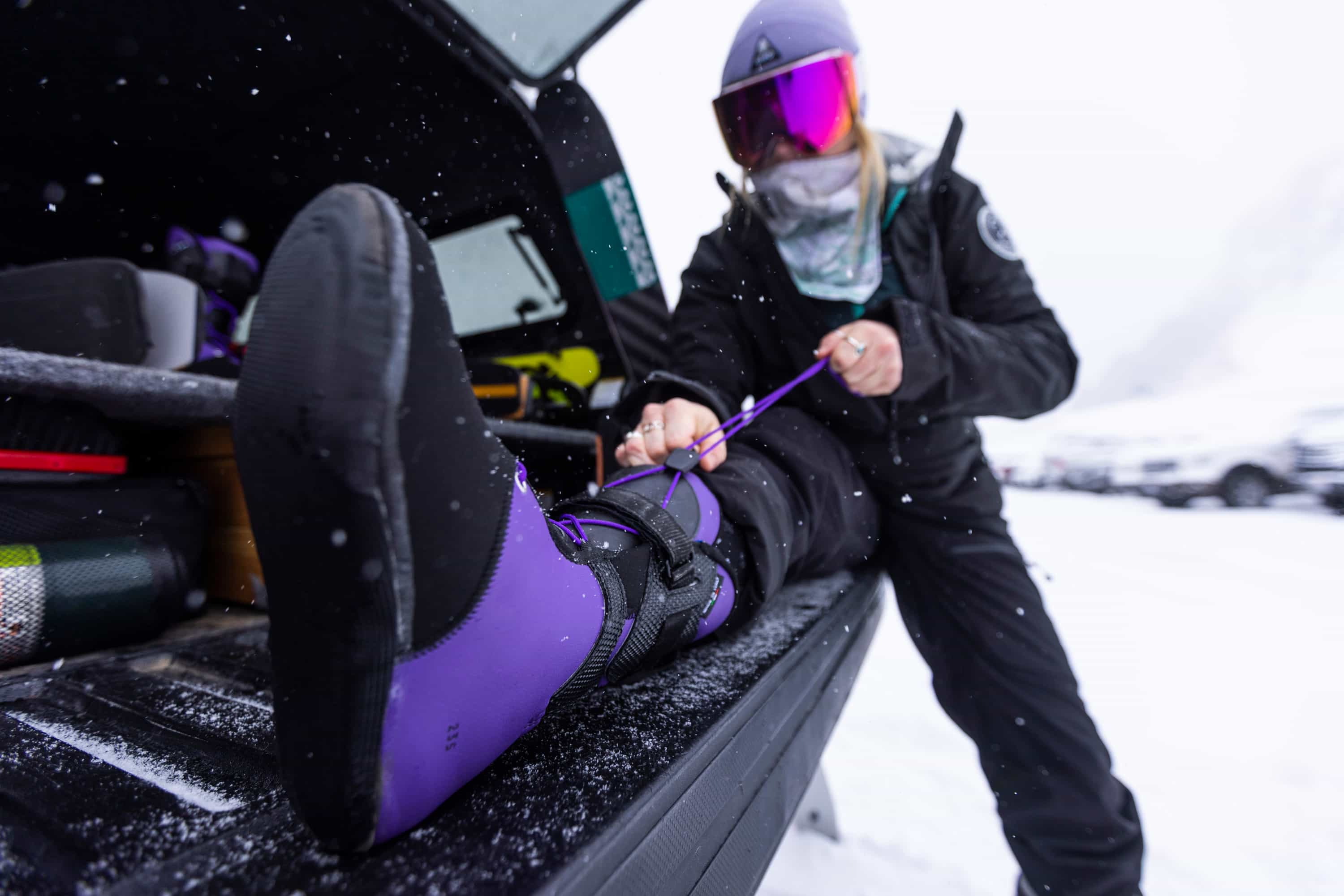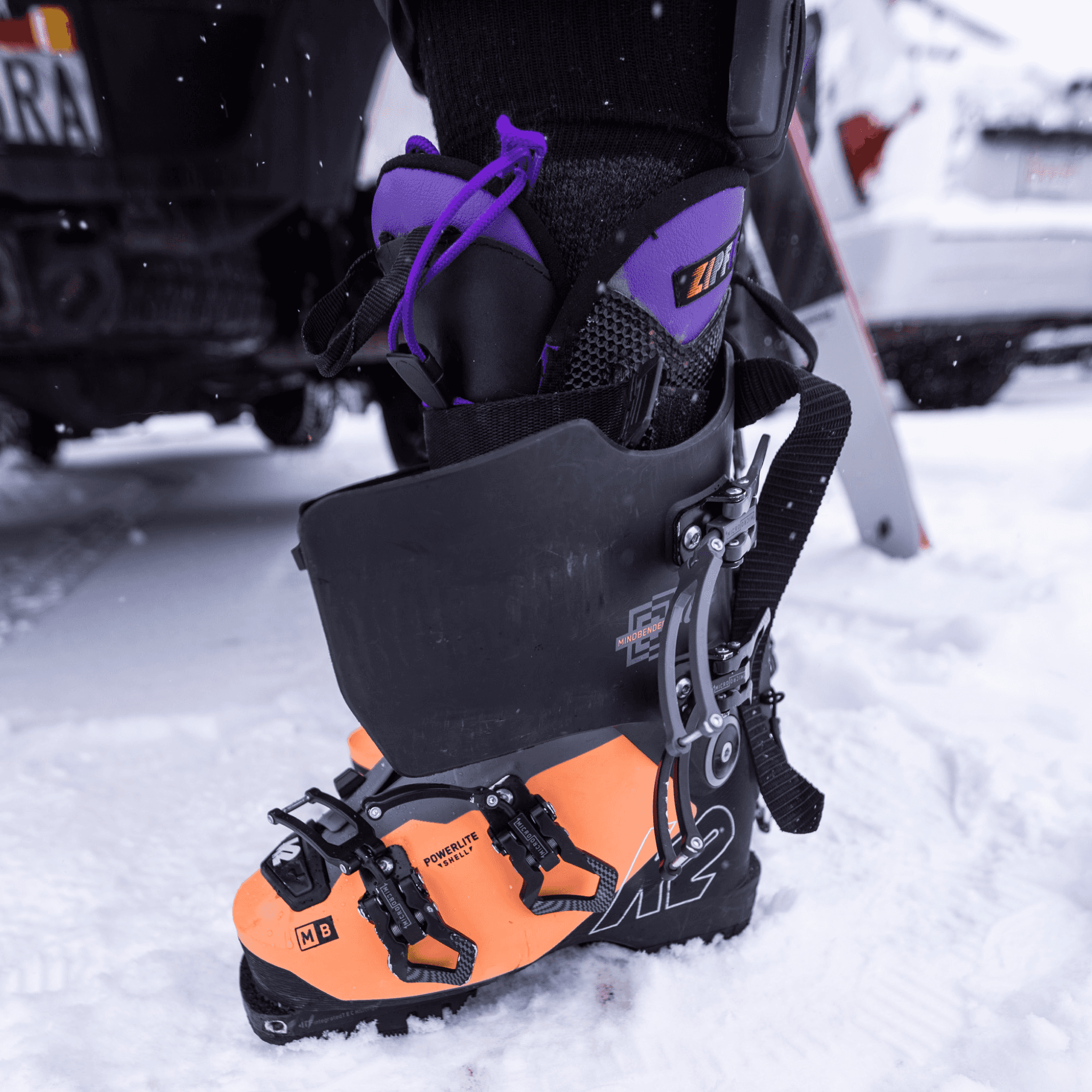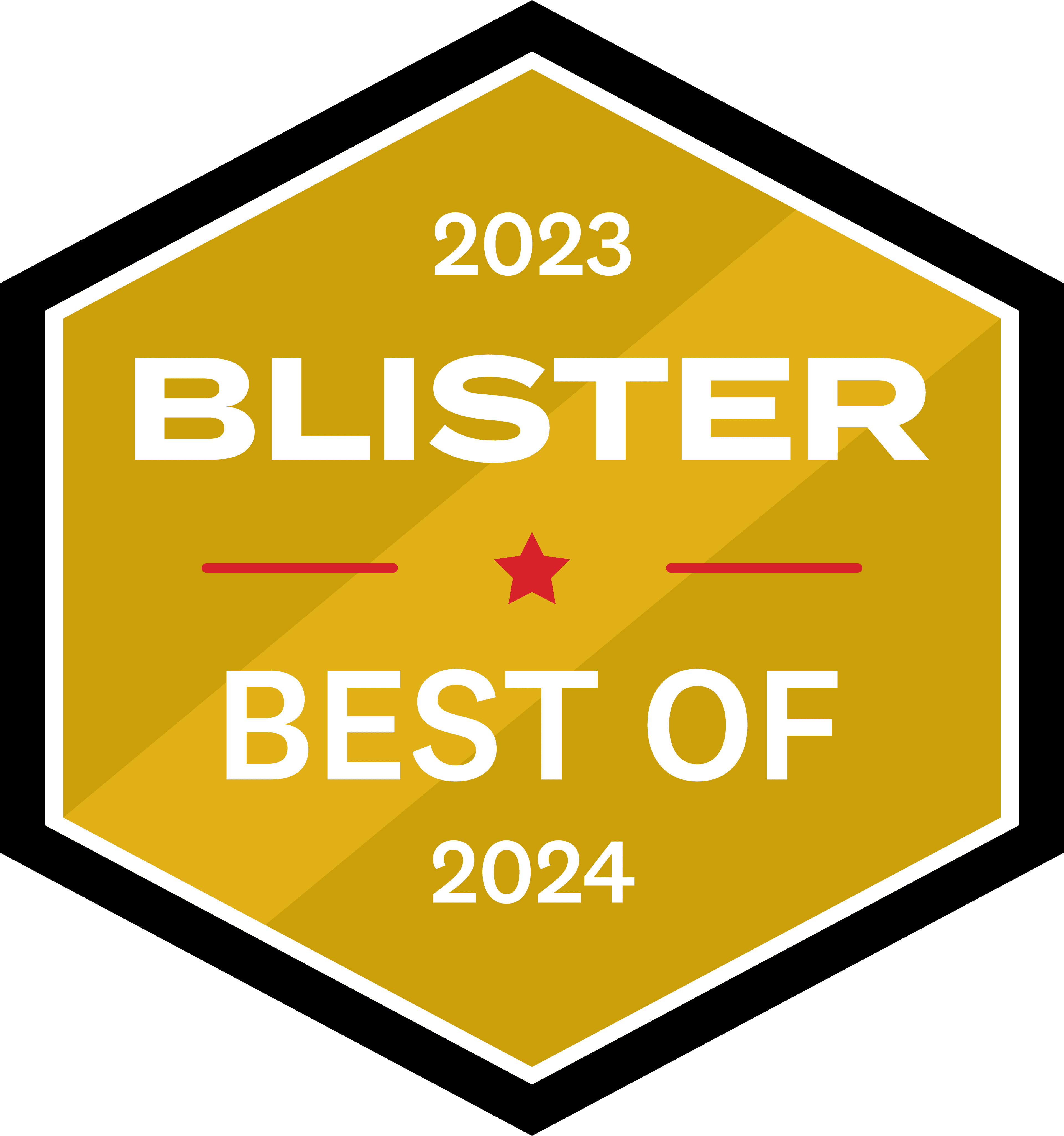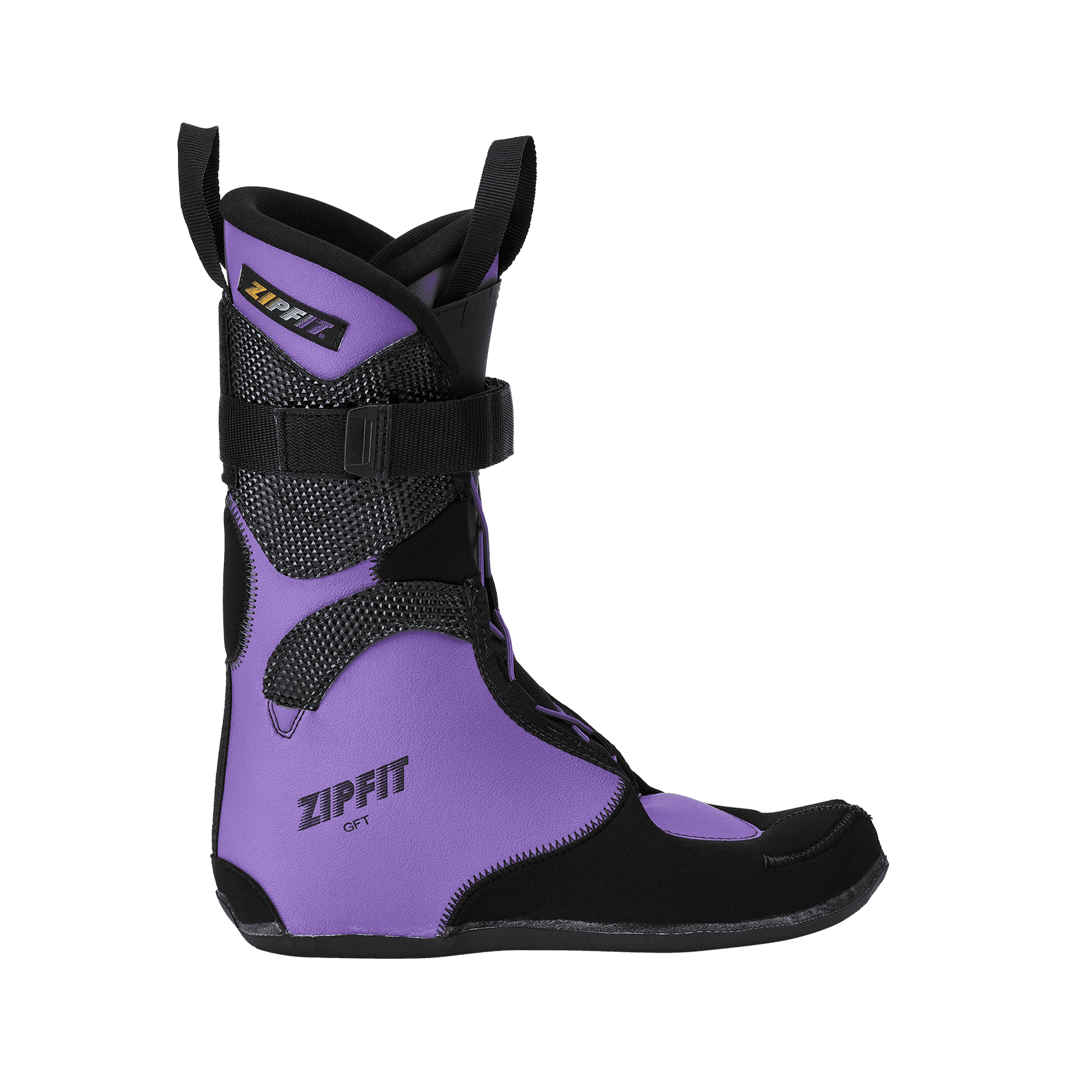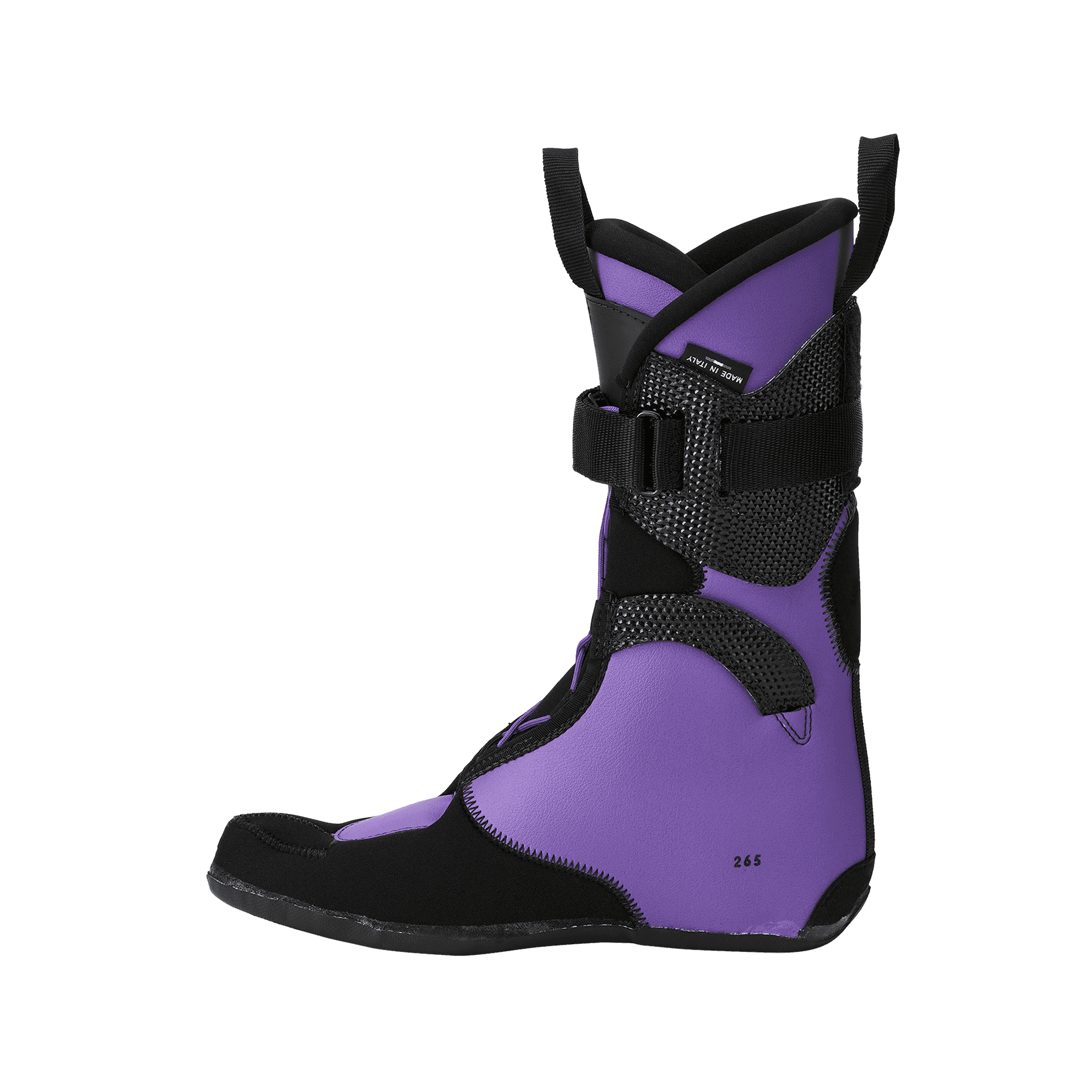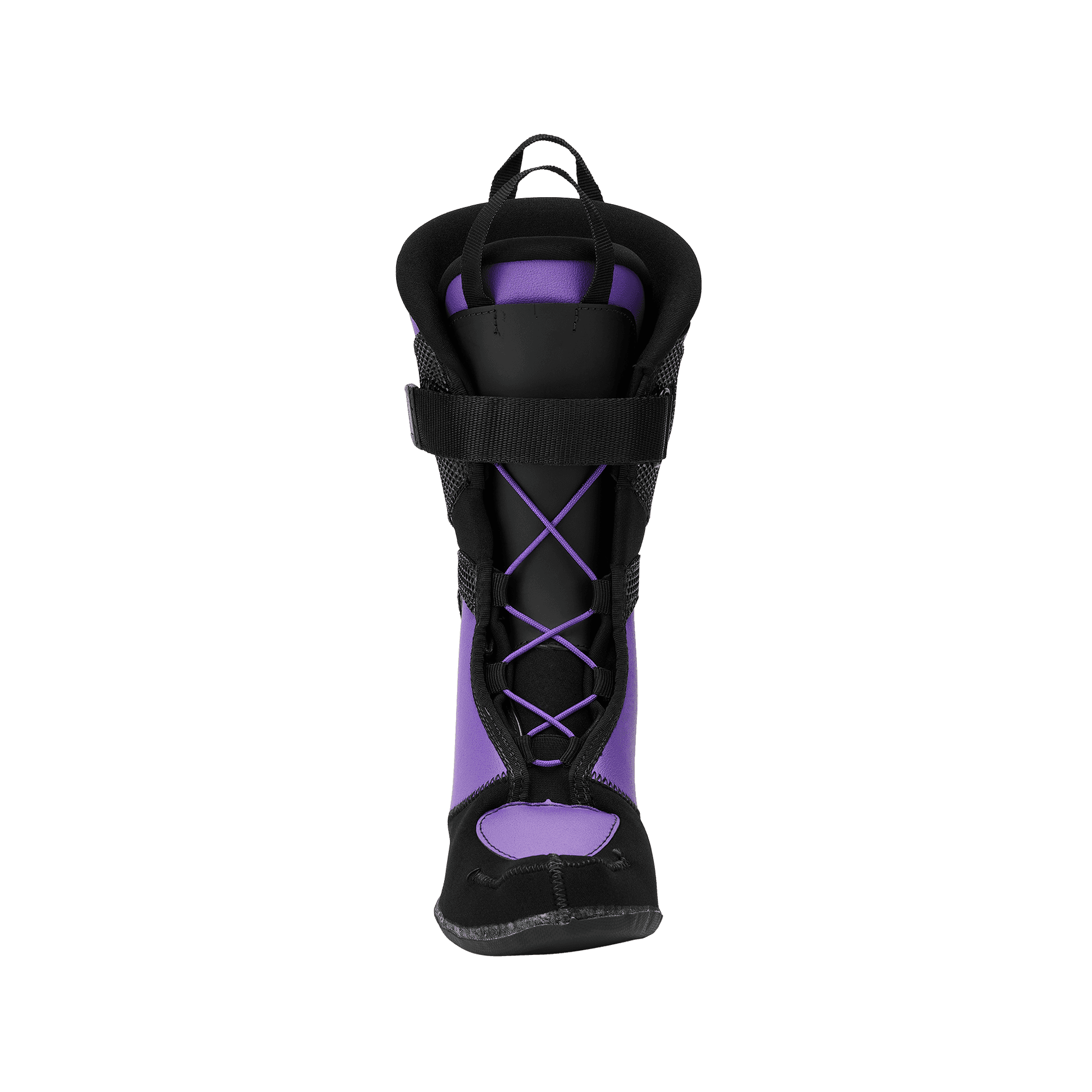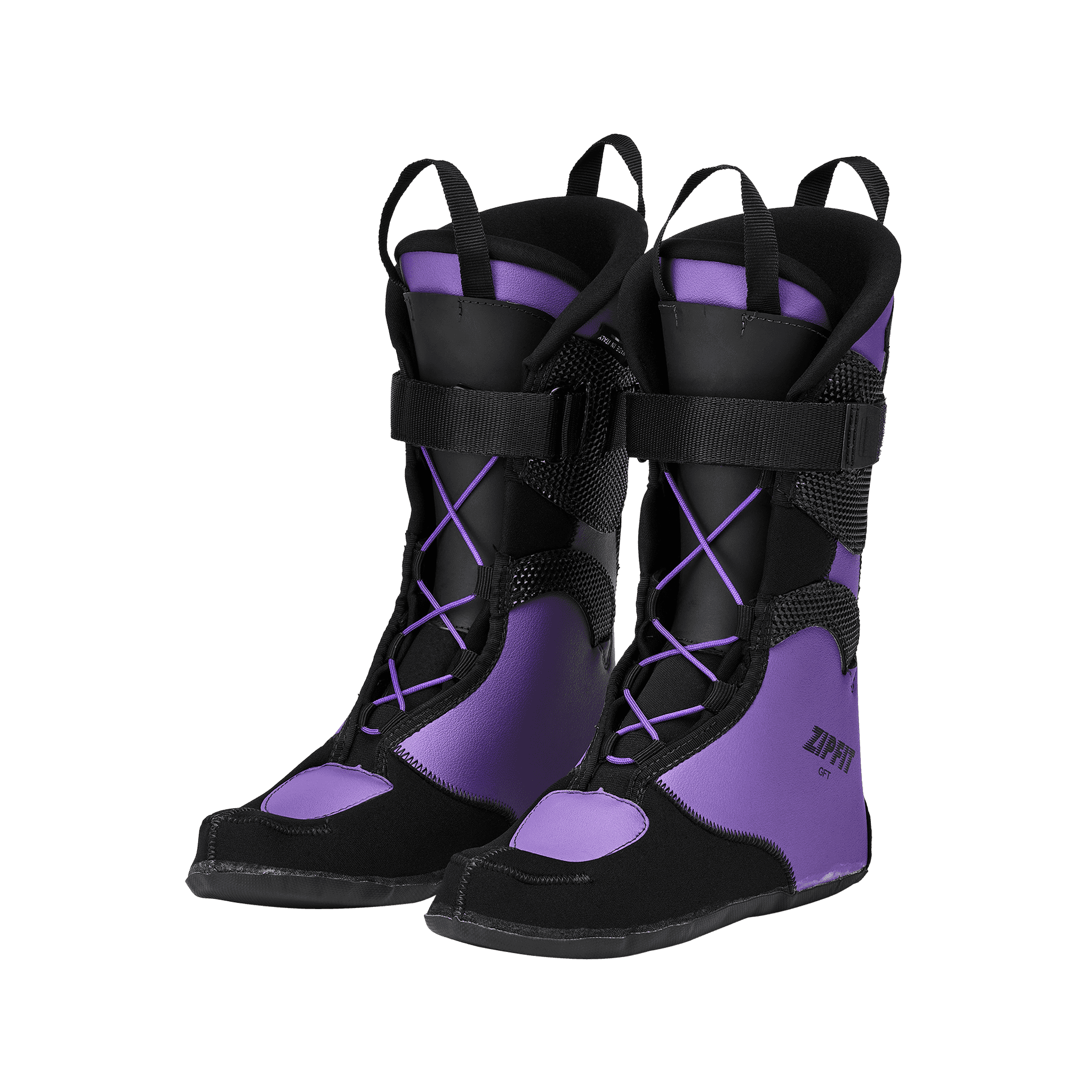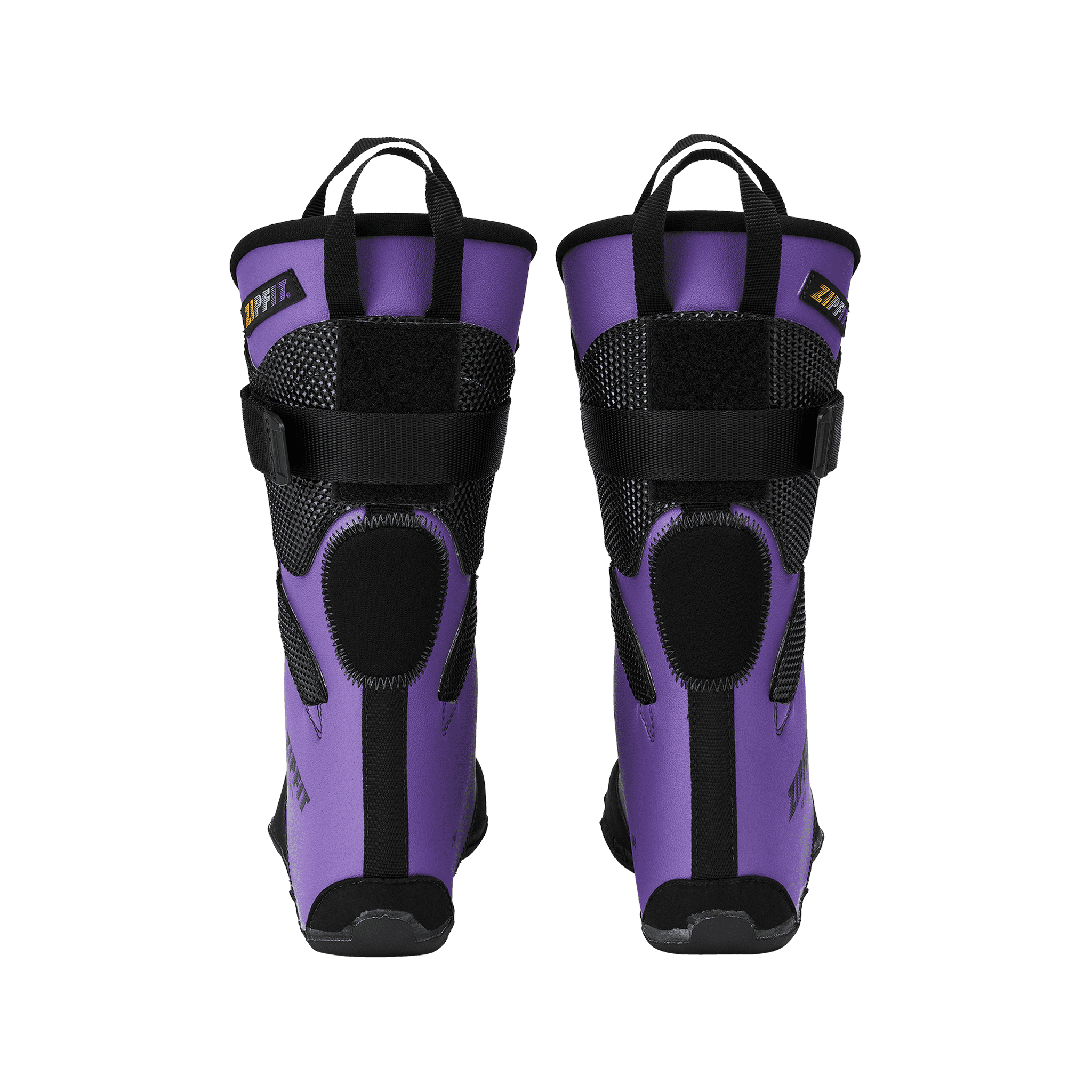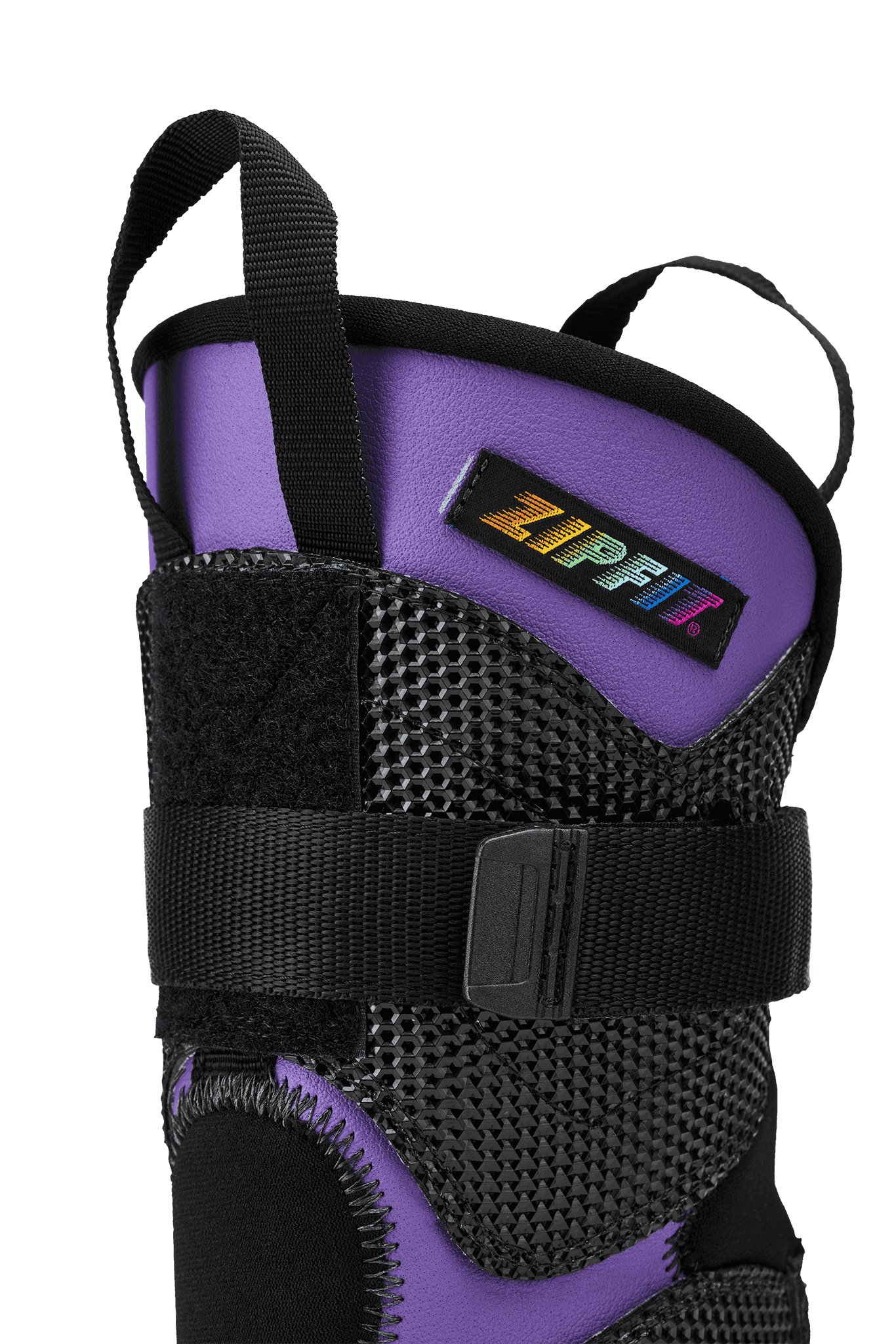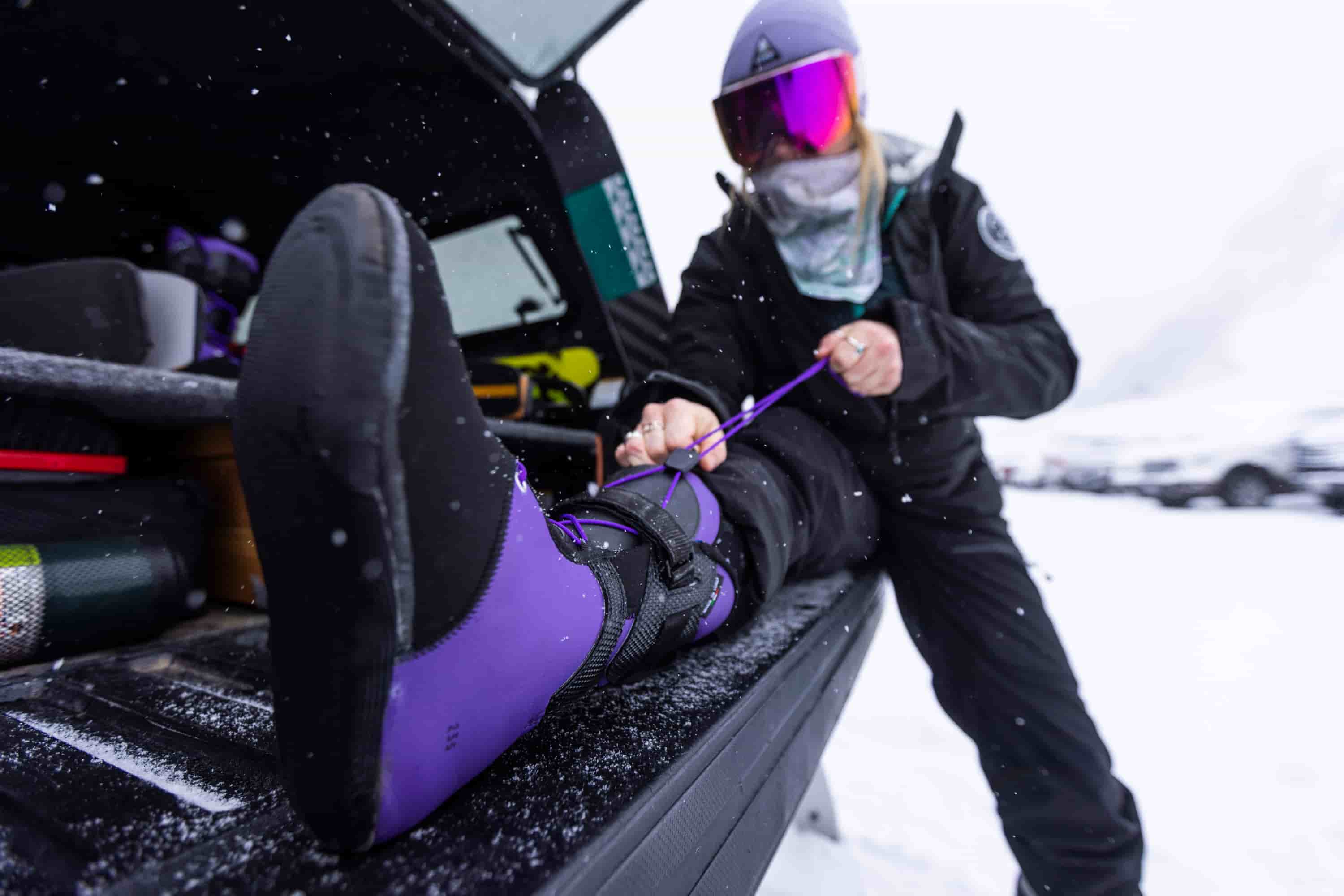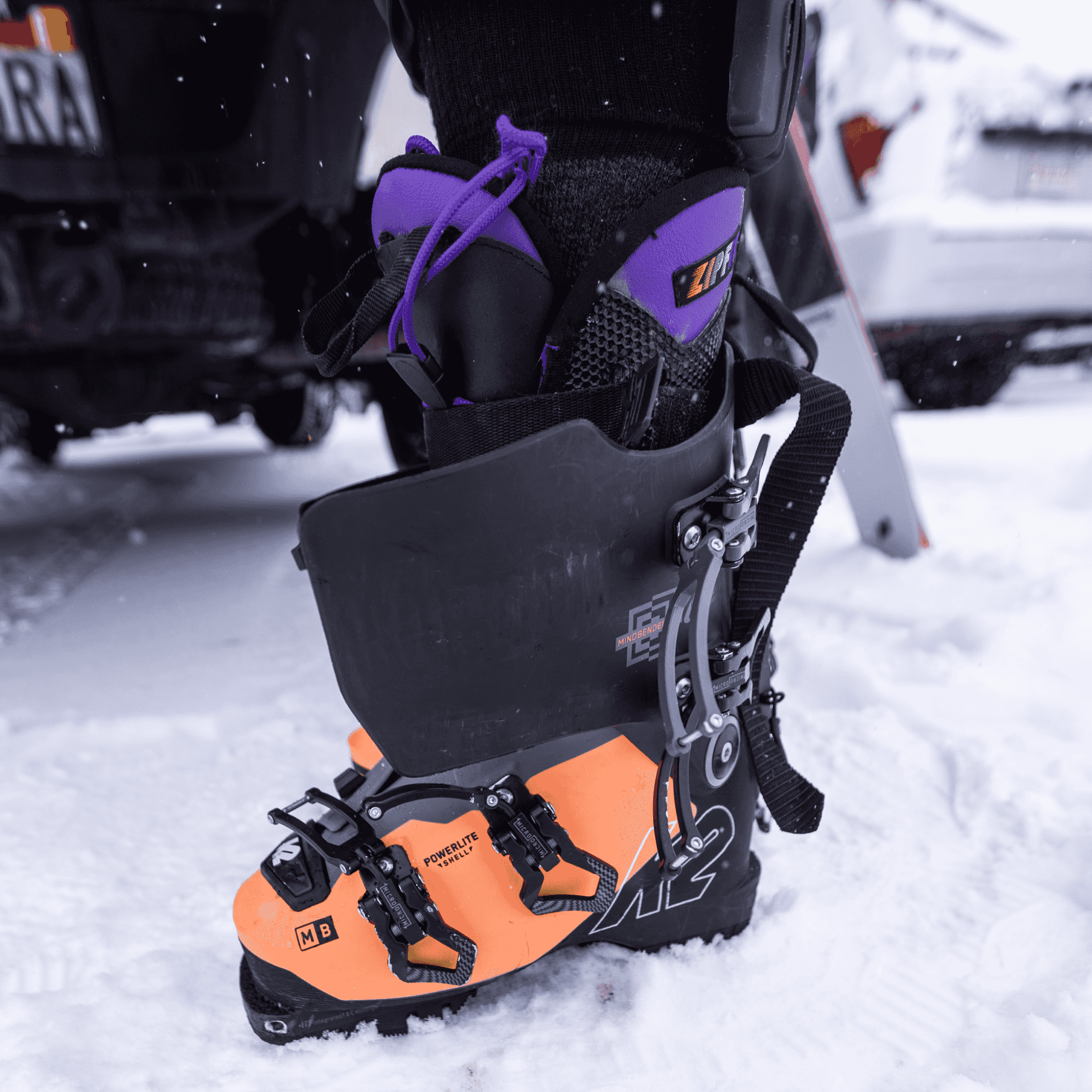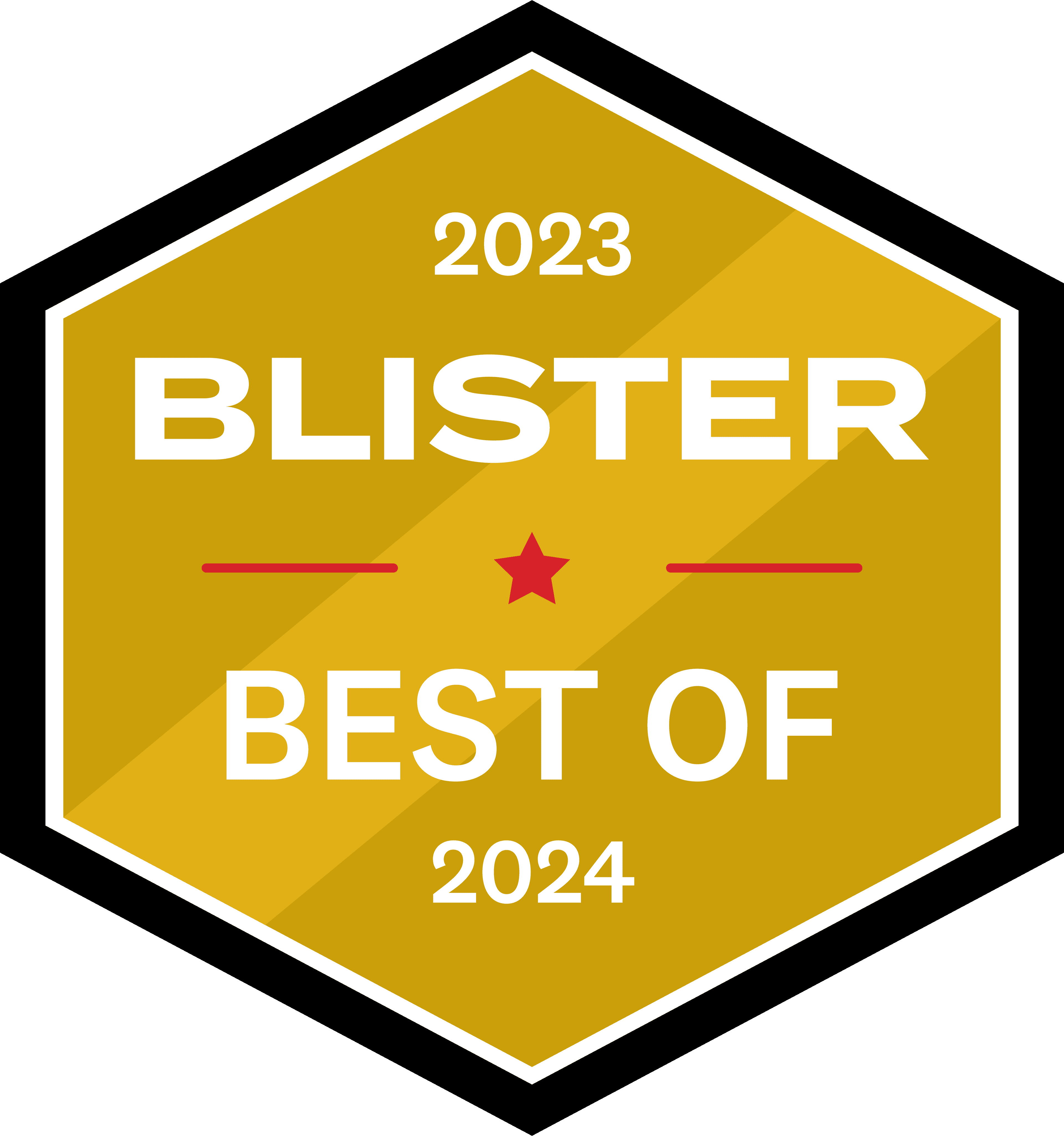 GFT
Touring liners that work well on the uphill and ski as well as premium ZipFit liners on the downhill. Designed alongside the most renowned mountain guides and uphill athletes, the GFT has been recognized by Backcountry Magazine and Blister Magazine as the editor's choice. Whether you're skiing the Grand F'in Teton or lapping your local low angle meadows, the GFT touring liners keep your feet in place on the uphill and allow for a range of motion that reflects modern touring boot design — all without compromising our design of the custom cork pouches that provide premium heel hold, foot positioning, and performance for the ski down.
Size chart
Mondo sizes correspond to foot length in cm.

Select the same Mondo size liner as your boot shells. Use
| Mondo | Euro | Men's US | Women's US | UK |
| --- | --- | --- | --- | --- |
| 21.5 | 34 | 3 | 4.5 | 2 |
| 22.5 | 36 | 4.5 | 5.5 | 3.5 |
| 23.5 | 37 | 5.5 | 6.5 | 4.5 |
| 24.5 | 38.5 | 6.5 | 7.5 | 5.5 |
| 25.5 | 40 | 7.5 | 8.5 | 6.5 |
| 26.5 | 41 | 8.5 | 9.5 | 7.5 |
| 27.5 | 42.5 | 9.5 | 10.5 | 8.5 |
| 28.5 | 44 | 10.5 | 11.5 | 9.5 |
| 29.5 | 45 | 11.5 | - | 10.5 |
| 30.5 | 46 | 12.5 | - | 11.5 |
| 31.5 | 47.5 | 13 | - | 12.5 |
Select size
Not sure?
View sizing information.
CAD $619.5
Easy returns
Returns and refunds will be granted as long as the liners show no more than 5 days of use. See our Return Policy.
Product details
The interior is stitched with comfortable neoprene that effectively controls sweat and is easy to slide on or slip off. Like all ZipFit ski boot liners, the GFT touring liners have a neoprene toe box insulated with Thinsulate and merino wool, helping your feet thermoregulate during frigid pre-dawn starts or high output spring missions in the sun. A flex panel in the back and articulation points in the front promote fore/aft flex for a comfortable range of motion.
Fit considerations
The GFT touring liners are pre-packed with less OMFit self-molding cork composite, specifically designed to be compatible with performance touring boots, hybrid AT touring boots, and telemark ski boots. While the GFT comes pre-packed with less cork, skiers can always add more cork to the tongue or ankle pockets to dial in their perfect fit. Skiers who prioritize performance on the descent have been touring in ZipFits for decades. Now we offer a liner that performs on the descent but is also Great For Touring. Or is it Great For Telemark? Either way, get out there and have a GFT!
Intended use
Backcountry skiing, ski touring, ski mountaineering
Tech features
Laces and power strap
Designed to keep your heel and midfoot in place, the lacing system and power strap align your foot within the liner.
Neoprene toe box
A flexible toe box conforms to your forefoot, regardless of the width. With your foot secure in place, this toe box design allows for toe movement, keeping your feet warm.
Merino wool and Thinsulate
ZipFit toe boxes are insulated with Thinsulate and real merino wool, keeping your toes warmer while still promoting breathability.
Adjustable cork pouches
Three cork pouches in each liner (located behind the top of the tongue and on either side of the instep) allow you to adjust the cork fill to dial in your perfect fit.
Neoprene lining
3mm neoprene lines the interior of this ZipFit, adding a nice element of cushioning without sacrificing the performance of your fit.
Flex panel and points
A rear flex panel and two front flex points give this liner a 50º range of motion for easier uphill travel. 
GFT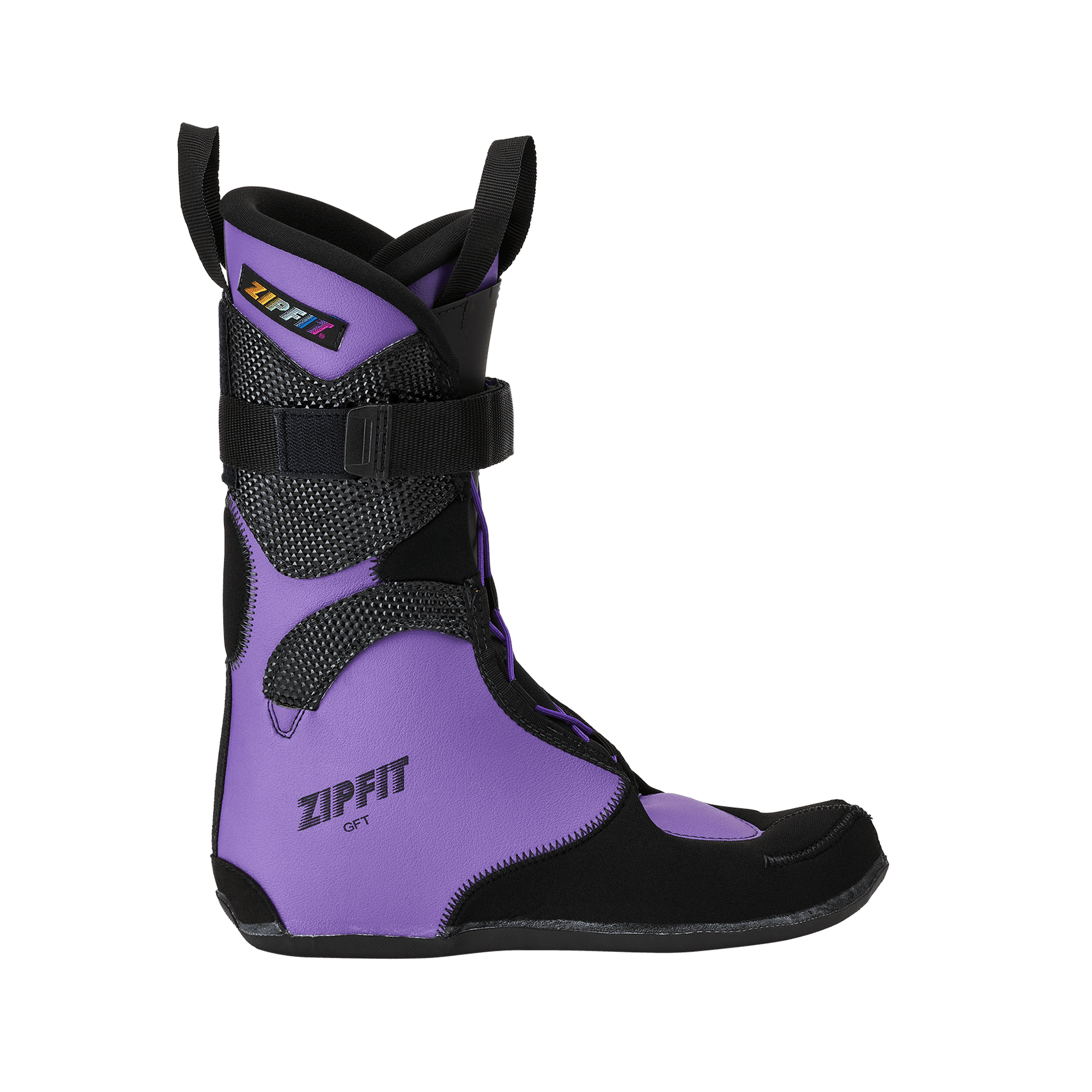 Unique features
Neoprene interior lining
Rear flex panel
Front articulation points
Purple
CAD $619.5
Freeride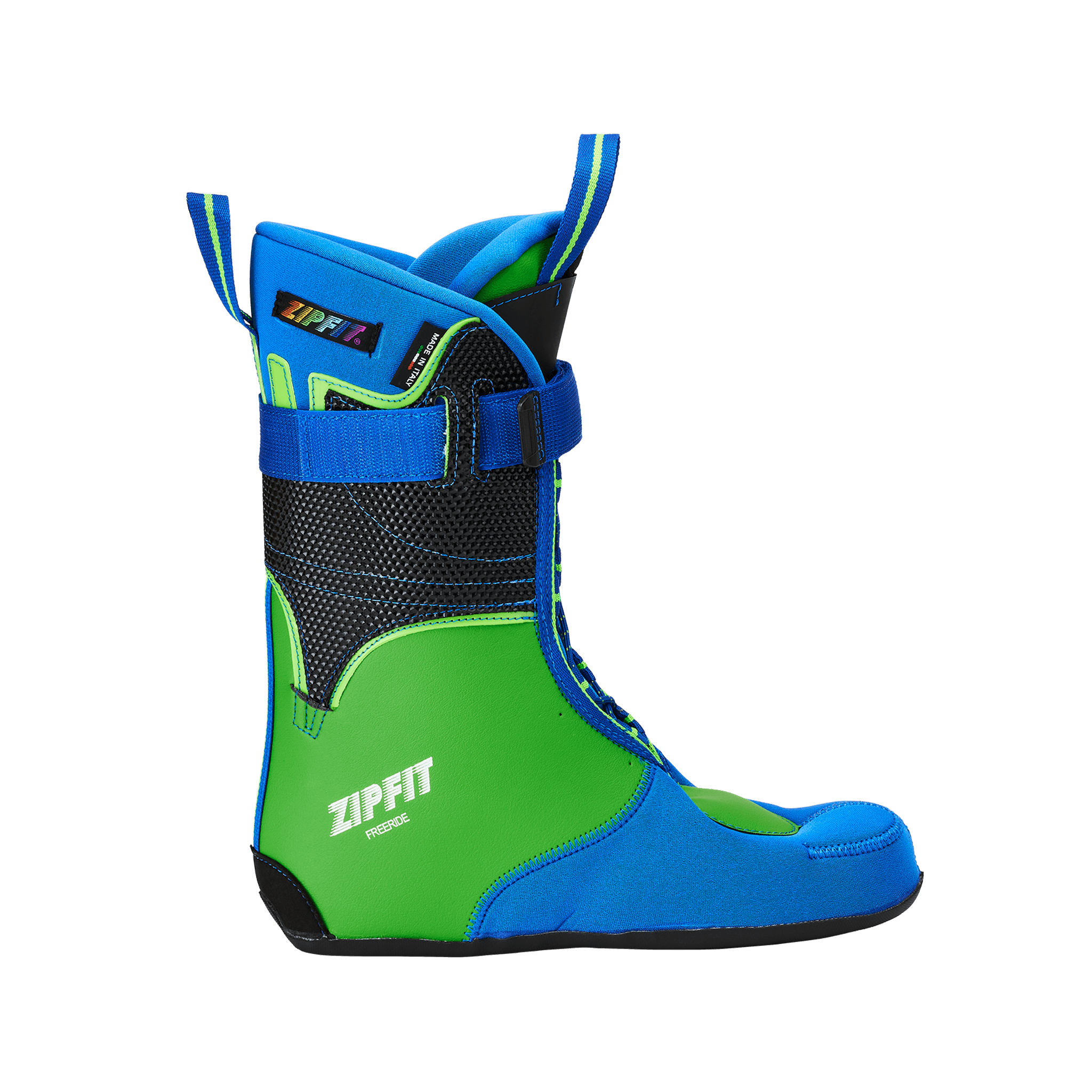 Unique features
Neoprene interior lining
High volume comfort fit
Fluted cuff
CAD $619.5
Reviews of the GFT
20 reviews with an average star rating of 4.9
Purchased for my snowboard boots. Had to do some mods to make ridable since rider's ankle articulation is different from skiers (cutting away tongue plastic liner at bottom of tongue, removal of rivet eyelet, lace removal). Finally a liner worth keeping. Being able you in my fit with cork to ensure heelhold is unparallel.
Hi Zipfit! Recent adopter of the GFT here. Super psyched on the liner and noticing a big difference in my skiing as this is the best fit I've ever had in a ski boot… ever. My skinny ankles and heels are finally staying put. Super quirky, but I enjoy the transformative ritual of putting on the liner and then stepping into the shell. Superior performance engage!
Boot: Tecnica Zero G Tour Pro, MP 27,5 I always had blisters on the inner side of my heels, with the stock liner as well as with another aftermarket liner. Now, after my first tours with the GFT I didn't have blisters anymore. For my needs the GFT walks uphill very well. Don't mind these view grams more in exchange for pain free skinning and the comfort the GFT provides for my feet. On the descent the GFT is - in my humble opinion - amazing for a touring liner (and even really good compared to alpine liners). Finally I think this is a great product and for me it's easily worth its price.
This liner is an absolute game changer, they are so comfortable and ski like a banshee. I'm already scheming how to get Zipfits into ALL of my ski boots, I wish I had found them sooner!
I thought they might be too heavy or give me blisters. Turns out, when your liner fits this good and your feet are this comfortable, nothing else matters. Incredibly comfortable, insane heel lock when skiing. Transformed my sloppy boot into something I now TRULY enjoy.
Ski boot shell: Technica Zero G Pro Tour Lower leg and foot volume: Average calf with low volume (97 last) feet. Skier type: Aggressive What works or doesn't work for me: The GFTs has been a game changer for me as I have narrow heels and always struggled with a heel lift. No matter what shells, mods or aftermarket liners I have used in the past...I could never really get a solid locked-in feel that I needed, to be comfortable on the way up. After 3 pre-season days with an average of 1.5hrs on the up, the GFTs are extremely supportive with no rubbing at all. I changed the laces to a flat/slightly elastic lace that felt better than the stock. I also removed the power strap on the liner, as it rubbed and caused interference on the up. Didn't seem to miss it at all on the down.
As a ski patroller with neuromas in both feet, I live in my boots and was in a high degree of physical pain when I tried my first pair of Zipfits. I was immediately hooked and was excited when they came out with a touring version. I highly recommend these liners. They fit like a glove and the adjustability is amazing. They cost a pretty penny, but will long outlast and definitely outperform the liners that came in your boots! Word of warning - once you try them you'll have a hard time skiing in anything else!
Ski boot shell: hoji pro tour Lower leg: narrow Foot: wide, high instep I have been using zip fit in my downhill boots for years and have nothing but the highest praise for them. Best liner I have ever used. Have been struggling with touring boot liners and just getting the performance I want out of the boot. When I saw the gft was coming out, I ordered it immediately. These things have completely changed my touring boots, and I could not be more stoked. Trust me, it's worth the upgrade for any ski touring boot
Best liner ever and I have tried them all!
This liner was the perfect complement to my Tecnica Zero G boot. The stock liner is very thin and I had problems with pressure points when skiing them for more than a couple runs. With the GFT it skis as good as my alpine boot, and it's comfortable enough for all day tours!
I cannot speak highly enough of this liner. I'm very, very fussy with ski boots. Huge ankle bones, tiny heels, 110mm lasts, Hugh volume arch and I usually spend 100-150 days a year in boots. I've been barred from talking about my feet with ski partners. This liner is the touring solution. I've had zipfit alpine liners for a few years, which revolutionized the comfort and control of my skiing (and have gotten 500 days out of the alpine liners already). These solve the endless touring liner problem. Flimsy foam liners don't protect pressure points and pack out in 20 days. While these are heavy AF, they walk incredibly well. The walk feeling was very similar to intuition tours. I recently did a 70 mile ski traverse with many many flat miles and was thrilled to do it in these liners. The wool lining is also really nice when you inevitably sweat through the liner it remains warm. Getting them on and off can be fussy, but I put them on and them use a shoe horn to put my shells on. I also removed the two metal rivets that hold the bottom lace point and just ran the laces through the liner. The metal hurt my feet a lot. Easy task with some pliers and delicate hands. Unfortunately for my friends, I have become even more of a zipfit apostle than I was before. These are the best touring liners on the market by a country mile. You won't win skimo races in them but I regularly do 6000'+ days in them and hang with my skimo friends no problem. Amazing amazing amazing. They drive my 115 underfoot 1900g powder skis and my 1100g 90 underfoot cambered corn skis very very well. Most 'alpine feeling' I've had skiing in the backcountry ever. Thank you zipfit for finally making something that's heavy, stiff and walk well.
Simply the best made touring liner out there. I have low volume feet and have struggled with getting my ankle locked in well. Having the option to add cork and customize the fit is huge. I take the laces out and then it is easy on and off. Even if I have the liner in my boot already.
Amazing fit. Great design. Great for touring
Boot: Tecnica ZeroG Tour I have yet to find another liner that skis, skins and generally feels as nice to wear in AT boots as these do. The snow feel/feedback are greatly improved compared to stock liners, which I attribute to both the OmFit material, and simply the added mass of the liner. As with the ZipFits I use in my alpine boots, the heel/ankle hold with these is impressive, although I do wish that the liners came with a larger amount of OmFit in them from the factory. Even when sizing down, most touring boots on the market today are based off of high-volume lasts that are not conducive to heel/ankle retention. I'm in an aggressively sized AT boot and had to add a tube of OmFit to each tongue, and another one to each heel/ankle bladder (2 tubes per liner) to get the support I needed. It's easy enough to add extra OmFit, but given the volume and how people typically size AT boots, it's puzzling to me that this liner comes with so little stock. The only truly negative thing I have to say about the liners when compared to a closed cell foam type liner, is that they are impossible to dry in a winter camping/expedition setting. After 11 nights of camping on the glacier, despite fastidious efforts to dry my liners (removing footbeds, putting them in the sun in the afternoon, sleeping with them in my sleeping bag) they were soaked. They still skied well, but it made for achingly cold mornings and took over 4 days of sitting in a 72 degree room in front of a fan to be fully dry to the touch once I returned from my trip. For single day tours, or backcountry lodge trips where you have access to a boot dryer every evening, I don't think you can find a better touring liner, but for basecamp or traverse type trips, I think I'll keep a pair of Intuitions handy.
I run these with a Dynafit Radical Pro while touring, guiding, & freestylin' and my feet are as happy as ever. The biggest plus is that this liner enhances the flex of the lightweight, stiff, and thin plastic of touring boots, giving some feel back. Though slightly heavier than foam liners, the experience is just more pleasurable. I found these were quick to becoming comfortable, breaking in more easily than my previous Corsas. I haven't even really conformed them properly, I just run them under the foot heaters in the car on the way to the mountain, and that does the trick for me. I for sure plan to use this liner with any and all of my touring boots for years to come. *Sidenote: I was using a ski boot horn to skip these bad boys into Zero G boots, which made life easy. With the Radical Pro they slip in fairly easy.
The GFT liners hang with the big dogs. I went from a stock dynafit bladder in the Hoji Pro tour with 2 years of use to these bad boys and have had a major uptick in confidence. The GFT makes the Hoji an actual hard charging boot. Small losses in weight and range of motion create big wins for ski ability and overall comfort, as well as warmth. While the GFT is a little tricky to slip into the dynafit shells, it makes the boot so much better I barely blink an eye. Skiing is always fun, however, skiing with good fitting boots is always more fun..
I have been skiing in the Tetons for the past 25 yrs and have gone through many backcountry setups. The combination of the atomic 130 xtd shell with the GFT liner is by far the best touring setup I have experienced. I have been using zipfit liners since 1994 and find them to be the most precise fit on the market. I am so glad that zipfit finally built a liner dedicated to hiking, skinning and down hill performance.Now I don't have to switch my stealth liners, which are great four touring also, back and forth between my boots. I did notice the new flexion point sewed into the back of the liner while skinning. Great job on building a liner that does everything!
Boot: Scrapa F1LT Typical Tour 3000-7000ft of vert. I'm not a pro, but wish I was. When I can retire from my real job, I dream to become a IFMGA MTN guide. ;-) Hands down the best liner I've ever owned in a touring in the past 10 years (or even downhill boot). My F1LTs are awesome but I started to get heel lift and blister issues after the original liner packed out in a month of use—so then got an intuition pro-wrap—>same thing happened—had to use blister pads on every tour, but still had issues on long tours. From day 1 of using the GFT I have NEVER used a blister pad, just put sock on and go. AMAZING. I was nervous to do so at first, but after 10 tours, have yet to feel even the slightest hint a blister is developing….in short these are amazing.
I have used these liners for on-piste skiing only and they are outstanding. I wear a sz 28 Scarpa Tx Pro and purchased a size 27.5 GFT liner. The fit was perfect for me. The toe box feels like wearing an extra pair of socks which allowed my toes to spread during lead changes. That's a good thing. The padded areas locked my heel firmly into position and, because of the way the toe area is built, no pinching of the toes like I've experienced with other liners when performing a lead change. I have worn Intuition and Sidas liners, and the GFTs are the best by far. For molding, I used the Intuition method and that method softened the cork enough for a great mold to my ankles and shin. The only downside is that it's extremely challenging putting the boot on or taking it off with the liners inserted. Easier to put the liners on first and then insert them into the boots or remove the boot shells with the feet still in the liners, but that's a minor issue. Hope this helps.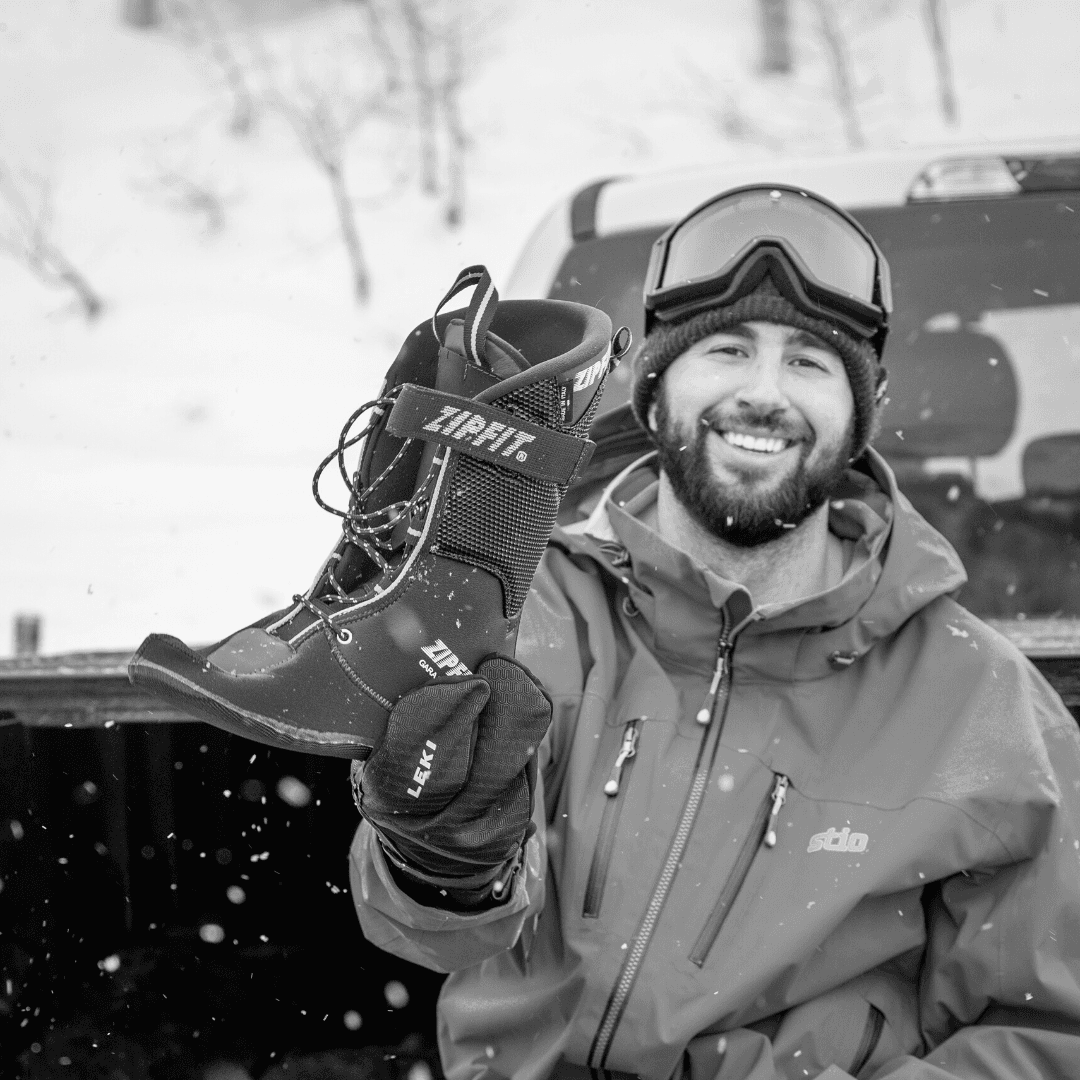 Giray Dadali
Boot setup:
Charging setup
What's better - leather or neoprene?
It all comes down to user preference.
Are you willing to lace up your liners and step into your shells before every use? Our leather lined ZipFits require this move, while our neoprene lined ZipFits are easier to step into. If your answer is "no way" – we suggest the neoprene ZipFits.
Leather offers a true to form fit meaning your ankles and shinbone will imprint into the leather, securing your lower leg and foot to the ultimate degree.
Neoprene has more natural cushioning, so while you can still get an excellent fit, they have a more forgiving feel when skiing.
Both interior liners can last a LONG TIME with proper care. While we think of leather as more durable, we know of a pair of neoprene liners with 1500 ski days.
For precision fit and performance, the leather has a slight advantage.
For ease of use and all mountain comfort, the neoprene has a slight edge.
Should you take your liners out of your ski boots?
Ski boot liners will dry better if removed from the shells, but what about the wear and tear of removing the liners and then stepping back into the shells? We recommend removing your ZipFits from the shell after skiing to unlace them and let them dry and then using the Ski Boot Horn to assist in stepping back into your shells. The Ski Boot Horn dramatically reduces the wear on the backs of your liners and by lacing your liners up prior to stepping into your boots will ensure that your foot is properly positioned.
Can I add boot heaters to my ZipFits?
Certainly, but take note that if you make an incision in your liners for boot heaters, that will void your 30 day money back guarantee. We recommend skiing in your liners for a week or so to ensure they are the right size and model before you add boot heaters. Additionally, heated socks perform well and don't require altering your liners. 
Are there any return exclusions?
Yes, if you alter your liners or make any incisions to them in the first 30 days, it will void your return policy.
How should I care for my ZipFits?
Great question, we built out an entire Care and Repair section to help our customers keep their ZipFits skiing longer.
Will I be charged for a replacement item?
If there is a difference in price of an item, you will be asked to pay the difference or receive the appropriate refund. ZipFit offers free shipping to the customer on our orders over $100, if there is a return, the customer is responsible for paying for return shipping.
How can I track my orders and payment?
When you place an order, you will receive a confirmation email followed by another email when the product ships. This email will contain tracking information. If you can only receive USPS at your address, please leave a note in your product order.