Product summary
Product details
Compare models
Reviews
World Cup Sidewinder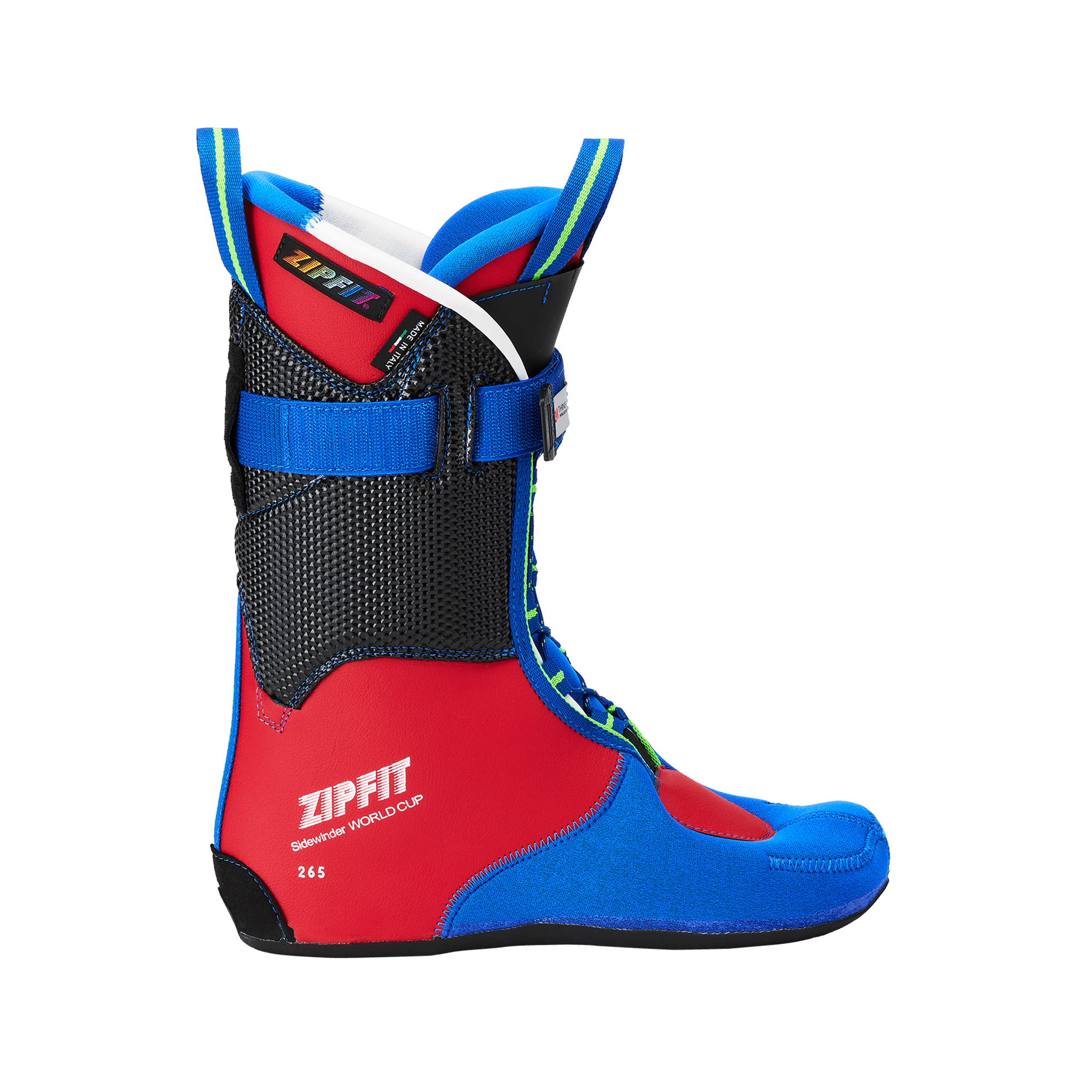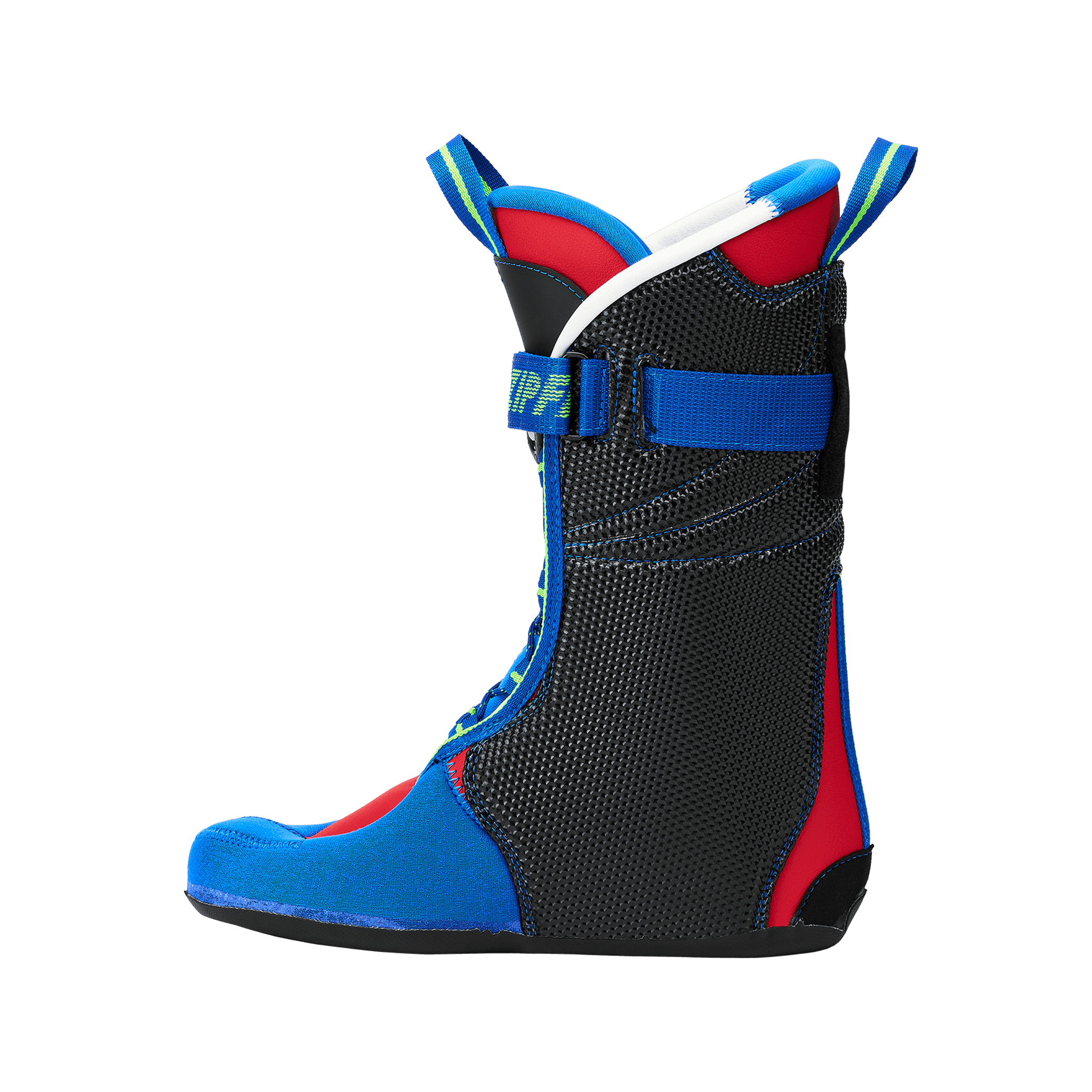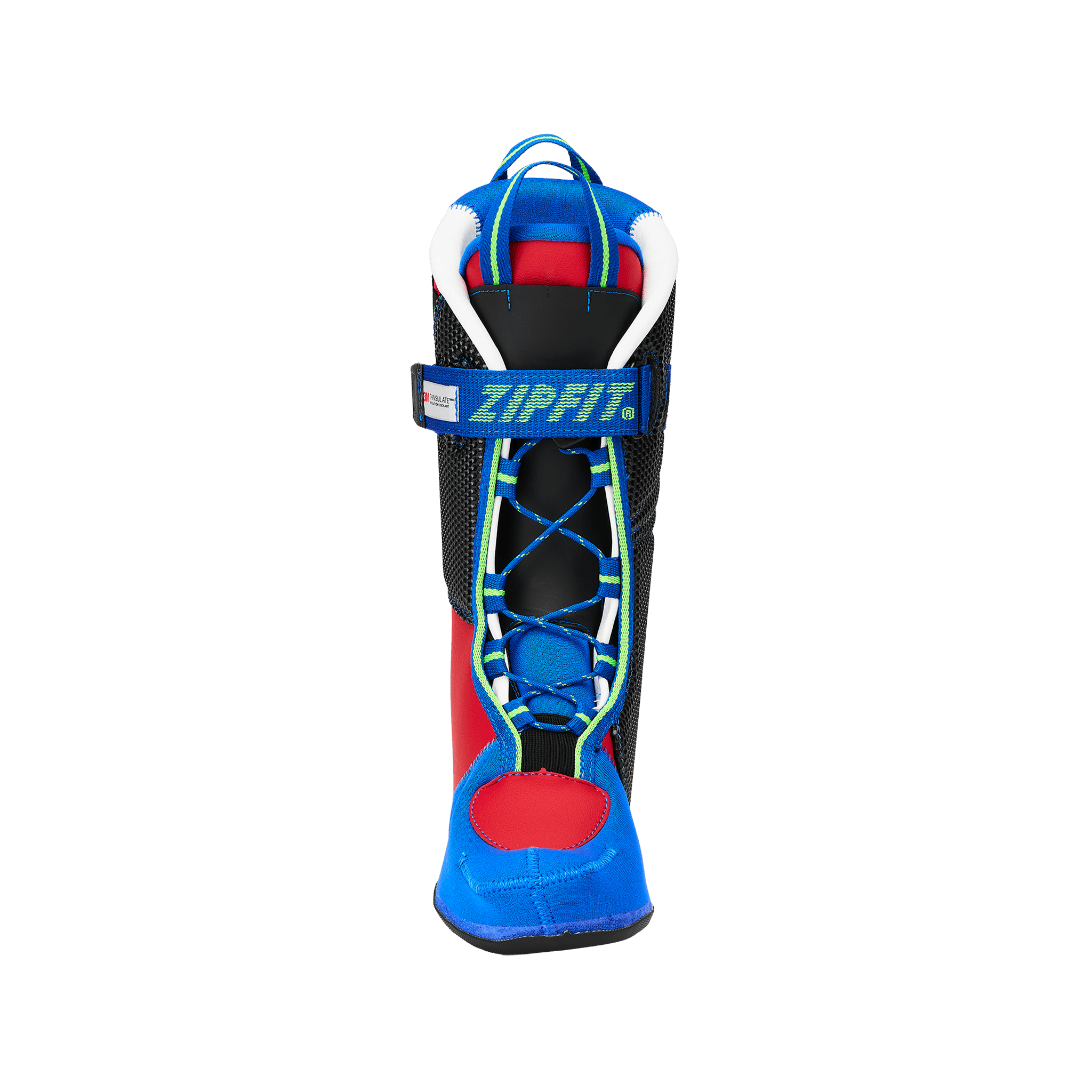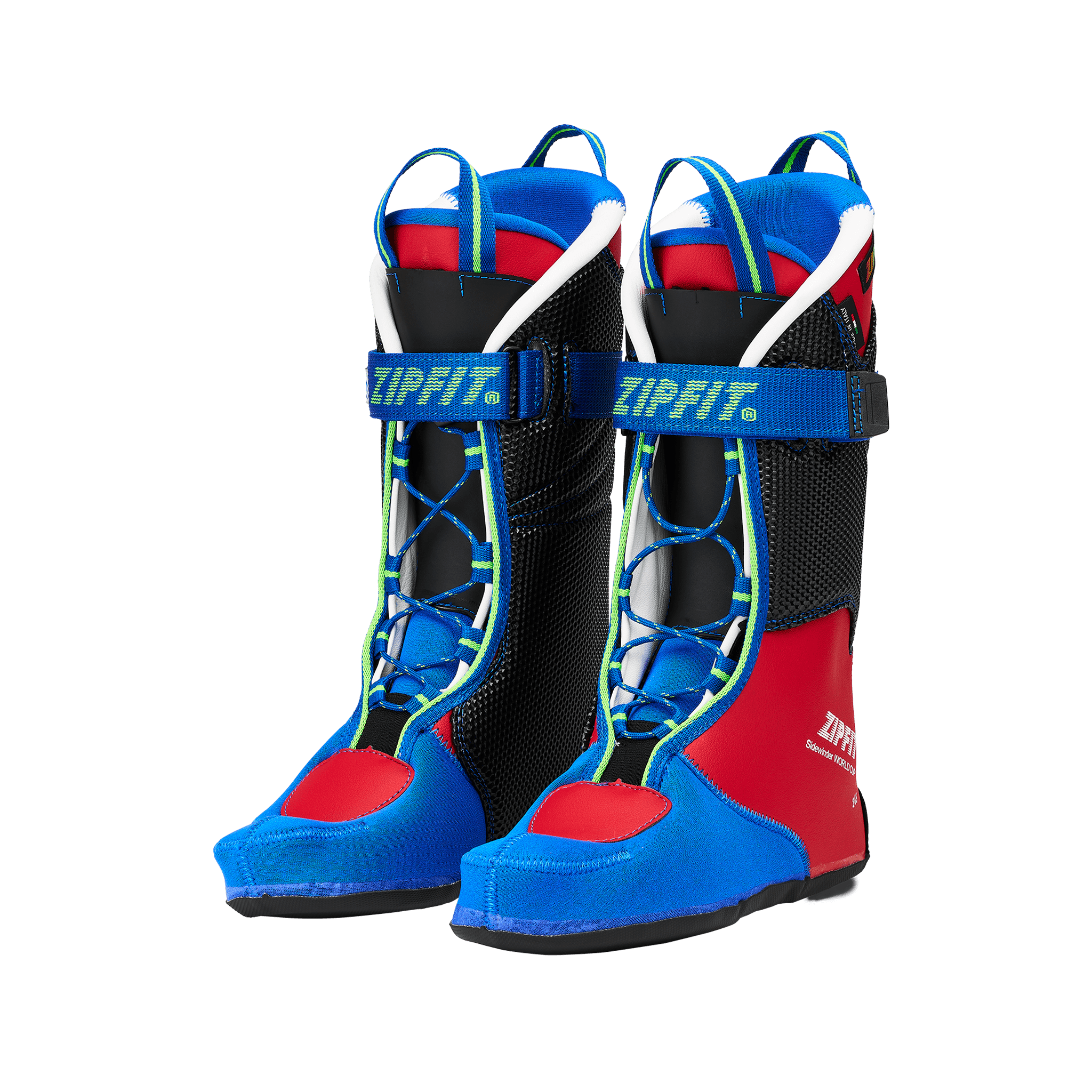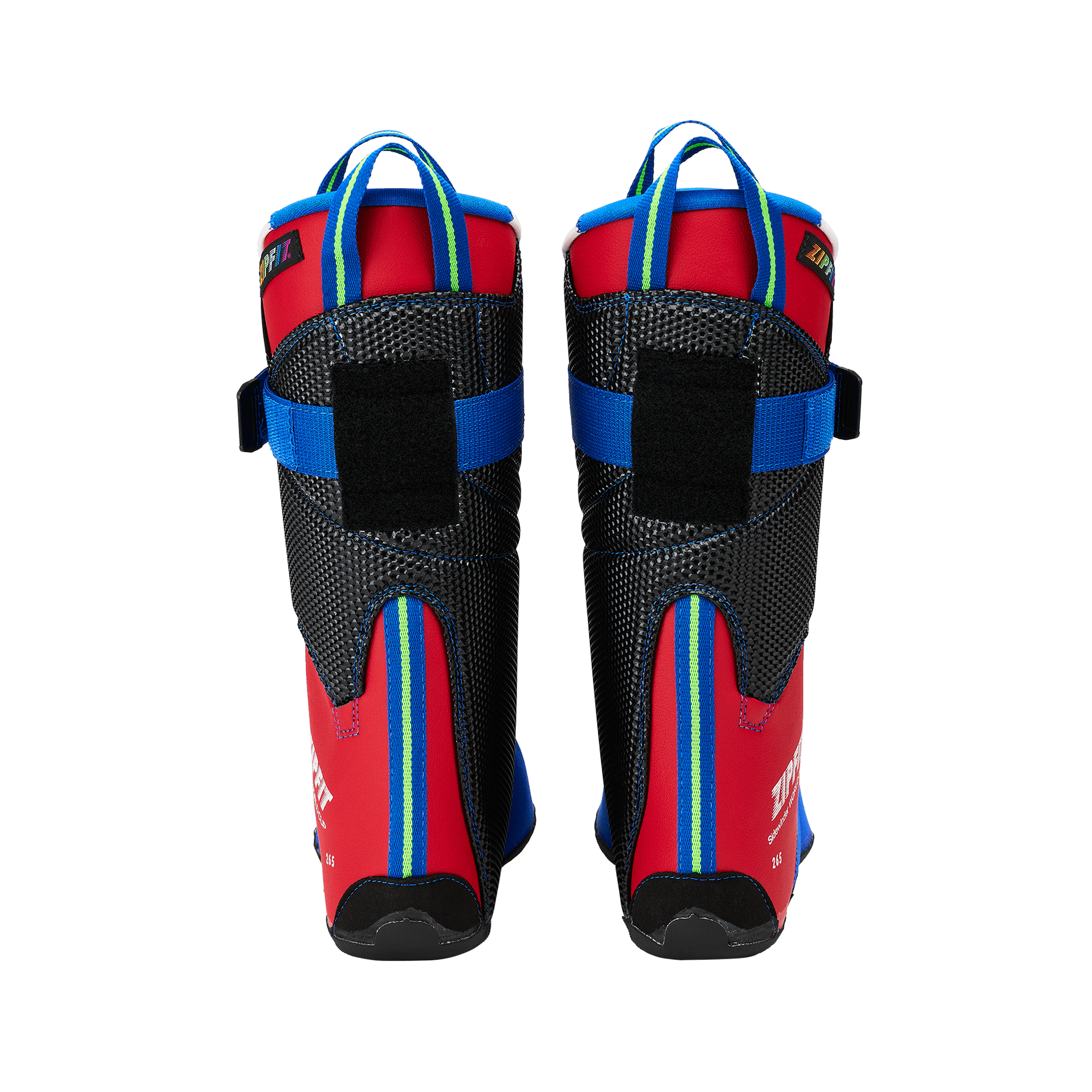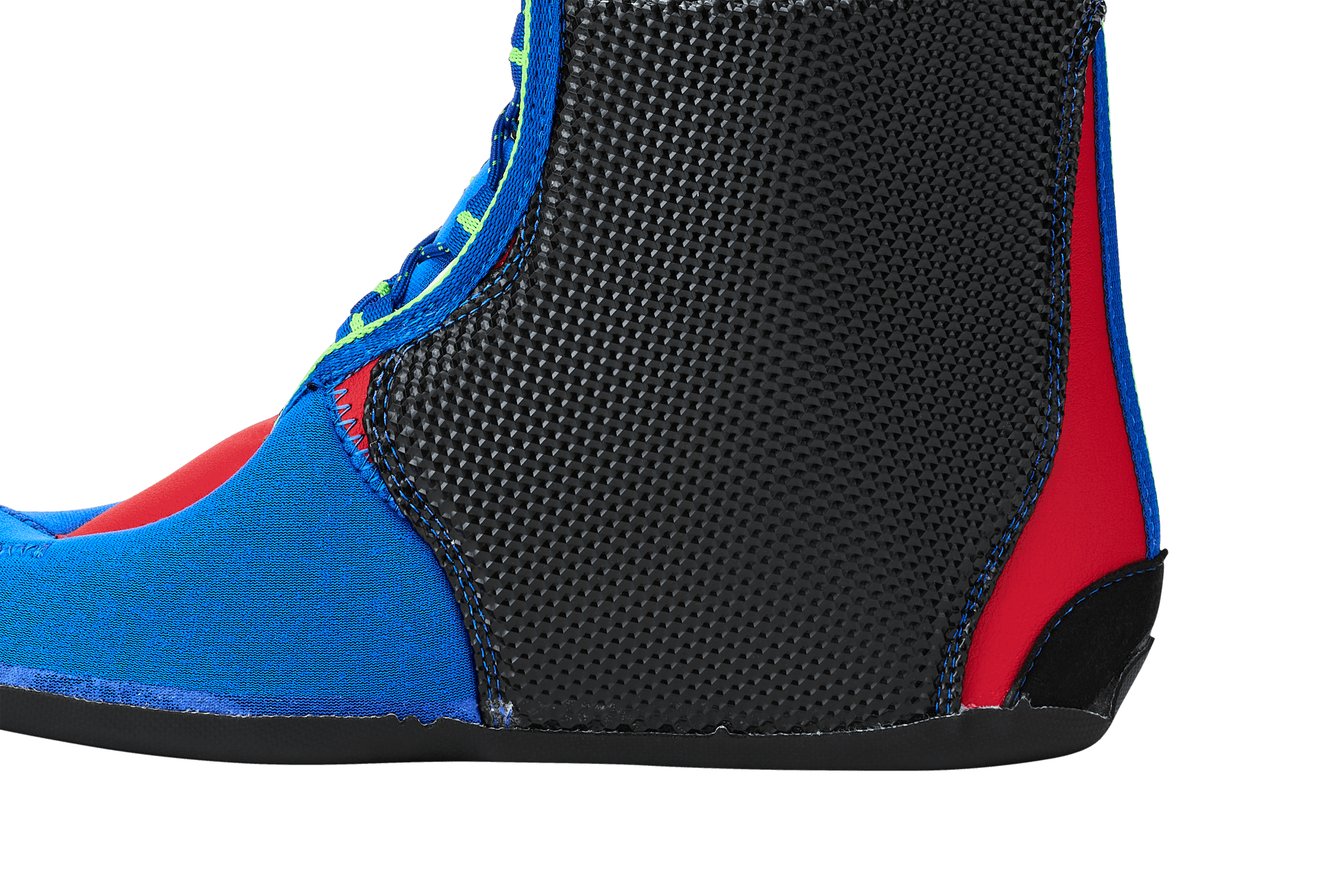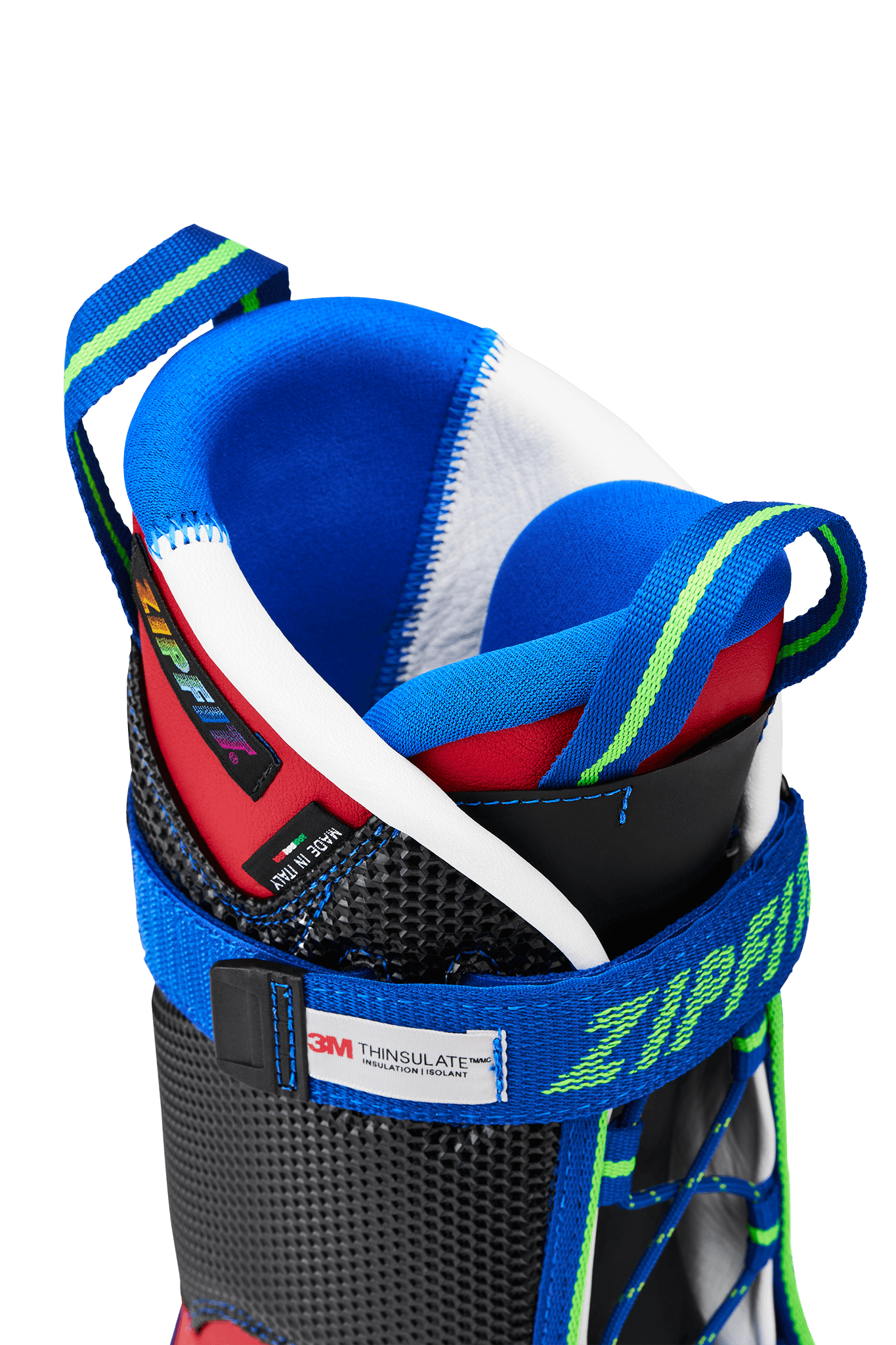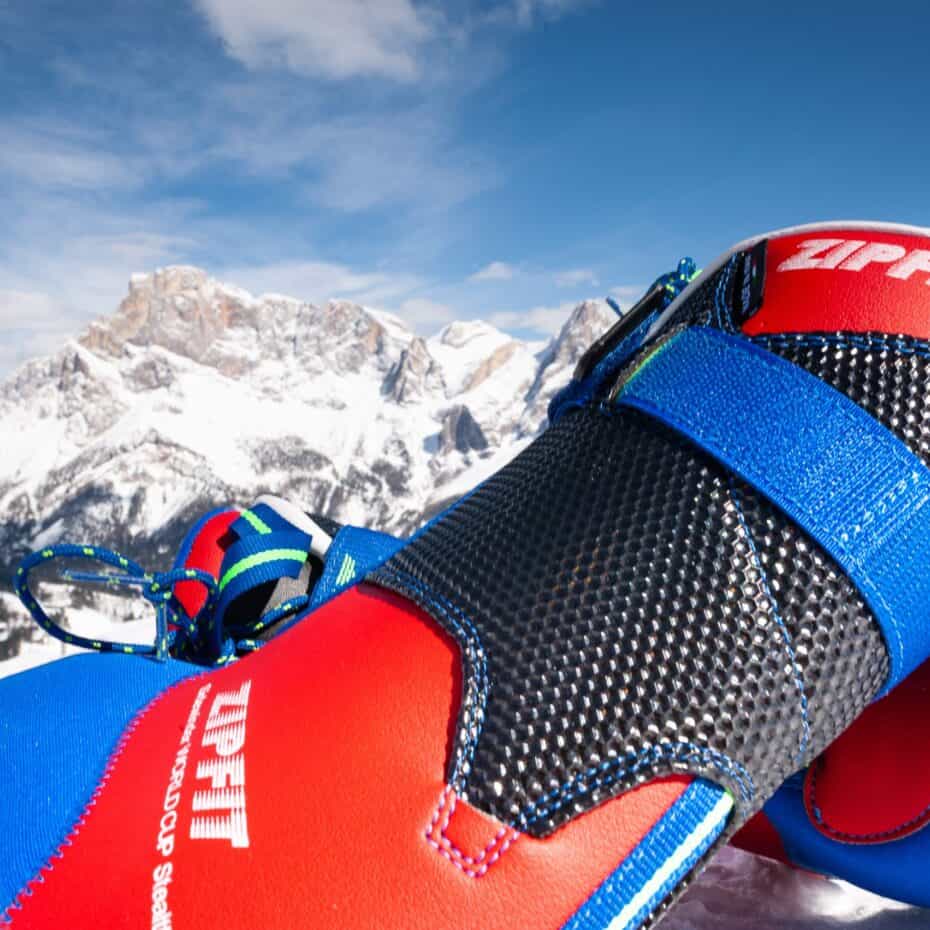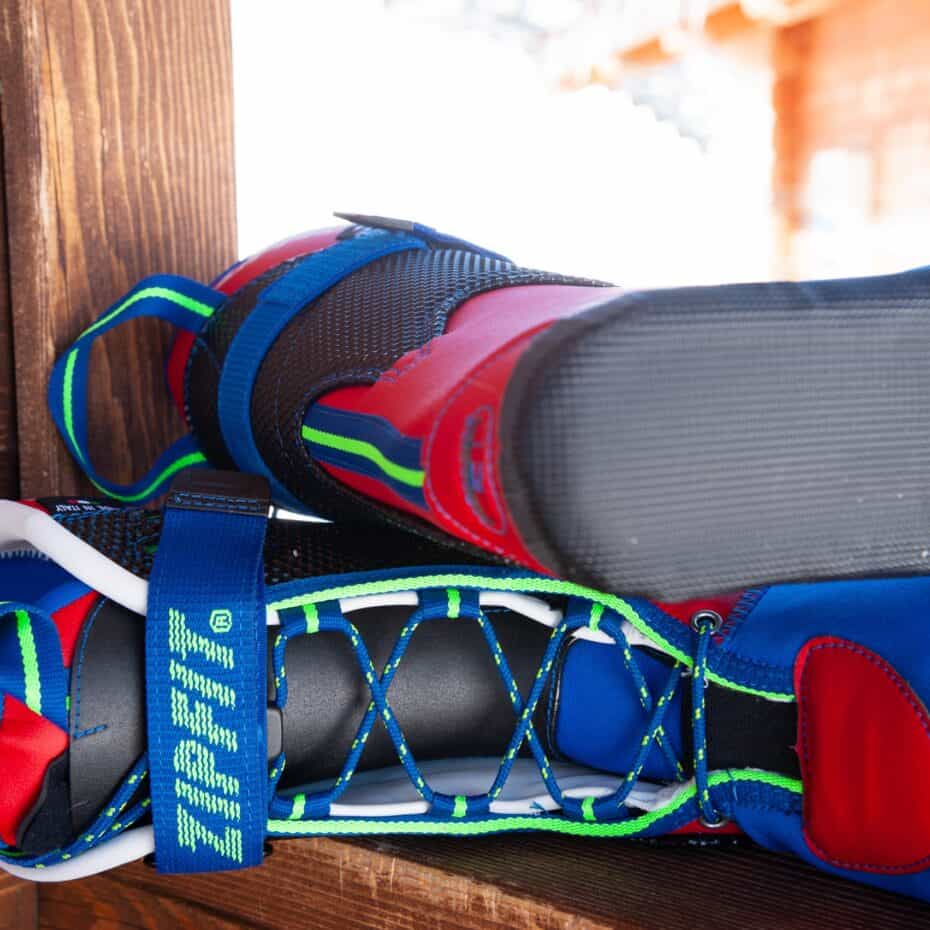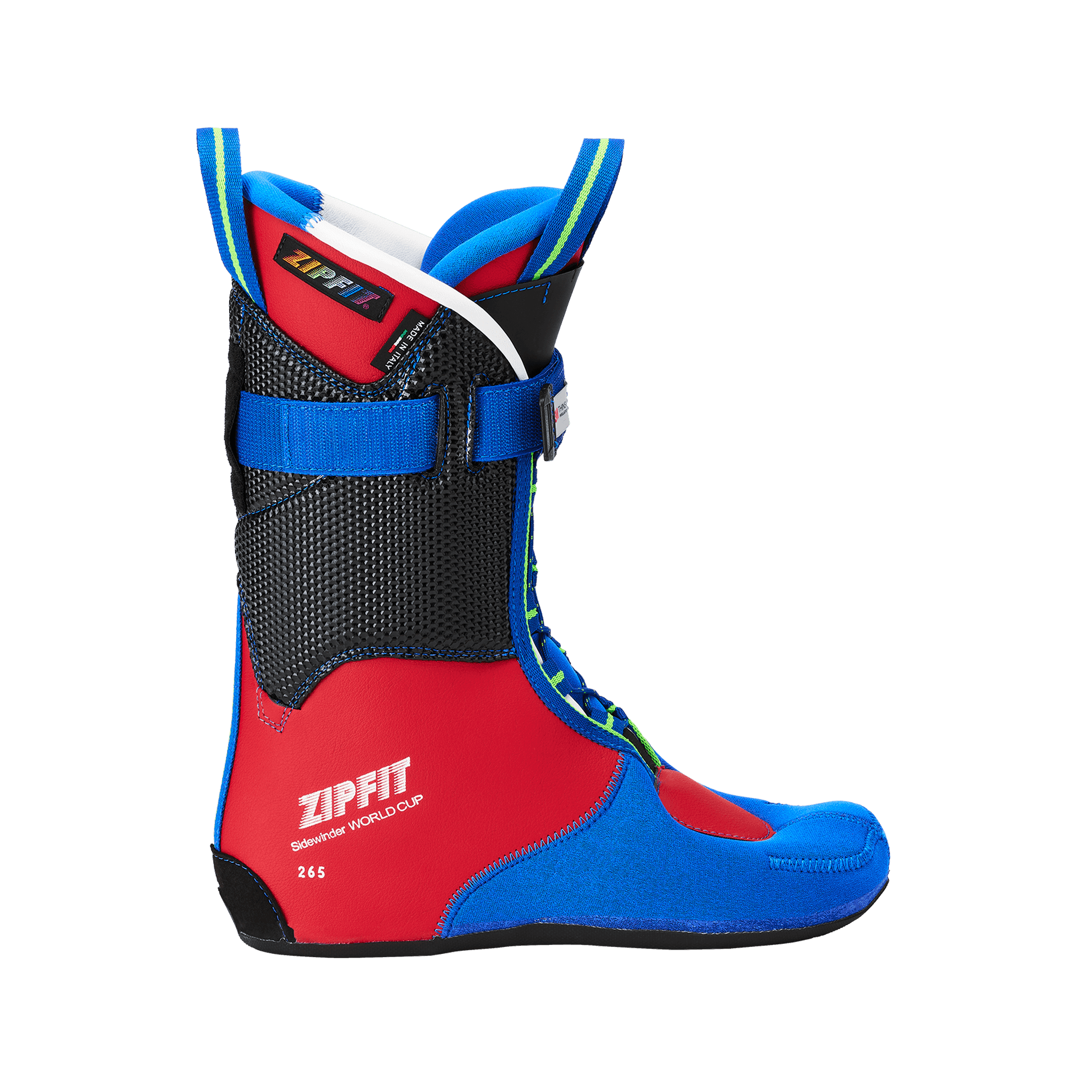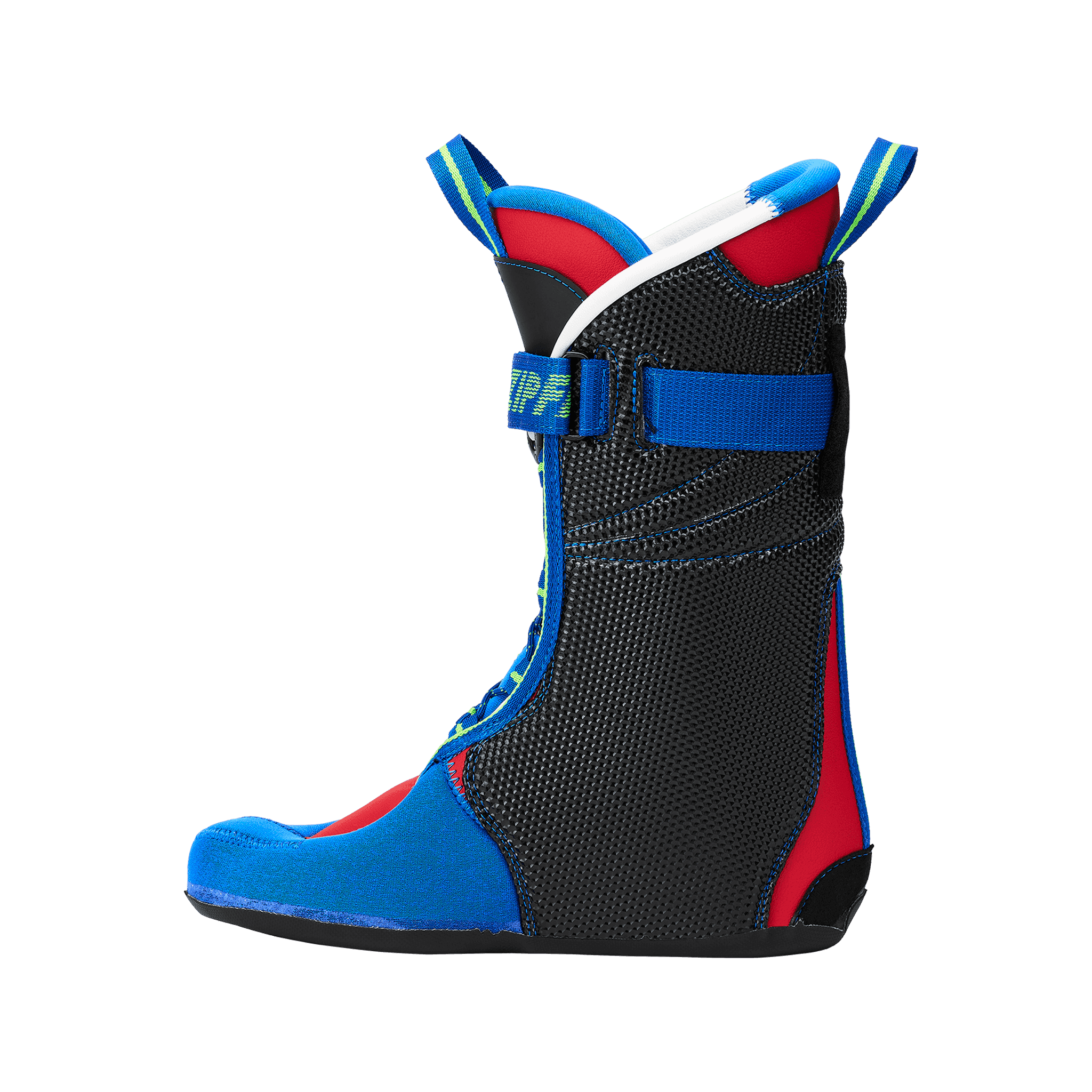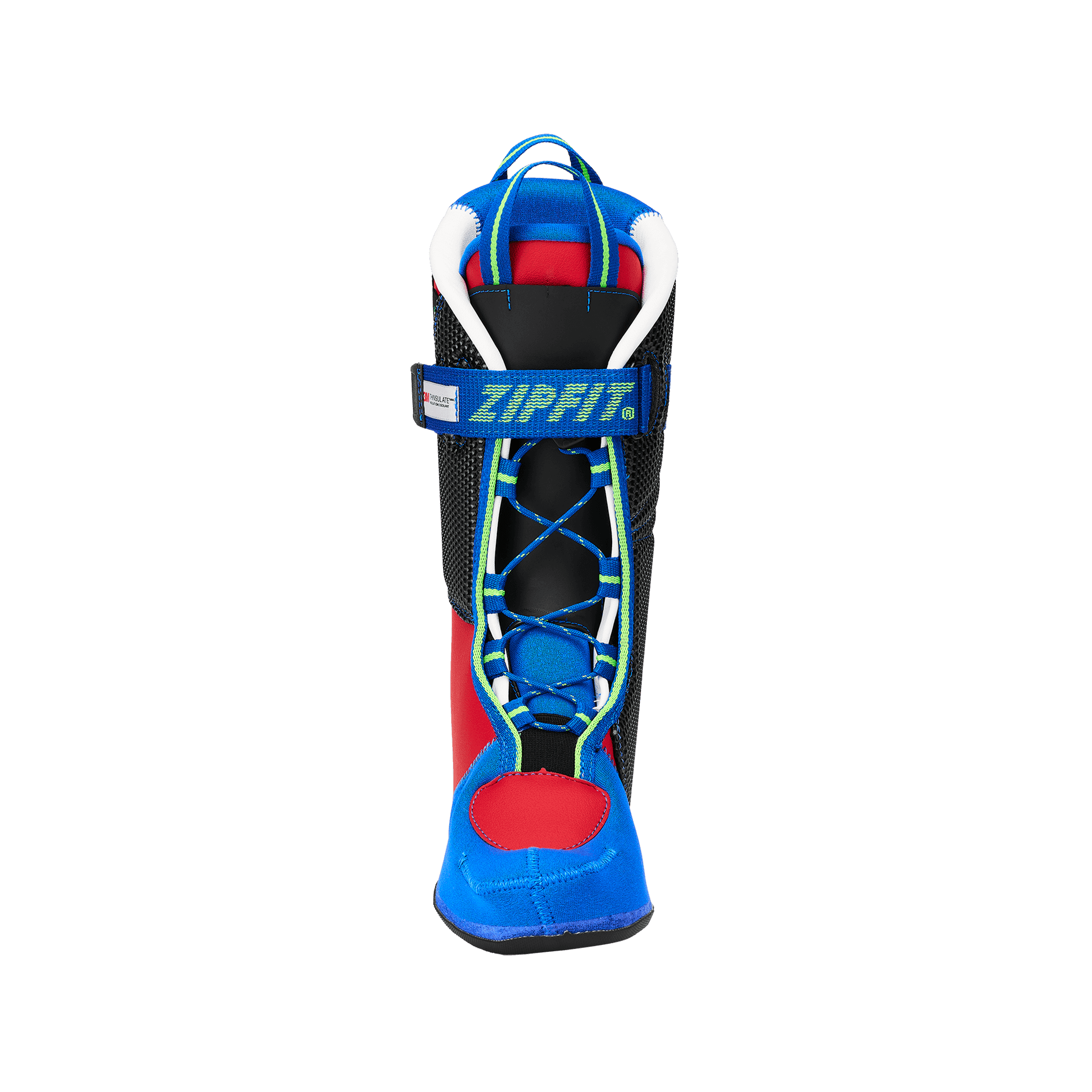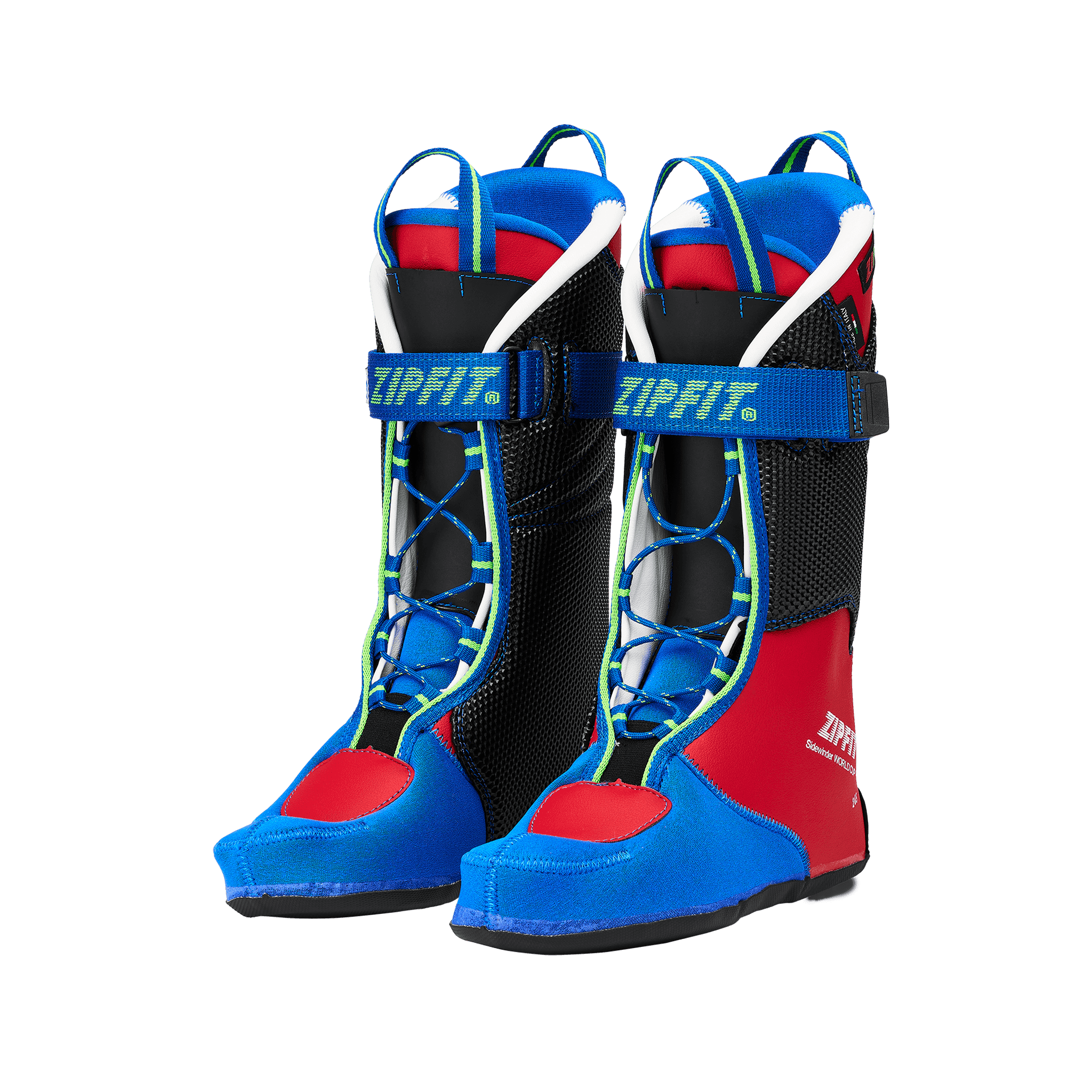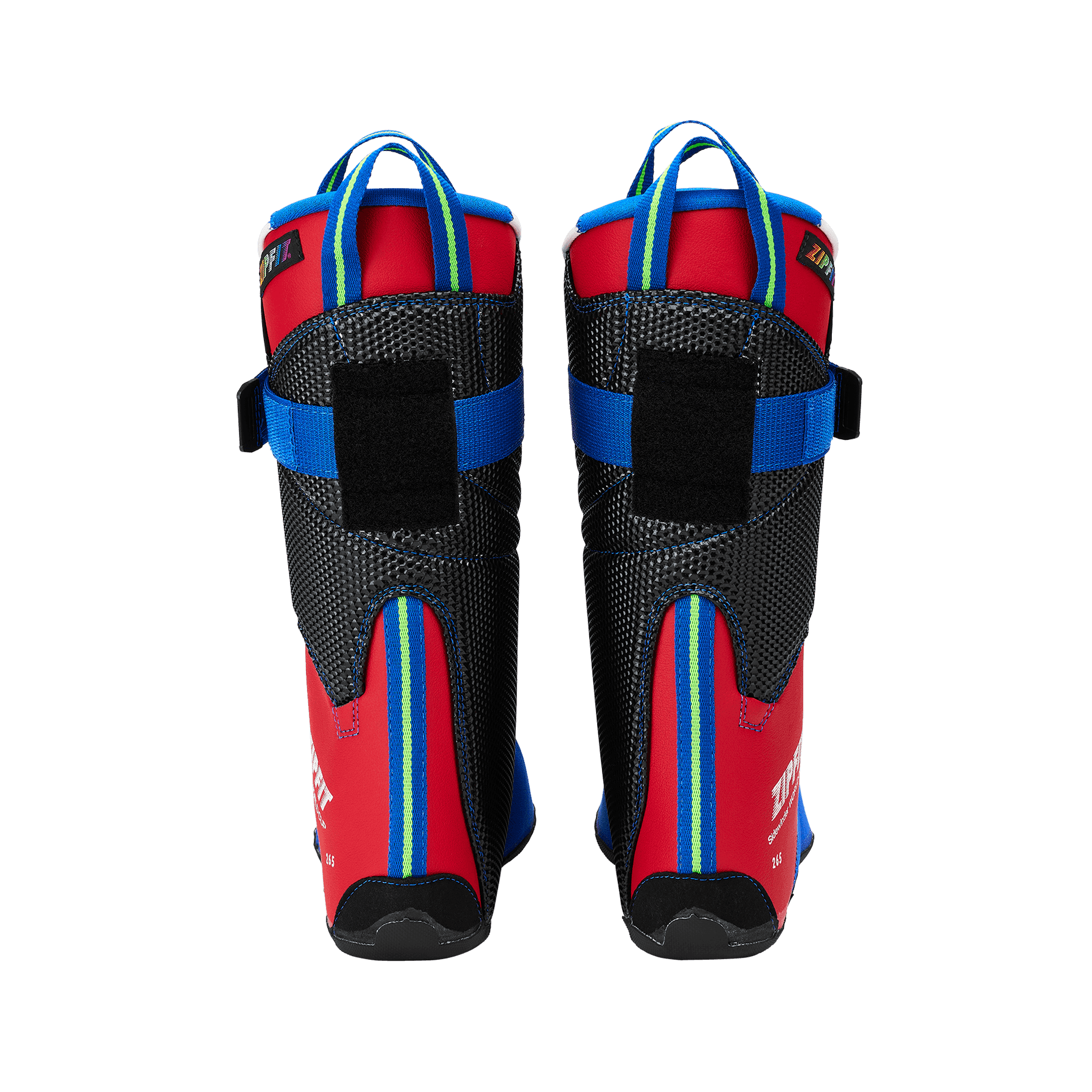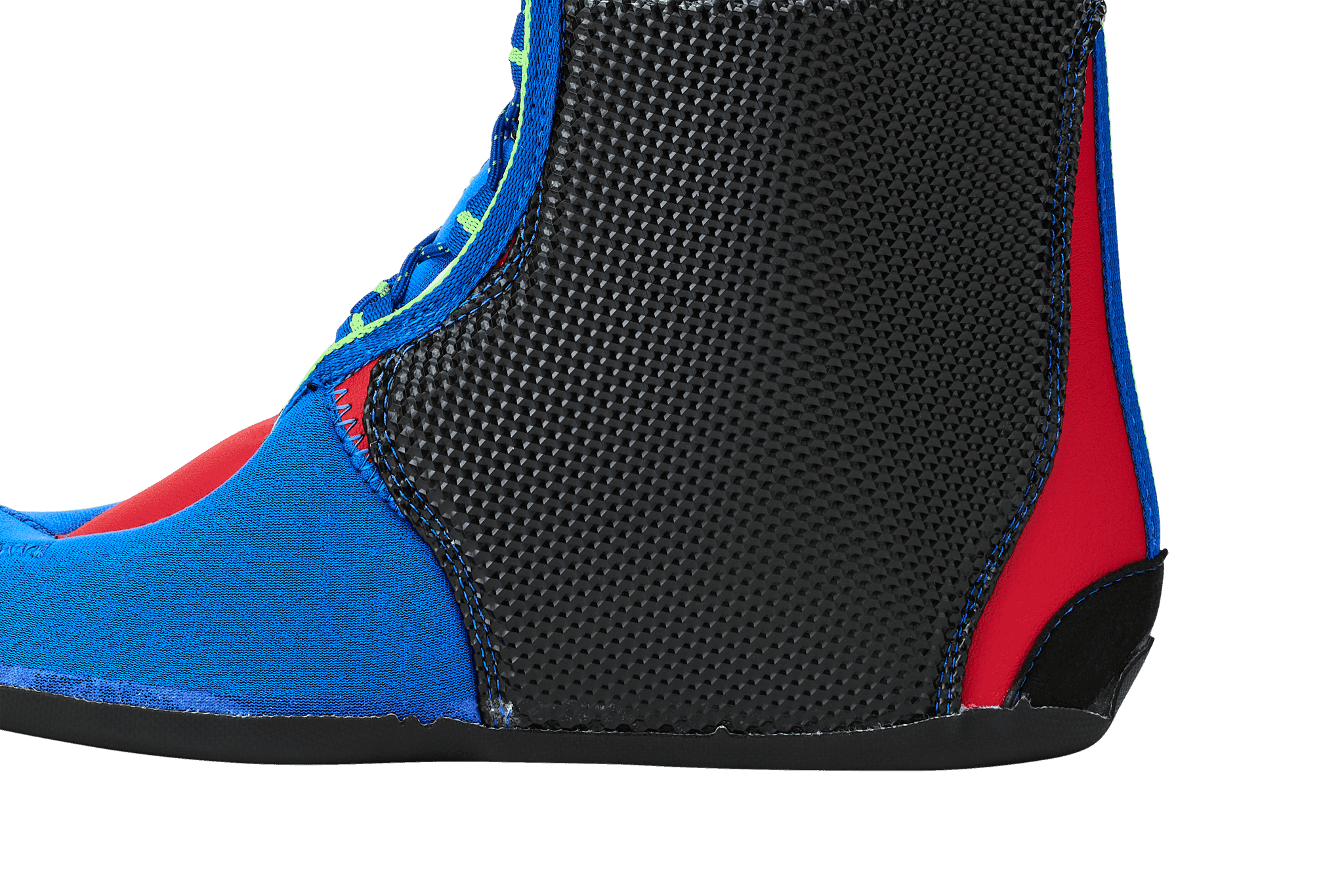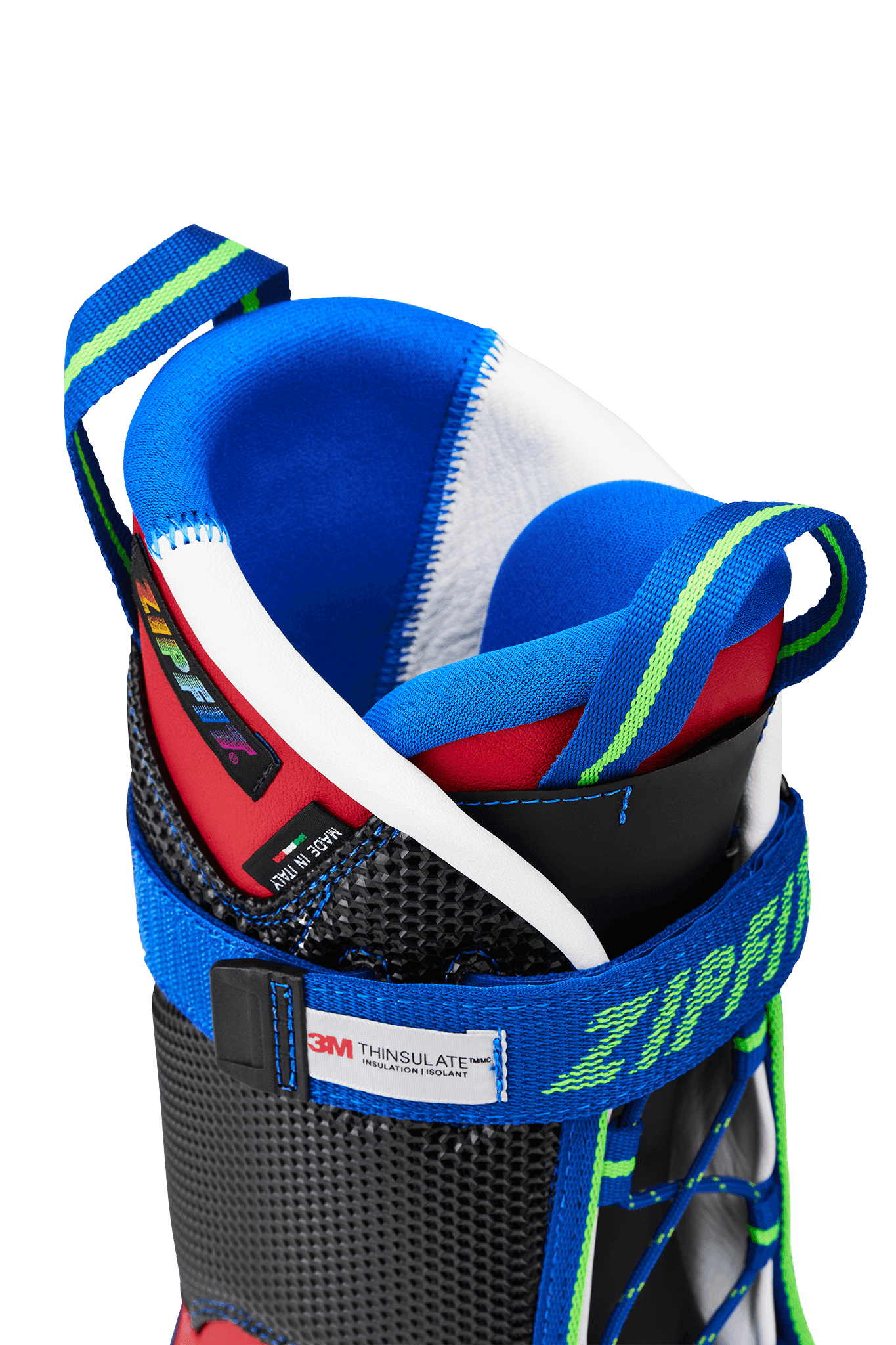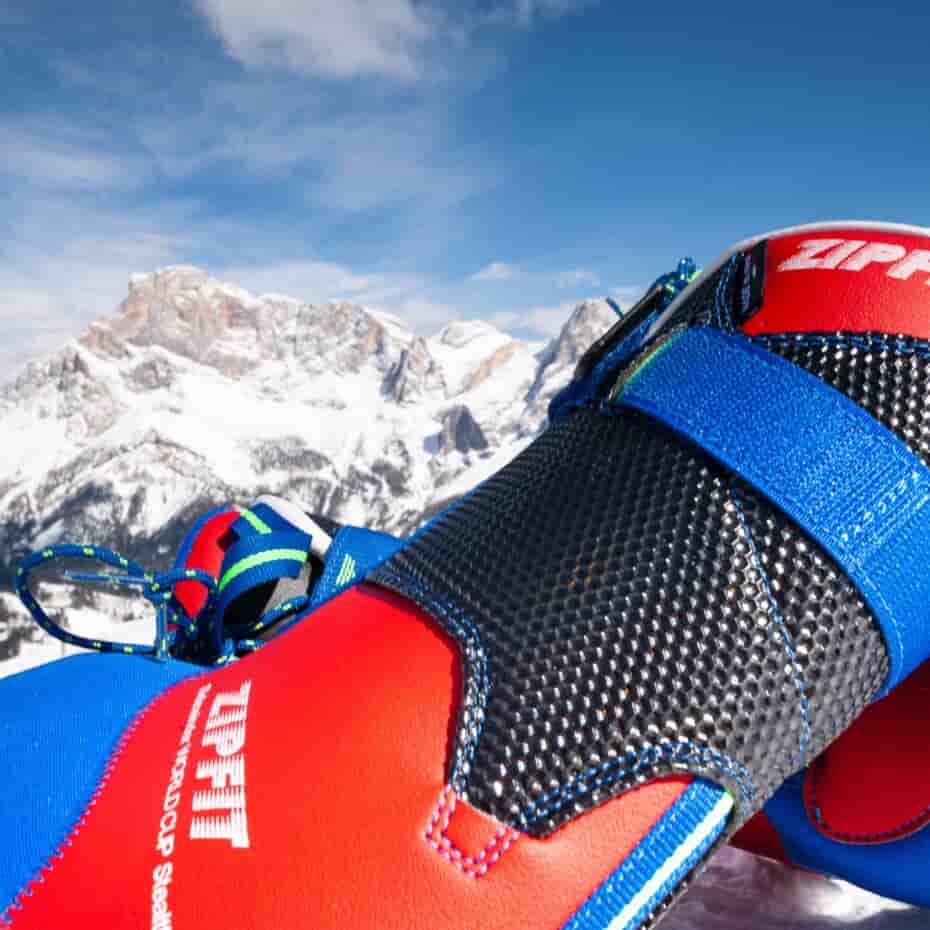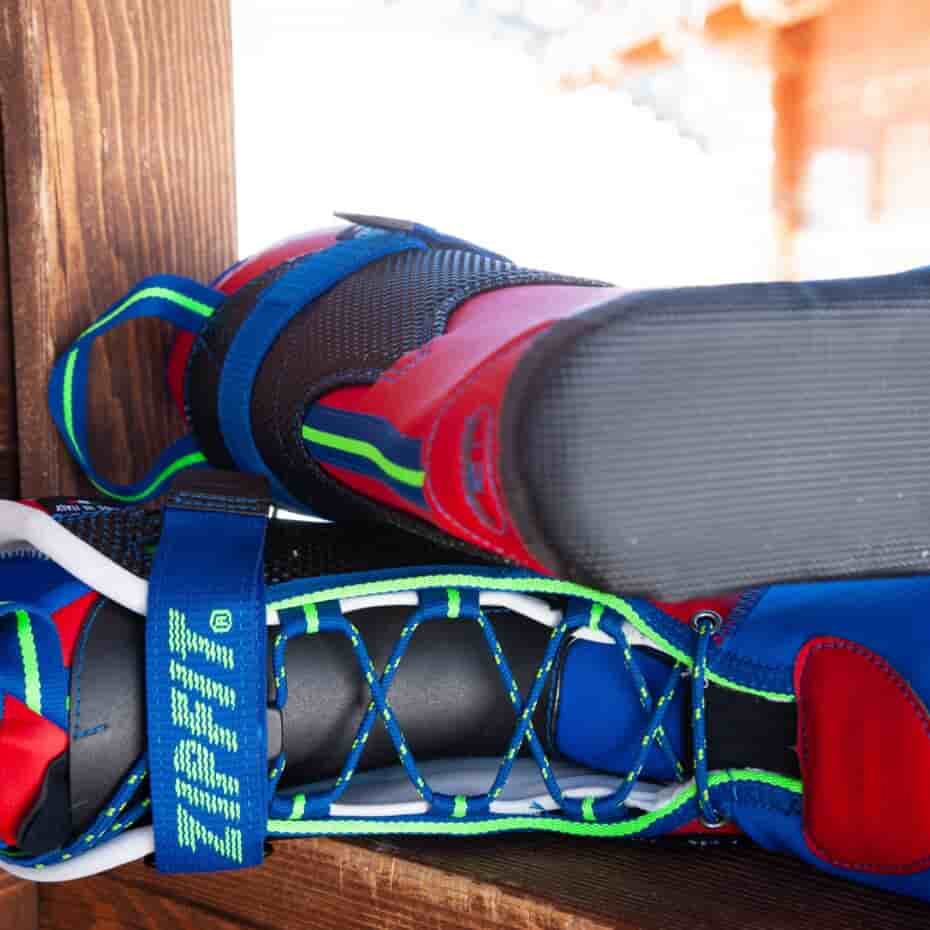 World Cup Sidewinder
The World Cup sidewinder ski boot liners are the culmination of 30 years of design refinement and stand out as Sven Coomer's choice liners. Many skiers search for the perfect turn. Sven sought to design the optimal ski boot liners that could help skiers achieve the feeling of a perfect carve. In order to transfer maximum energy from the leg into the ski, the World Cup Sidewinder features a medial side with stiffened plastic from the outsole up to the cuff, preventing ankle collapse. These liners are the highest performing ski boot liners in the world for on piste and in the race course.
Size chart
Mondo sizes correspond to foot length in cm.

Select the same Mondo size liner as your boot shells. Use
| Mondo | Euro | Men's US | Women's US | UK |
| --- | --- | --- | --- | --- |
| 21.5 | 34 | 3 | 4.5 | 2 |
| 22.5 | 36 | 4.5 | 5.5 | 3.5 |
| 23.5 | 37 | 5.5 | 6.5 | 4.5 |
| 24.5 | 38.5 | 6.5 | 7.5 | 5.5 |
| 25.5 | 40 | 7.5 | 8.5 | 6.5 |
| 26.5 | 41 | 8.5 | 9.5 | 7.5 |
| 27.5 | 42.5 | 9.5 | 10.5 | 8.5 |
| 28.5 | 44 | 10.5 | 11.5 | 9.5 |
| 29.5 | 45 | 11.5 | - | 10.5 |
| 30.5 | 46 | 12.5 | - | 11.5 |
| 31.5 | 47.5 | 13 | - | 12.5 |
Select size
Not sure?
View sizing information.
€395
Easy returns
Returns and refunds will be granted as long as the liners show no more than 5 days of use. See our Return Policy.
Product details
The interior has a neoprene tongue and the rest is stitched with the highest quality leather, sourced from the same tannery that supplies Ferrari, so going fast is in these liners' DNA. For skiers seeking stability and a true to form fit that perfectly reflects the shape of your foot and lower leg, the World Cup Sidewinders are here for you. Heightened sensitivity that comes with the leather interior matched with the stable drive of the sidewinder design make for the best power transfer possible.
Fit considerations
The World Cup Sidewinder liner is pre-packed with a moderate volume of OMFit self-molding cork composite, specifically designed for normal volume feet in low to mid volume shells. For ski instructors and active racers focusing on every element of the turn, the World Cup Sidewinder ski boot liners will give you a new edge, holding your foot and lower leg in the optimal position for maximal drive and control. 
Tech features
Laces and power strap
Designed to keep your heel and midfoot in place, the lacing system and power strap align your foot within the liner.
Neoprene toe box
A flexible toe box conforms to your forefoot, regardless of the width. With your foot secure in place, this toe box design allows for toe movement, keeping your feet warm.
Merino wool and Thinsulate
ZipFit toe boxes are insulated with Thinsulate and real merino wool, keeping your toes warmer while still promoting breathability.
Adjustable cork pouches
Three cork pouches in each liner (located behind the top of the tongue and on either side of the instep) allow you to adjust the cork fill to dial in your perfect fit.
Leather lining
1mm of fine leather lines the interior of this ZipFit, offering a precision fit and unparalleled heel hold.
Sidewinder
Rigid plastic extends to the base of the inside edge of the boot. This stiffened medial side address ankle collapse and offers superior turn initiation.
World Cup Sidewinder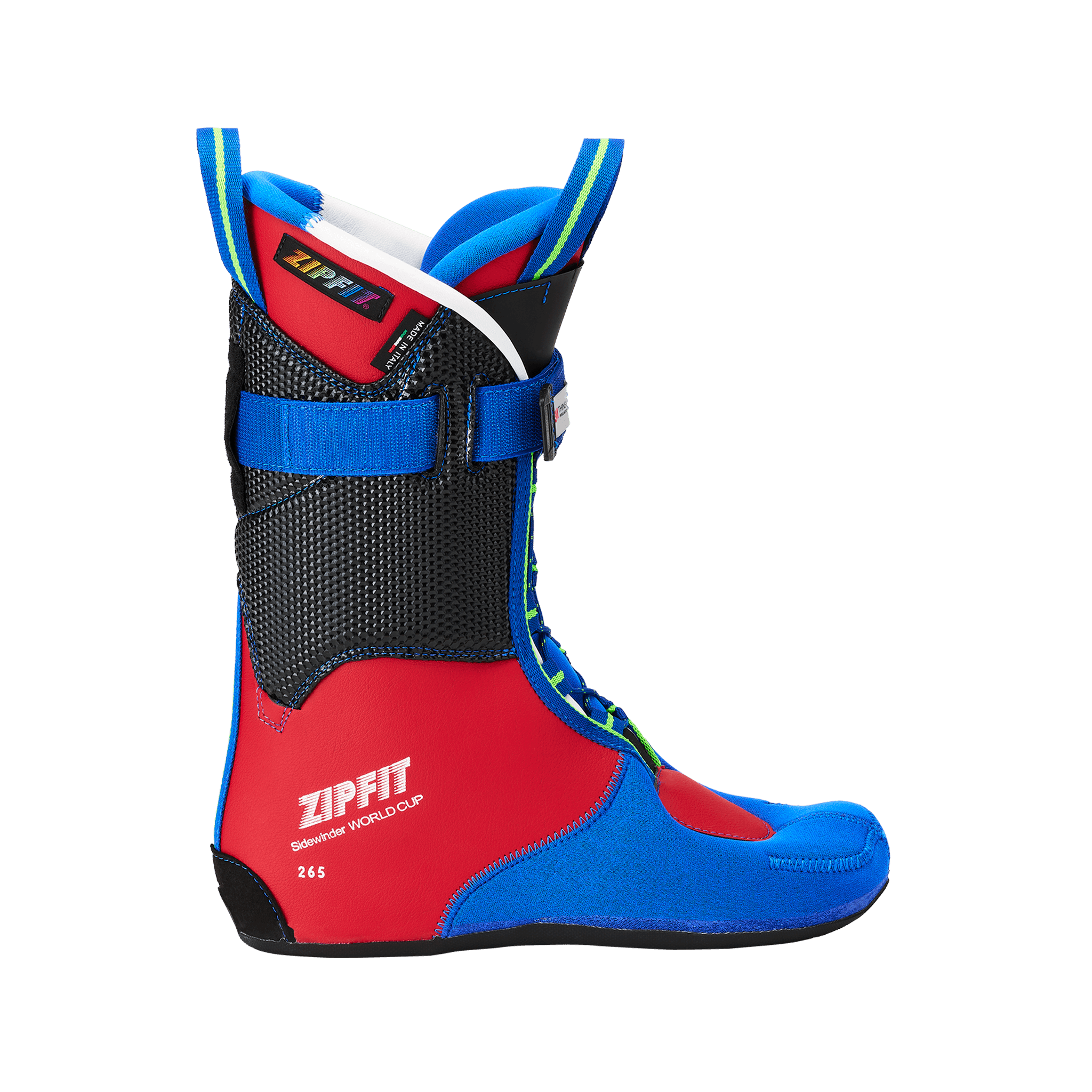 Unique features
Leather interior lining
Neoprene tongue
"Sidewinder" - stiffened medial side
€395
Corsa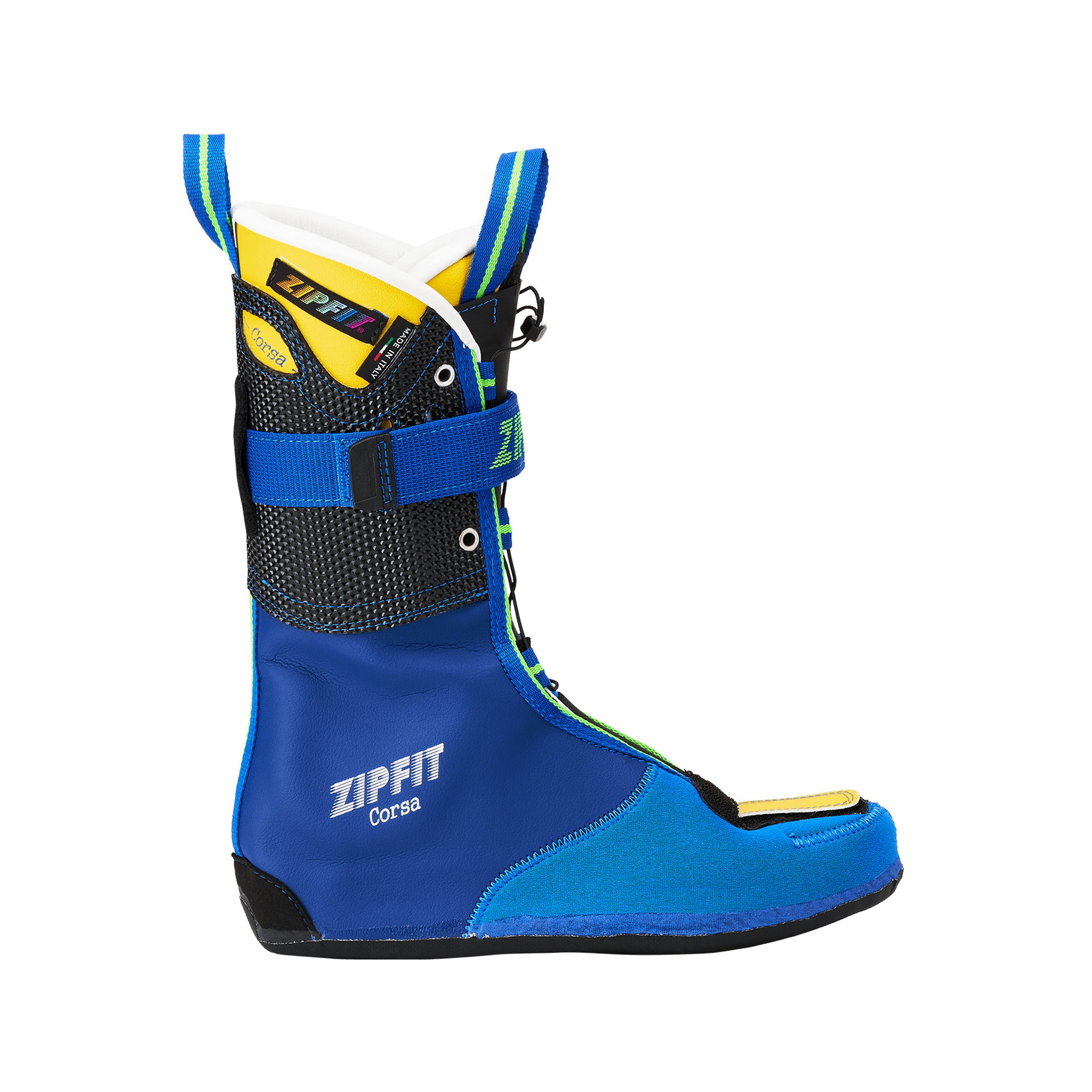 Unique features
Removable tongue
Leather interior lining
Leather tongue
Lower volume instep and toe box
Quick lock lacing system
€385
Reviews of the World Cup Sidewinder
13 reviews with an average star rating of 4.85
Too thick for my Low Volume Technica boots. I went to Corsa, which fit.
Ski boot shell: Dalbello Lupo Pro HD Lower leg and foot volume: Low volume heel/ankle, high volume forefoot Skier type: hard charging, any trail in any condition. The heel hold in these liners is eye-opening. I've skied the stock liners once or twice since switching to Zipfits. I'd feel safer skiing Zipfit liners with my shells unbuckled than stock liners with the buckles cranked down. ~300 days on the liners and they ski better than ever.
Only have a day on these because the season ended, but wow! Pretty blown away for first day performance with no tweaks yet. Shell fit with the model you choose is important. I wound up ditching my worn out Mach 1 LV 130's and tried a few different options( couldn't get my foot in with LV's and this liner). Wound up going to a wider shell, Lange RX 120 MV. Plenty stiff and feels like all of a 130 boot due to the liner and (presumably) the sidewinder construction. Conforms to my feet way better than my LV's ever did, and without cranking the buckles down like worn out stock liners. Very impressed. I recommend Investing in a heated boot bag, or something,getting past the heel pocket is tough when cold, no issue with warm shells and liners. I prefer putting them on with the liners in the shells, try both ways.
Just received and while I have yet to ski in them I have worn the World Cups in my shells for around two hours. Fit is great and the heel locked in but comfortable. Looking forward to winter.
I have a 100 last foot using a 98 last boot. World cup took up too much volume. Changed to Corsa for a perfect fit. Really like the full leather liner in the Corsa - unparalleled grip in the heel pocket. I would give it 5 stars but the tongues are misaligned where they stitched to the liner - I expected perfection at this price.
I have been skiing in Zips for 20 years. I am currently in Lange Xt3 140 pro and Lange Rs 130s and the zips are interchangeable in them. These liners will stiffen up your boot slightly. The biggest plus of Zips is the absolutely locked down heel hold you can achieve with these. The Omi Fit material used can be added or subtracted from the ankle heel area on each side of your foot and also in the tongue. Once you get this dialed the performance of these liners is incredible, so much better than foam. The liners will also outlast several pairs of shells. I prefer to use them with a heated boot bag so they feel like putting on slippers every morning at the hill. All day comfort once dialed in.
Best line I have used - ever! This is my fourth Zipfit liner and the new World Cup is an outstanding model for performance skiing. The fit is so solid around the entire foot and ankle with the usual Zipfit comfort level as well. It took me a couple of visits with my bootfitter to get the set-up, but after that it has been smooth skiing for the entire season. My experience with Zipfit liners is that I will get 4-6 seasons in these liners - worth the wait on the order and the price.
I would add your review scale with a 7-8 at the upper end and rate the Sidewinder as an 8+. The contact between the foot and ankle and the boot is moe solid and consistent than I had experienced in the two Gara liners I had used in the past. The experience of high speed carved arcs in the Sidewinder on a FIS slalom ski is about as much fun as I have had in a very long time. The Sidewinder is the perfect liner for advanced skiers and ex-racers.
I had already owned an earlier Zipfit and loved it. It solved many boot fit issues and improved my skiing immeasurably. The World Cup, as recommended by Zipfit has been in another league entirely. The fit, of course, is excellent, but it's also taken the boot performance to another level. The Zipfit is so precise, that I sometimes think the boot shell is really just there to attach the liner to the skis. My last Zipfit lasted more than 500 days and was still going strong, but I'm delighted that I upgraded.
I've been trying to find the right liner and boot combination for years. I've skied stock, foam liners and now Zipfit and they are hands-down the best thing I've tried yet. If you want that locked in feel without sacrificing comfort this is the way to go. Yes they are expensive, but you will never buy another liner and they will outlast your shells. When it was time for new boots I simply moved the liners over to the new shells.
I have had the good luck to ski in these liners for the past ten seasons. Let me be more specific - I have skied ONE pair of these liners for the past ten seasons! That's well over 500 ski days in a single liner. These may seem like a steep investment, but when amortized out the value of these liners is a no brainer. All that penny pinching talk is to say NOTHING of the technical/performance superiority of my ZipFits. The edge control from the sidewinder is unmatched. My feet stay warm. The cork makes for the most comfortable boot setup I've ever skied. Not much more to say other than whenever (if-ever) my liners wear down I will be buying another pair with a smile on my face.
I have worked in the ski industry for 40 years. I have tried countless different boots and liners. I have a very narrow foot. Heal, and ankle area of my foot has never felt secure in a boot. The zipfit liner is definitely the best fit, as well as comfort I have ever felt in a boot.
Each contour of my foot is met for top shelf response and comfort. LOVE these!
What's better - leather or neoprene?
It all comes down to user preference.
Are you willing to lace up your liners and step into your shells before every use? Our leather lined ZipFits require this move, while our neoprene lined ZipFits are easier to step into. If your answer is "no way" – we suggest the neoprene ZipFits.
Leather offers a true to form fit meaning your ankles and shinbone will imprint into the leather, securing your lower leg and foot to the ultimate degree.
Neoprene has more natural cushioning, so while you can still get an excellent fit, they have a more forgiving feel when skiing.
Both interior liners can last a LONG TIME with proper care. While we think of leather as more durable, we know of a pair of neoprene liners with 1500 ski days.
For precision fit and performance, the leather has a slight advantage.
For ease of use and all mountain comfort, the neoprene has a slight edge.
Should you take your liners out of your ski boots?
Ski boot liners will dry better if removed from the shells, but what about the wear and tear of removing the liners and then stepping back into the shells? We recommend removing your ZipFits from the shell after skiing to unlace them and let them dry and then using the Ski Boot Horn to assist in stepping back into your shells. The Ski Boot Horn dramatically reduces the wear on the backs of your liners and by lacing your liners up prior to stepping into your boots will ensure that your foot is properly positioned.
Can I add boot heaters to my ZipFits?
Certainly, but take note that if you make an incision in your liners for boot heaters, that will void your 30 day money back guarantee. We recommend skiing in your liners for a week or so to ensure they are the right size and model before you add boot heaters. Additionally, heated socks perform well and don't require altering your liners. 
Are there any return exclusions?
Yes, if you alter your liners or make any incisions to them in the first 30 days, it will void your return policy.
How should I care for my ZipFits?
Great question, we built out an entire Care and Repair section to help our customers keep their ZipFits skiing longer.
Will I be charged for a replacement item?
If there is a difference in price of an item, you will be asked to pay the difference or receive the appropriate refund. ZipFit offers free shipping to the customer on our orders over $100, if there is a return, the customer is responsible for paying for return shipping.
How can I track my orders and payment?
When you place an order, you will receive a confirmation email followed by another email when the product ships. This email will contain tracking information. If you can only receive USPS at your address, please leave a note in your product order.