Product summary
Product details
Compare models
Reviews
Gara LV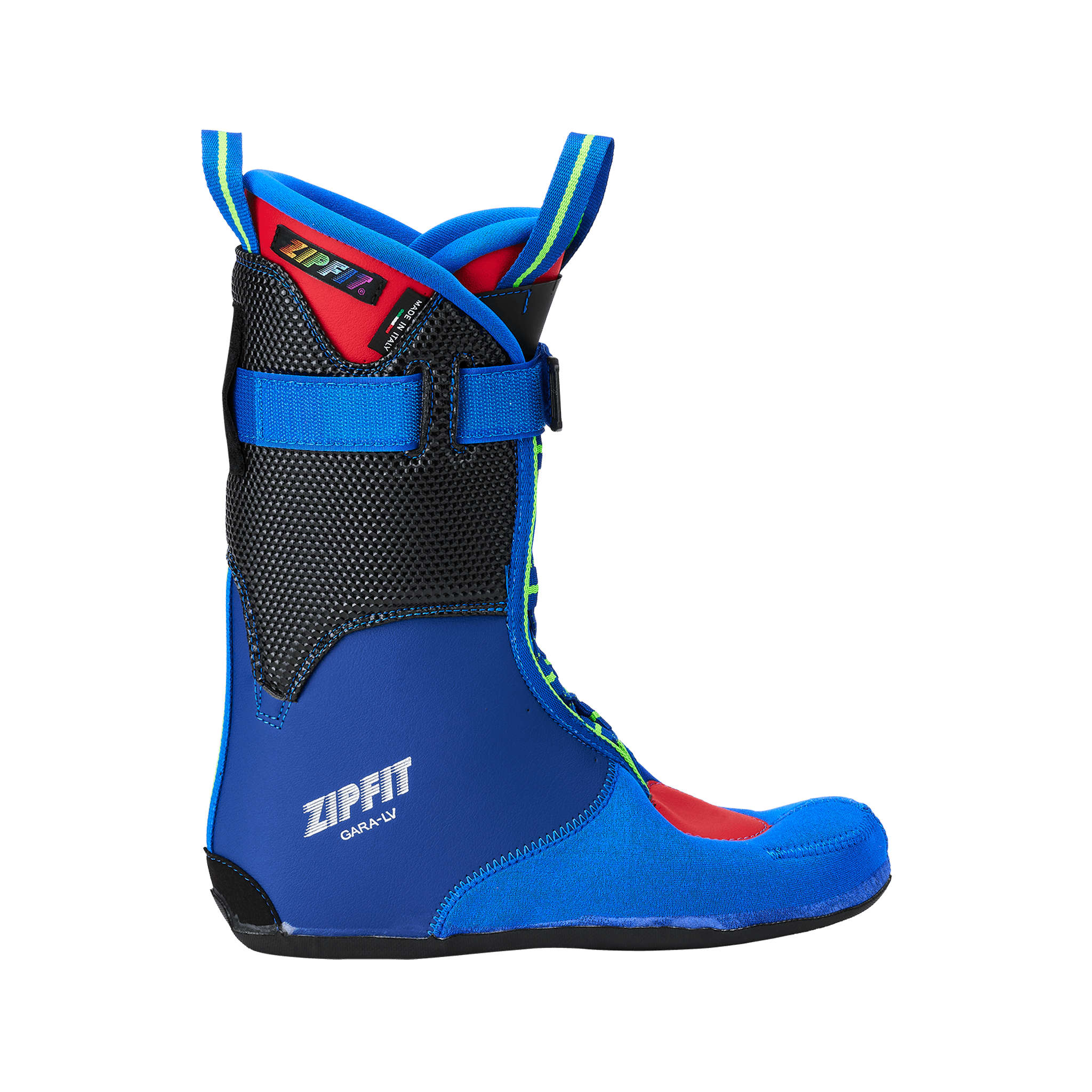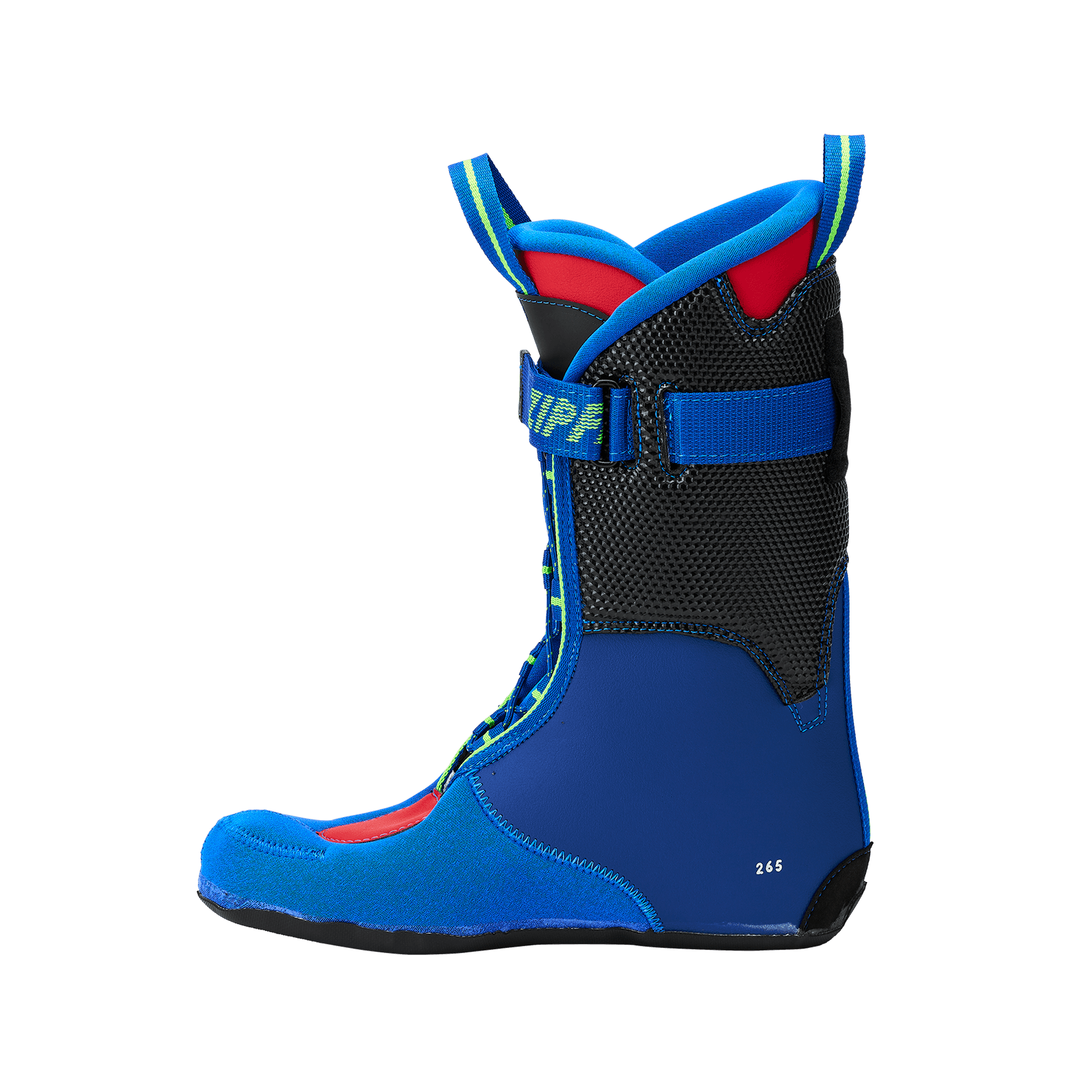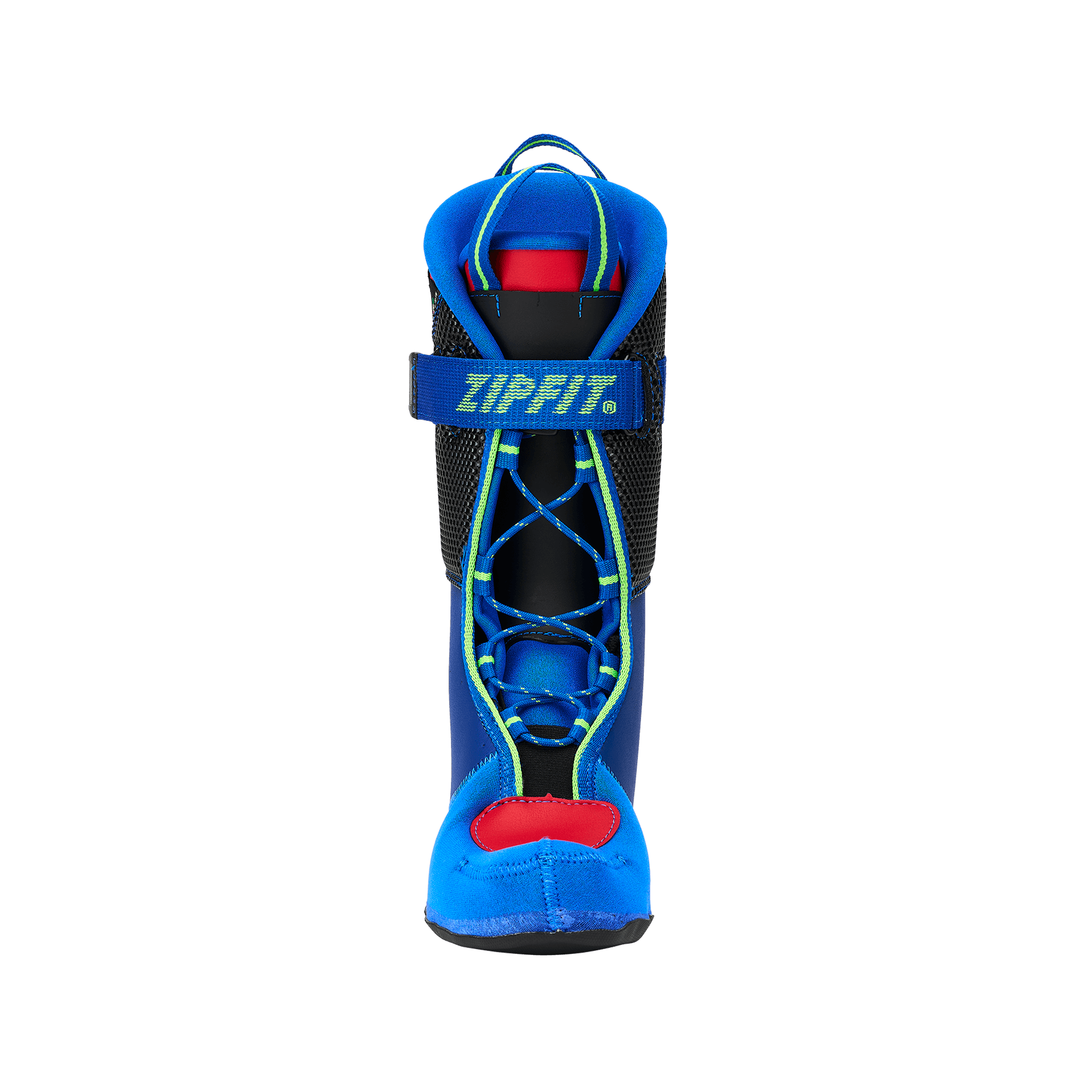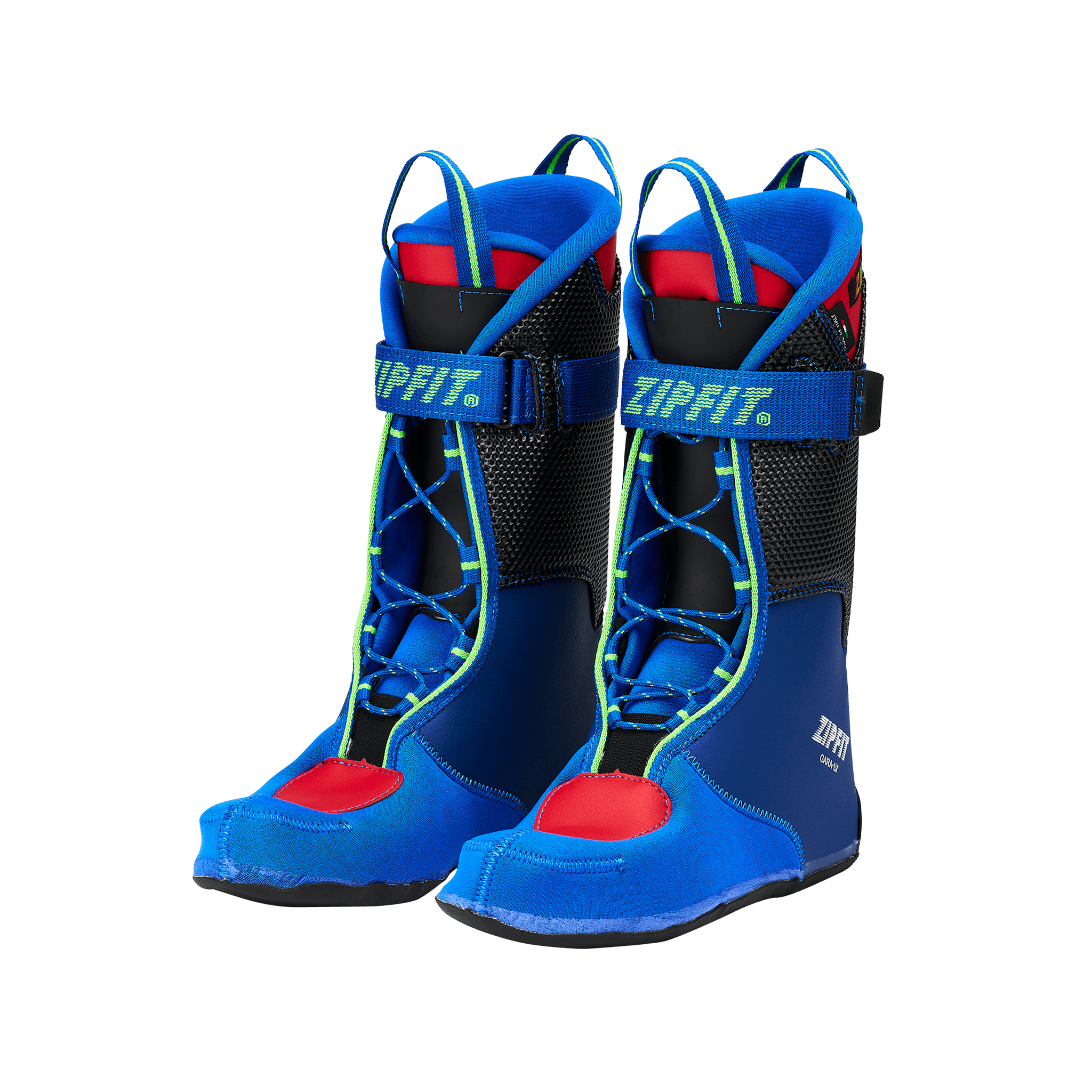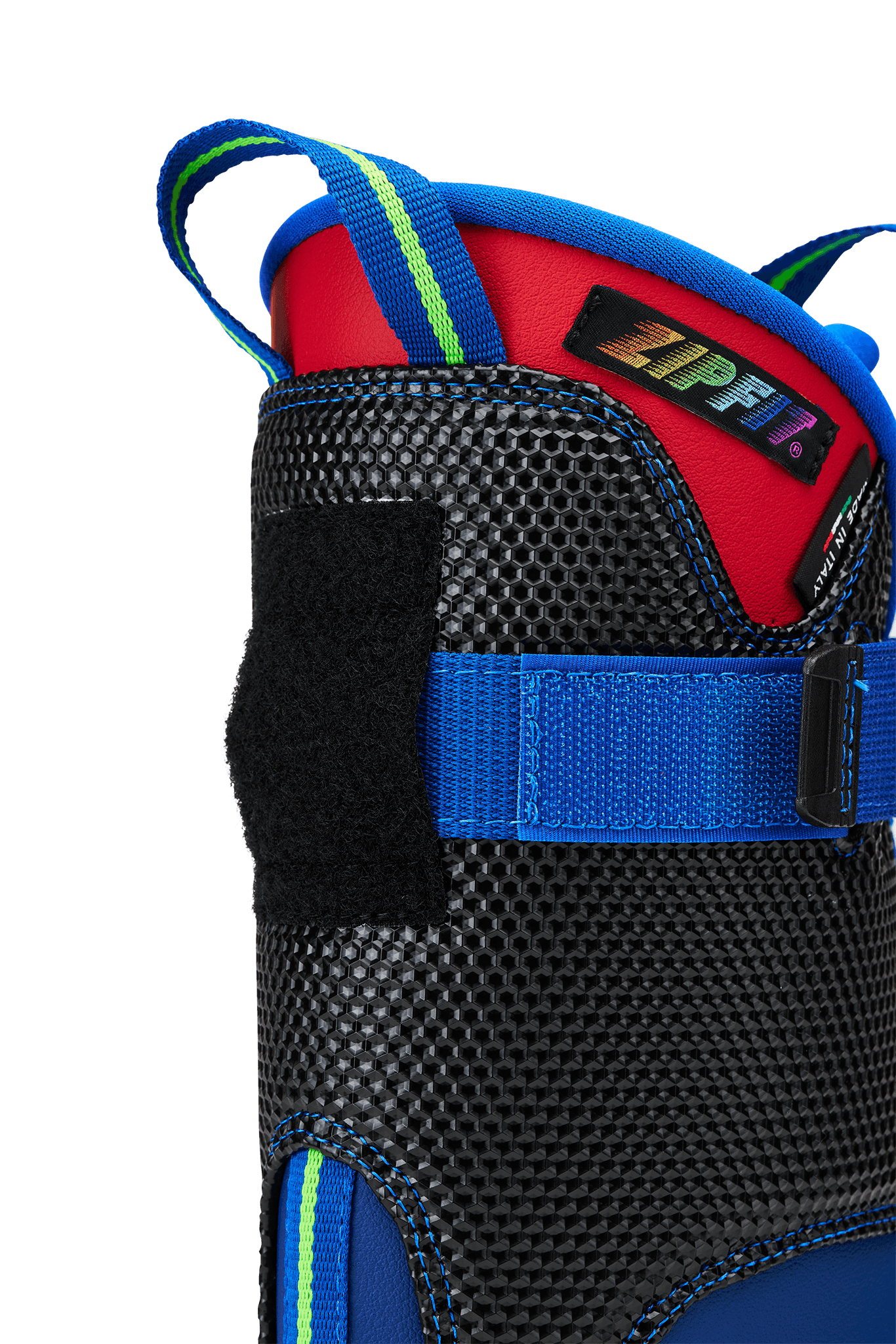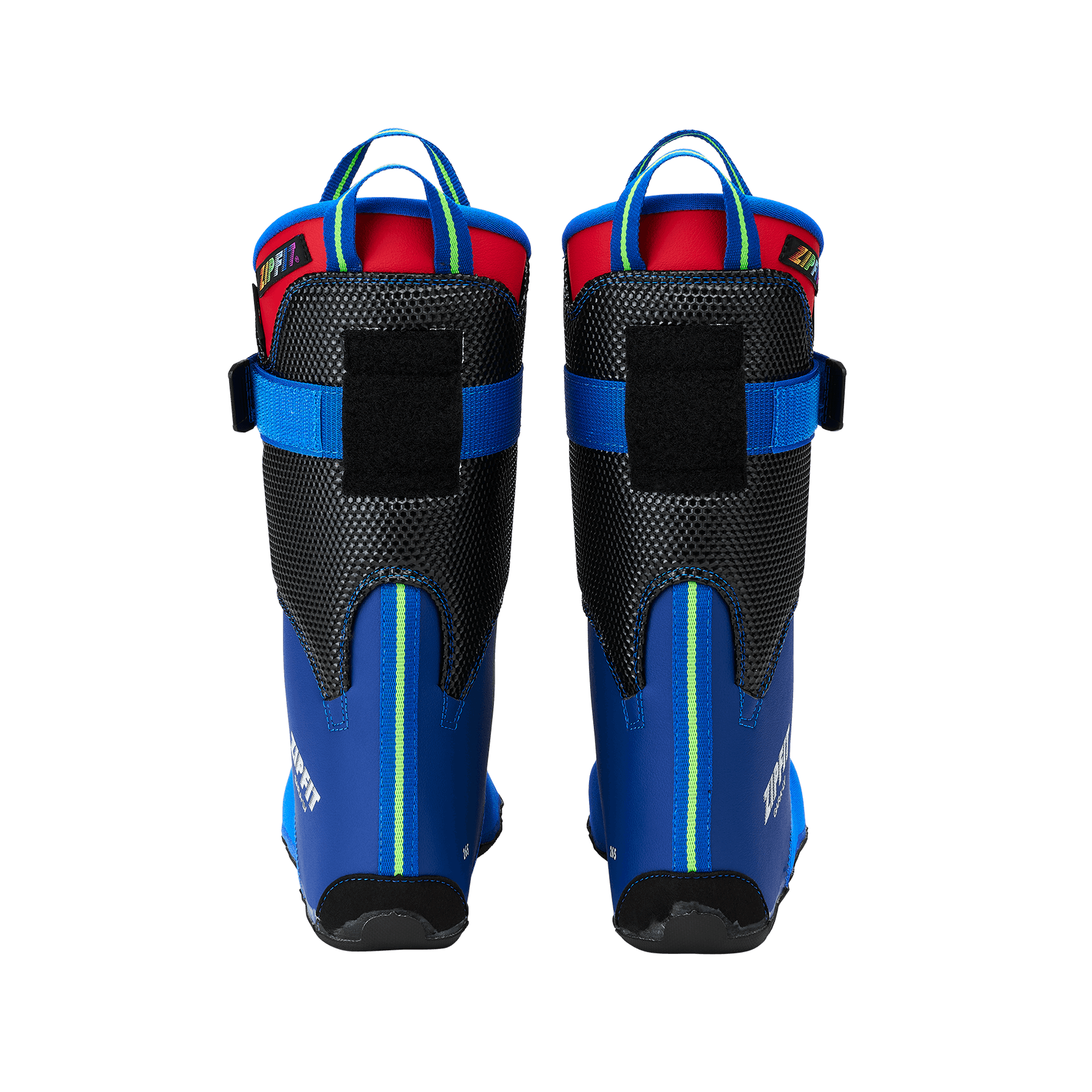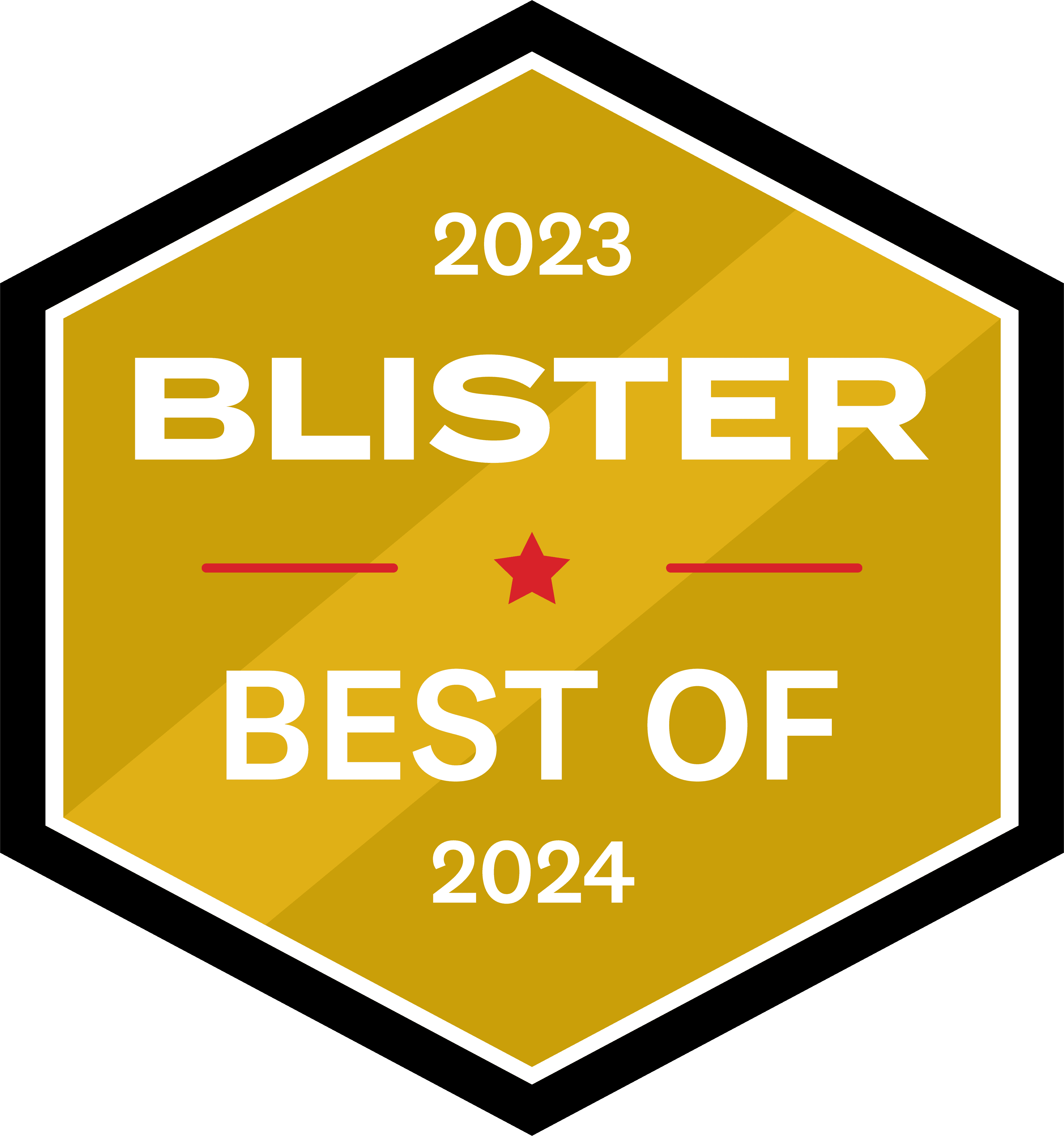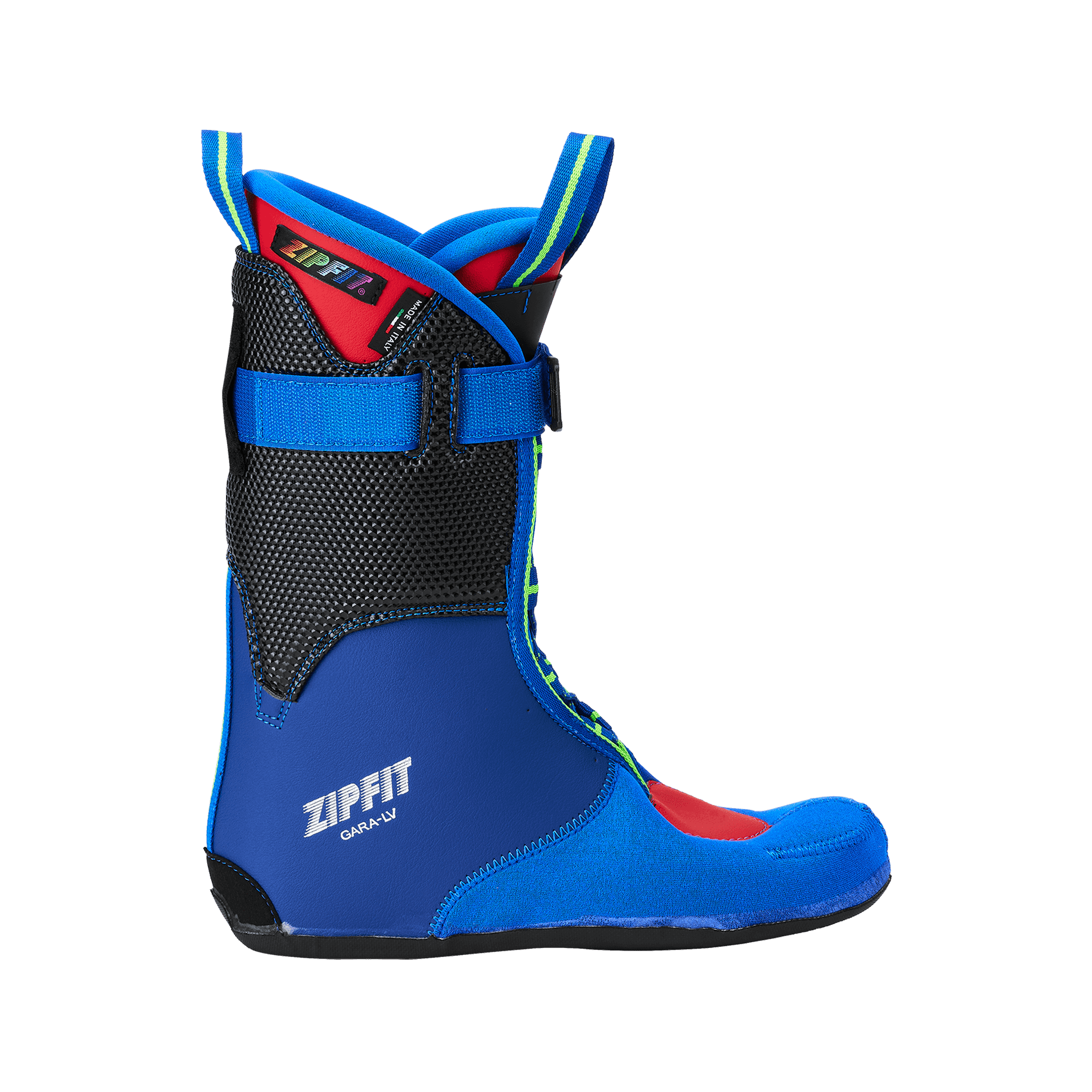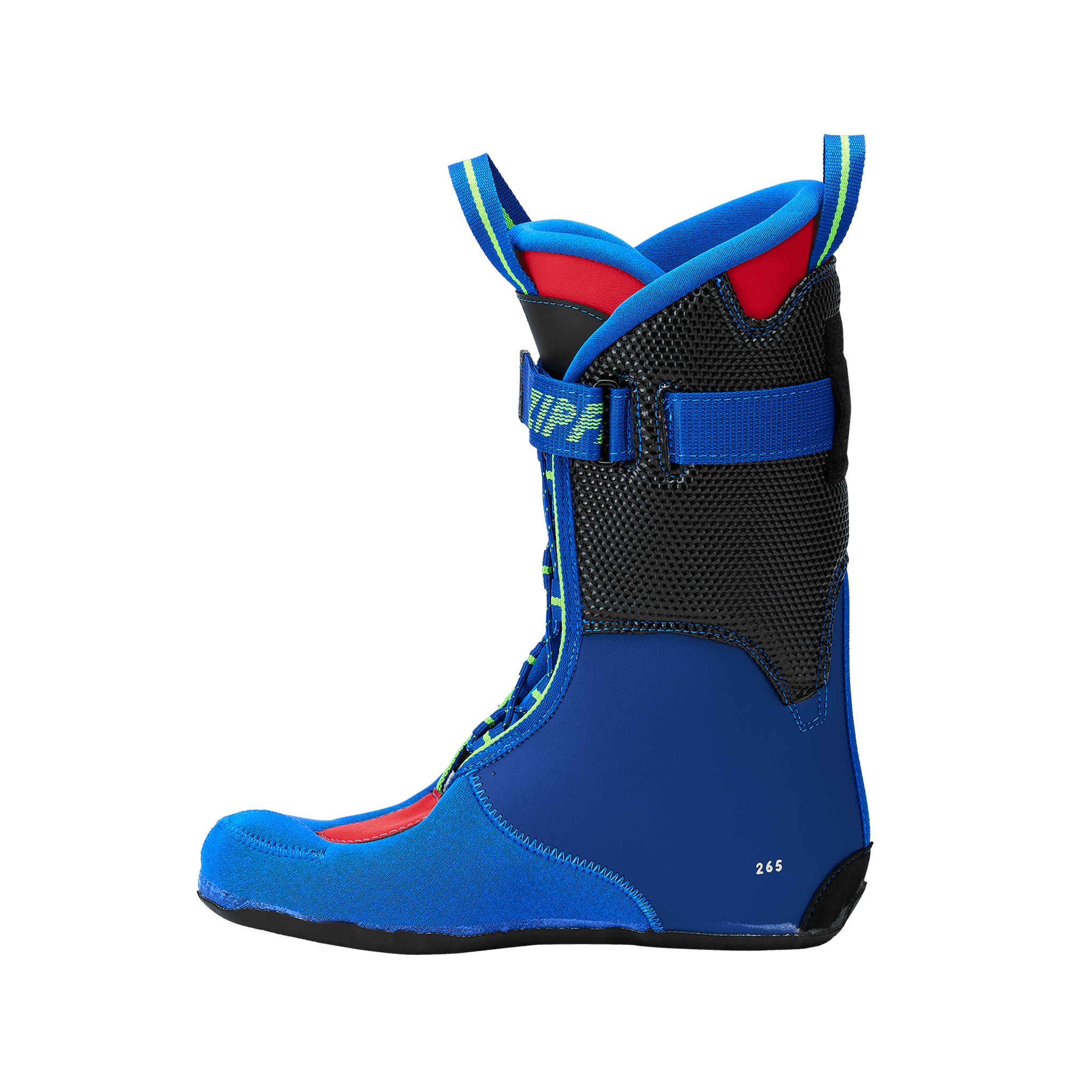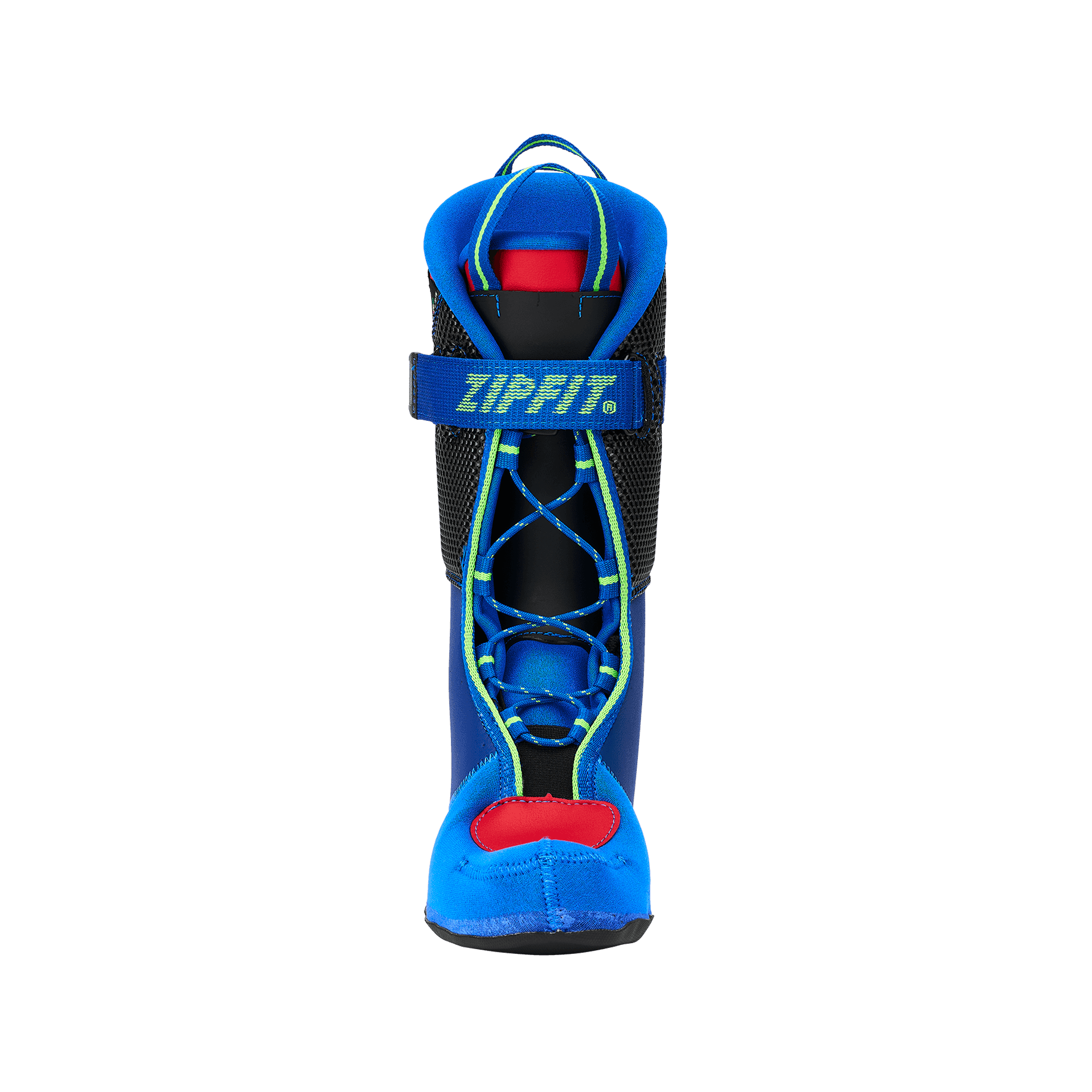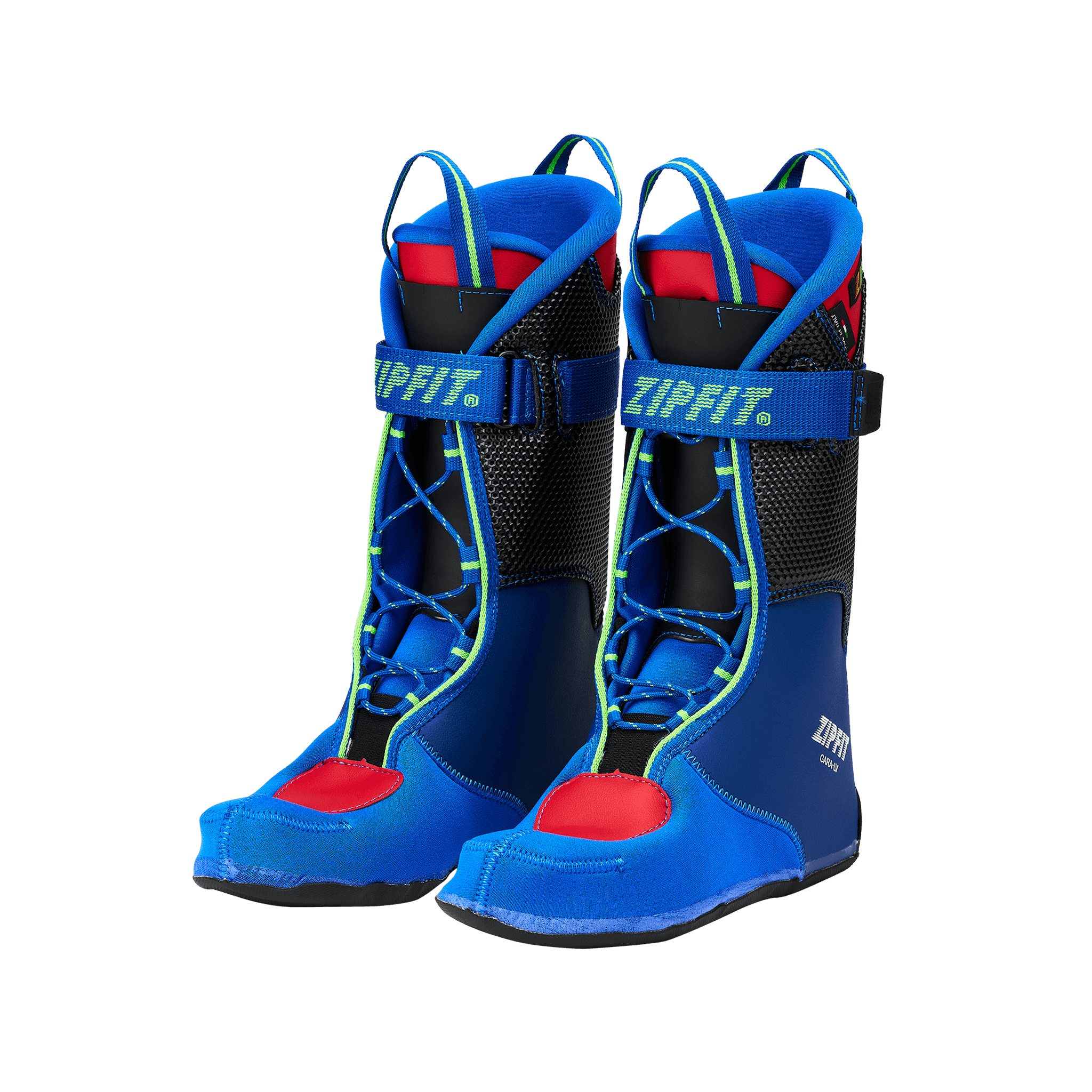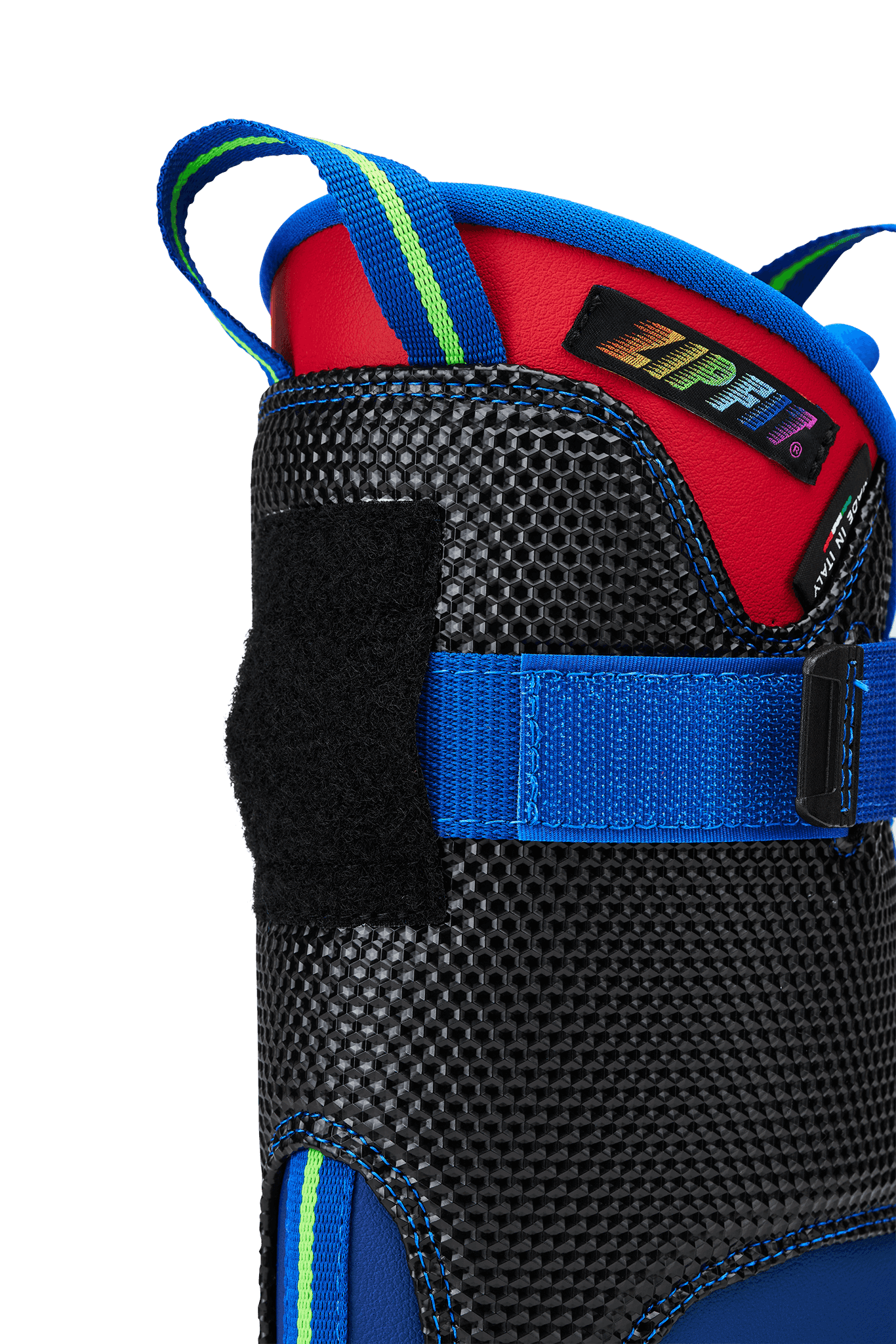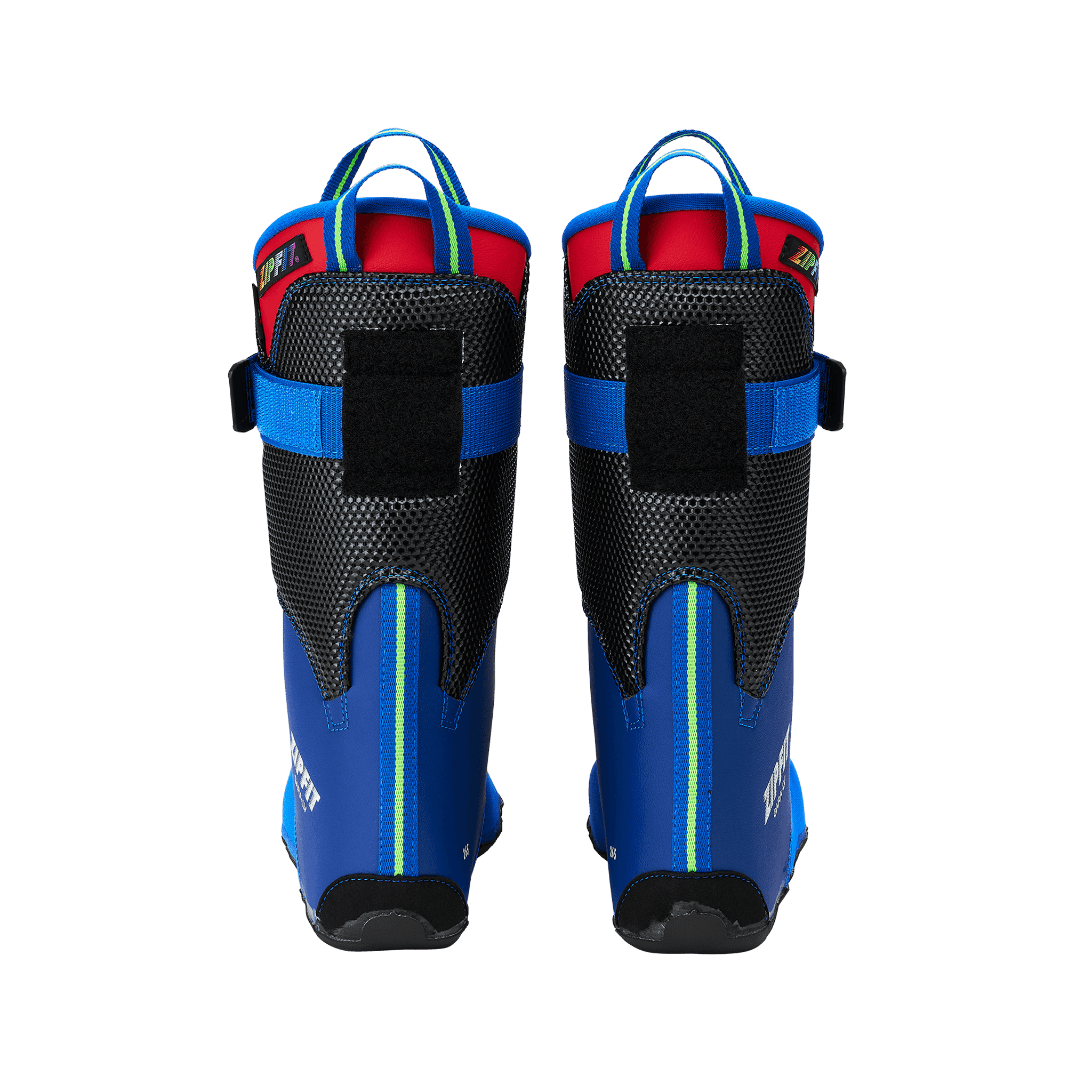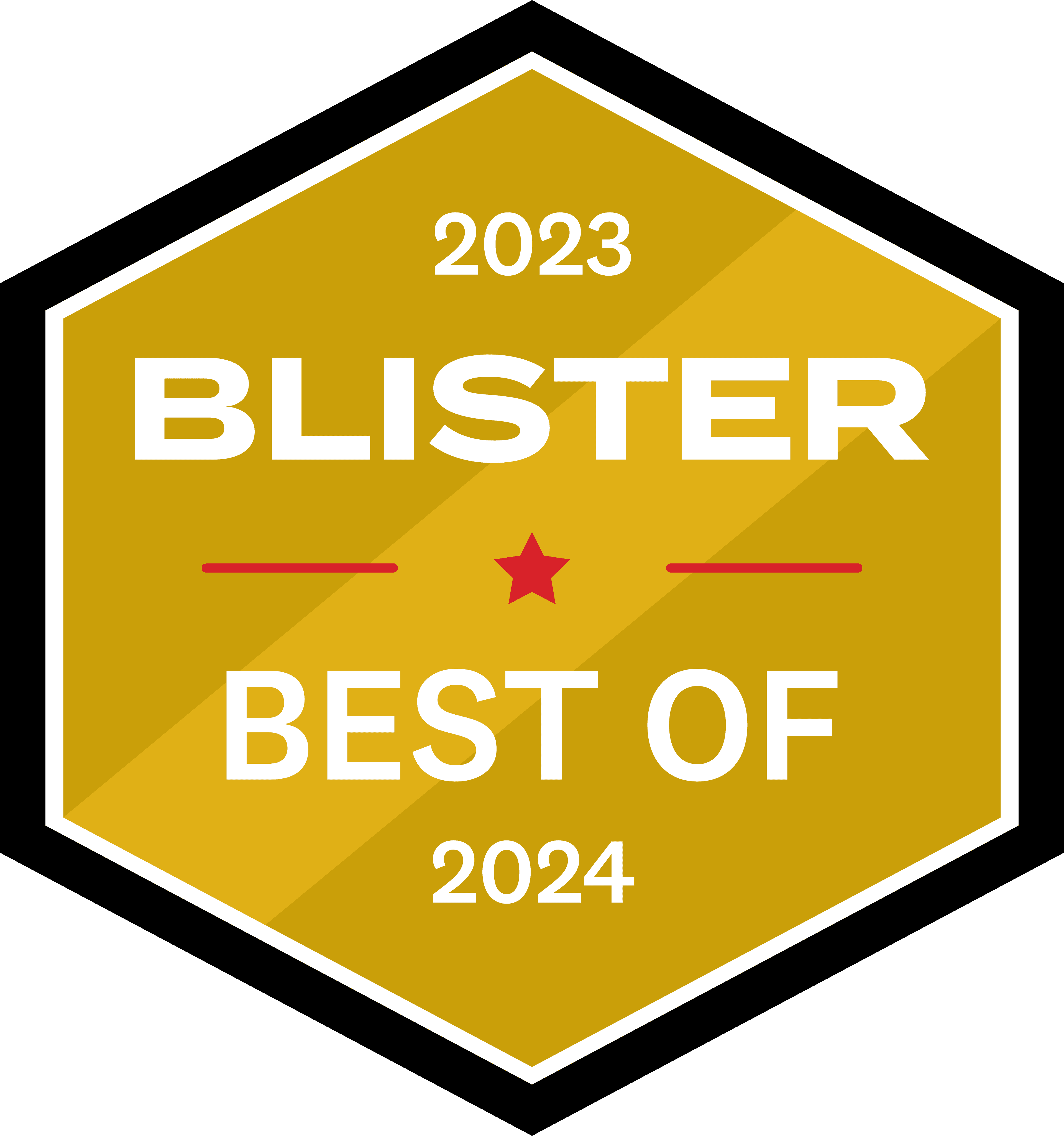 Gara LV
Designed for the all mountain skier seeking performance, the Gara LV (low volume, meaning less cork material) ski boot liners offer uncompromising edge control, with an engaging forward leaning design, keeping you balanced through bumps, steeps, powder, and chunder. Recognized as Best of by Blister Magazine 2020-2024, the award winning Gara is the signature liner in our fleet and is now offered in low volume and high volume models to accommodate more skiers.
Size chart
Mondo sizes correspond to foot length in cm.

Select the same Mondo size liner as your boot shells. Use
| Mondo | Euro | Men's US | Women's US | UK |
| --- | --- | --- | --- | --- |
| 21.5 | 34 | 3 | 4.5 | 2 |
| 22.5 | 36 | 4.5 | 5.5 | 3.5 |
| 23.5 | 37 | 5.5 | 6.5 | 4.5 |
| 24.5 | 38.5 | 6.5 | 7.5 | 5.5 |
| 25.5 | 40 | 7.5 | 8.5 | 6.5 |
| 26.5 | 41 | 8.5 | 9.5 | 7.5 |
| 27.5 | 42.5 | 9.5 | 10.5 | 8.5 |
| 28.5 | 44 | 10.5 | 11.5 | 9.5 |
| 29.5 | 45 | 11.5 | - | 10.5 |
| 30.5 | 46 | 12.5 | - | 11.5 |
| 31.5 | 47.5 | 13 | - | 12.5 |
Select size
Not sure?
View sizing information.
CAD $619.5
Easy returns
Returns and refunds will be granted as long as the liners show no more than 5 days of use. See our Return Policy.
Product details
The interior is stitched with comfortable neoprene that offers just the right amount of padding and is easy to slide on or slip off. Gara LV ski boot liners properly position your foot so that your toes have wiggle room and stay warm thanks to a neoprene toe box insulated with Thinsulate and merino wool. A moderately stiff cuff makes the Gara our most versatile liner, capable of performing in any terrain on the mountain.
Fit considerations
The Gara LV liner is pre-packed with a moderate amount of OneMinuteFit self-molding cork composite, specifically designed for low to mid volume performance boots. While the Gara LV comes pre-packed with less cork, skiers can add more cork to the tongue or ankle pockets to dial in their perfect fit. If the Gara LV doesn't have enough volume for your ski boot shells, consider the Gara HV model.
Intended use
All mountain, freeride, carving
Tech features
Laces and power strap
Designed to keep your heel and midfoot in place, the lacing system and power strap align your foot within the liner.
Neoprene toe box
A flexible toe box conforms to your forefoot, regardless of the width. With your foot secure in place, this toe box design allows for toe movement, keeping your feet warm.
Merino wool and Thinsulate
ZipFit toe boxes are insulated with Thinsulate and real merino wool, keeping your toes warmer while still promoting breathability.
Adjustable cork pouches
Three cork pouches in each liner (located behind the top of the tongue and on either side of the instep) allow you to adjust the cork fill to dial in your perfect fit.
Neoprene lining
3mm neoprene lines the interior of this ZipFit, adding a nice element of cushioning without sacrificing the performance of your fit.
Gara LV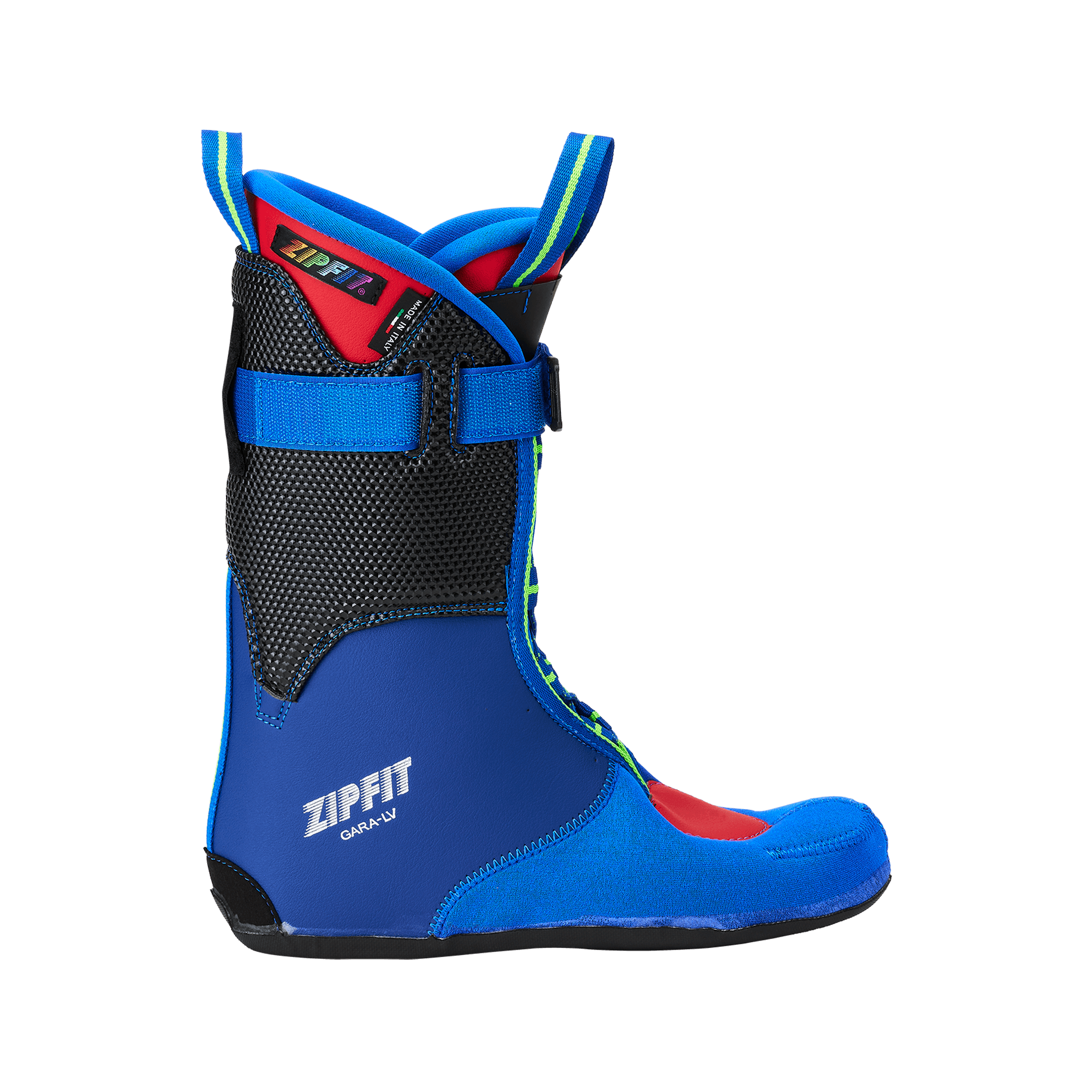 Unique features
Neoprene interior lining
Most universal fit
CAD $619.5
Gara HV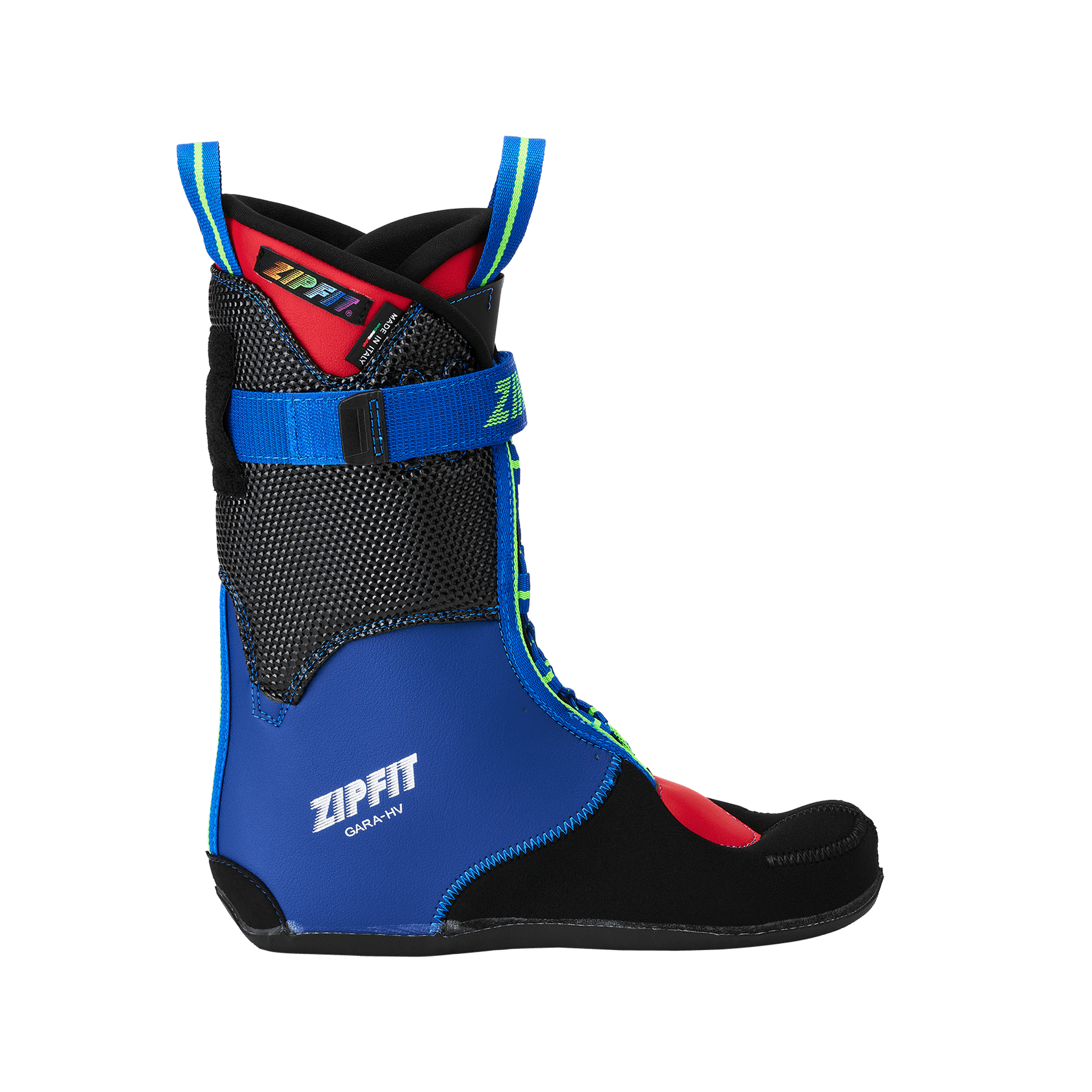 Unique features
CAD $619.5
Reviews of the Gara LV
29 reviews with an average star rating of 4.9
Incredible liners that pack in not out. Dabello Krypton 130 (27.5 98 Last), Lange RS130 (27.5 97 Last) and Salomon Mnt. Lab (27.5 99 Last) I have about 75 days on these liners and they are awesome!! Rather than packing out after 15 or 20 days like a stock liner, these seem to pack in. The more days I ski them, the better they fit and conform to my foot irregularities. The heel and complete foot lock experienced with my Gara LV's are the best I have encountered...better than intuition foam and better than custom foam injection. Also, these are quite warm. Almost as warm as Intuitions and warmer than custom foam injection liners. These liners do not instantly conform to your foot like a Custom Foam Injection liner so see a good boot fitter like Ted Sump at the base of Snowbird in Little Cottonwood Canyon before you ski them. The cork/gel matrix used in ZipFit Liners is very firm... more firm than even modern-day custom foam injection so revisit your boot fitter early and as often as needed. It took me about two or three sessions per pair with Ted for various grinds and punches to get these Gara LV's dialed. The quality and workmanship observed in ZipFits is like no other. Based upon how well they are working for me after 75 days, I am guessing I will get a least 300 more days out of these liners. So glad I purchased these. The cost is significant but you get what you pay for and these liners are worth every cent.
The best boot liner ever. Makes my feet feel strong with every turn.
Best liner you can get. Talk to others who swear by them for all the tips and tricks to both break them in and care for them throughout the course of their life span - which I am told is at least 3+ seasons. I love them.
Ski boot shell: Lange XT3 130 MV Lower leg and foot volume: lowish volume forefoot, high arch and instep, slender ankles, big calves. Skier type: fairly aggressive, ski patroller (not uncommon to do very long hours in my boots) What works or doesn't work for me: while the Gara LVs were an immediate improvement over the stock liners and the intuitions that replaced them, they took some getting used to, and some breaking in. I needed to add a little cork to my right heel pocket and quite a bit to the left (both medial and lateral). I was apprehensive about adding cork at first, afraid to ruin my liners, but adding a bit at a time yielded good incremental gains in heel hold and comfort. Unfortunately, thanks to my challenging arch and instep height I'm unable to use the laces and power strap. I just can't slide the liner into the boot without tearing things up. I destroyed a boot horn in like a week. Fortunately, the performance and comfort gains from the Garas without are enough that I really don't miss the little added stiffness. Ultimately this is the best investment I've made in my skiing ever. I have never had boots that fit this well. Even after countless hours working with bootfitters. The added precision from the new liners is nothing short of incredible. I no longer need to pop most of my boot buckles after every run. My feet stay warmer and don't go numb like clockwork. The fit stays consistent throughout 8-9 hour days in my boots, which is something I've never felt before either. My wife, and a whole bunch of our friends have now joined the Zipfit club. If you're thinking about getting yourself a pair, don't hesitate, just do it. Seriously.
Are you thinking about buying a ZipFit liner? Do it, you won't be disappointed. The heel hold is unbelievable. Allday comfort. Warm. The flexible neoprene toe box allows for a sock-like fit, great for wide feet and high insteps. You'll ski like McConkey each of the 10 days you get in a year.
In an age when things are mass-produced and looking at a modern boot's liner makes you cringe for workmanship and detail, the Zipfit is a welcome respite. Putting your feet into the Zipfit liner is a "thunk" as the heel locks itself into the heel pocket. It's a profound change from assembly line liners. Made in Italy. Worth every penny. This is the real deal. Getting feet into the liner is easy getting the whole thing into the shell takes a bit of practice and does take a bit more time. Time well spent. Things to change. Send them in a box. Not a bag. Seriously. A booklet that describes the cork addition removal process in detail. For 550$ Euro send a tube of cork. The "Thinsulate" label needs to go. It looks very cheap - and on such a beautiful piece of workmanship. Do I really need to see 3M??? And detracts from the look hugely. Seriously, get rid of it or hide it on the other side. The lace lock mechanism is OK but could benefit from an industrial designer's hand. I'd recess the power strap slightly into the liner - the power strap when all done up takes up a bit of room/ thickness find ways to reduce this bulk slightly. This is all minor stuff - this is a beautiful piece of craftsmanship. How does it ski? Divinely. The heel hold and general fit is the best I've experienced in over fifty years of skiing. Remember Nordica Astral Slaloms? With these liners you can actually feel the snow. Highly recommend.
I have been a huge Zipfit fan for many years. Life changing liner for comfort, control, durability. Got the new Gara LV to go with new Low Volume Salomon boots. Perfect. Skiing them at Park City. Just astounding comfort and control. And I have very tough to fit feet. Perfect.
Best ski equipment I have ever bought. I wish I had known about zipfit liners decades ago when I was racing. Better late than never!
My zipfits are the best investment i've ever made. They made the biggest difference in my skiing. The tight lace up fit and stiff cork makes your boot more responsive, and gives you so much more control. Also completely cured my shin bang - these will cushion even the worst back slaps. People ask me how I still ski everyday / compete in race boots - these liners are how.
This is an excellent upgrade to the stock liners that came in my Atomics. They even alleviated some pressure point pain that had been getting difficult to deal with. With that said, they could be improved. I'd like to see a boa lace system if the dial could be positioned properly out of the way, and the power strap is a little cumbersome as well. Nevertheless, a very well-manufactured product, and the customer support is excellent.
They're just about everything I was hoping for. My feet are happy all day long, which I never thought was possible and has changed the way I ski the resort. Now the last lap of the day is just as enjoyable as the first. I'm using these in a pair of Tecnica Cochise 130's and it took a little time to figure out how to get them on and off without struggle. But, after a chat with Jeff, I haven't had any issues. They are quite a bit stiffer than the stock Cochise liners, which is noticeable while touring, but not bad enough to give me any regrets. I love these liners now, and I'm really hoping to hold onto them for a long time.
I have used Zip fits for decades and they perform like nothing else. I recently started using the leather Gara and its a game changer having the leather around my foot! Feedback to the skis is insanely smooth powerful just like Nordica liners in the seventies which Sven developed with Nordica that were and still are literally works of art as are zip fits. They might be hard to put on. But a heated boot bag makes it quite easy. They sensitivity underfoot is beyond amazing. Should be more like 10 stars!
As a strong, female skier I have a REALLY hard time finding a boot that is both small enough and stiff enough for me to really drive my skis like the ex-racer that I am. The Gara LV from Zipfit helps eliminate those issues by not only creating a liner that's true to my foot size, it also stiffens up whatever shell I'm riding in that day. The control is finally back in my hands...er, feet, and I couldn't be happier!
Straight Power. I love the control and power that my Gara LV give me. Not only are these liners super comfy, they really change the game when it comes to control. I feel more confident on my skis and my feet are more comfy. What a combo, can't recommend ZipFits enough.
Excellent liners. Better fit then with any other system so far. Recommend 100%
Ski boot shell: K2 Anthem Pro 120 Lower leg and foot volume: Low Skier type: Professional big mountain/ Freeride skier I love my ZipFit liners! I used to really struggle with shin bang, and I don't anymore! Huge win. Plus, I finally feel like I can transfer power to my skis efficiently 🤯 I can't recommend these enough. THANK YOU ZIPFIT ❤️
Ski boot shell: Tecnica Mach1 LV 130 Lower leg and foot volume: Mid Skier type: Expert I have spent thousands of dollars on ski boots and liners. A friend told me about Zipfit and I was skeptical but thought I might as well give it a try- the return policy begs you to try them and feel the difference. These liners are seriously the best! I have 30+ days in mine and they keep getting better and better. I typically had issues with too much pressure over the top of my foot but by the time I would get a boot that would alleviate that, I would be swimming in the heel area. I am now in the boot I should be for heel hold and have adjustment over the top of my foot (I actually need to add more cork in the heel area for next season). I am sold on these liners for life! The fit and ski performance is unparalleled while the quality will last for many, many seasons. Get a pair, you won't regret and feel the difference!
I have been skiing with zipfits for more than 15 yrs, but have only purchased 2 pair of zip fits. Since zipfits do not "pack out", i purchase 3 pairs of shells per pair of zipfits. They allow one to have that tight fit which i find necessary or desirable for those higher speed turns and in the moguls. This is the upgrade that boot sellers should be incorporating in their liners or offering as an option. Nordica did a partial cork in one model a few yrs ago but i put my zipfits in them mid-season. I highly recommend these for people who want to ski more than 2 seasons in their boots and who ski more than 10 full days a year. I imagine people who ski backcountry which puts a lot of wear on the liner will love zipfits!
Ski boot shell: Lange 130 Lower leg and foot volume: Medium, old guy, needed more toe width Skier type: advanced / used to race These are awesome!
What's better - leather or neoprene?
It all comes down to user preference.
Are you willing to lace up your liners and step into your shells before every use? Our leather lined ZipFits require this move, while our neoprene lined ZipFits are easier to step into. If your answer is "no way" – we suggest the neoprene ZipFits.
Leather offers a true to form fit meaning your ankles and shinbone will imprint into the leather, securing your lower leg and foot to the ultimate degree.
Neoprene has more natural cushioning, so while you can still get an excellent fit, they have a more forgiving feel when skiing.
Both interior liners can last a LONG TIME with proper care. While we think of leather as more durable, we know of a pair of neoprene liners with 1500 ski days.
For precision fit and performance, the leather has a slight advantage.
For ease of use and all mountain comfort, the neoprene has a slight edge.
Should you take your liners out of your ski boots?
Ski boot liners will dry better if removed from the shells, but what about the wear and tear of removing the liners and then stepping back into the shells? We recommend removing your ZipFits from the shell after skiing to unlace them and let them dry and then using the Ski Boot Horn to assist in stepping back into your shells. The Ski Boot Horn dramatically reduces the wear on the backs of your liners and by lacing your liners up prior to stepping into your boots will ensure that your foot is properly positioned.
Can I add boot heaters to my ZipFits?
Certainly, but take note that if you make an incision in your liners for boot heaters, that will void your 30 day money back guarantee. We recommend skiing in your liners for a week or so to ensure they are the right size and model before you add boot heaters. Additionally, heated socks perform well and don't require altering your liners. 
Are there any return exclusions?
Yes, if you alter your liners or make any incisions to them in the first 30 days, it will void your return policy.
How should I care for my ZipFits?
Great question, we built out an entire Care and Repair section to help our customers keep their ZipFits skiing longer.
Will I be charged for a replacement item?
If there is a difference in price of an item, you will be asked to pay the difference or receive the appropriate refund. ZipFit offers free shipping to the customer on our orders over $100, if there is a return, the customer is responsible for paying for return shipping.
How can I track my orders and payment?
When you place an order, you will receive a confirmation email followed by another email when the product ships. This email will contain tracking information. If you can only receive USPS at your address, please leave a note in your product order.