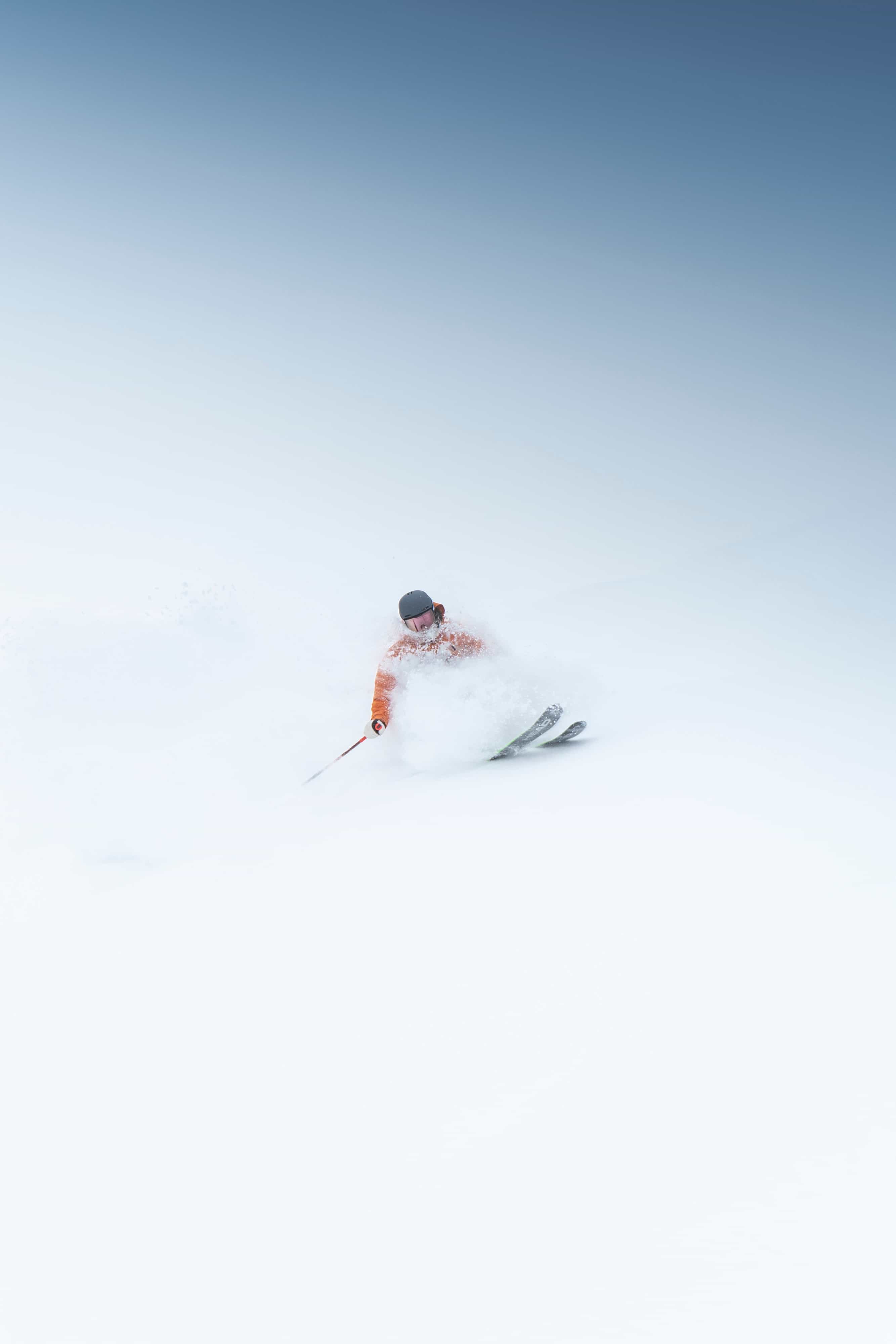 What's better - leather or neoprene?
It all comes down to user preference.
Are you willing to lace up your liners and step into your shells before every use? Our leather lined ZipFits require this move, while our neoprene lined ZipFits are easier to step into. If your answer is "no way" – we suggest the neoprene ZipFits.
Leather offers a true to form fit meaning your ankles and shinbone will imprint into the leather, securing your lower leg and foot to the ultimate degree.
Neoprene has more natural cushioning, so while you can still get an excellent fit, they have a more forgiving feel when skiing.
Both interior liners can last a LONG TIME with proper care. While we think of leather as more durable, we know of a pair of neoprene liners with 1500 ski days.
For precision fit and performance, the leather has a slight advantage.
For ease of use and all mountain comfort, the neoprene has a slight edge.
Should you take your liners out of your ski boots?
Ski boot liners will dry better if removed from the shells, but what about the wear and tear of removing the liners and then stepping back into the shells? We recommend removing your ZipFits from the shell after skiing to unlace them and let them dry and then using the Ski Boot Horn to assist in stepping back into your shells. The Ski Boot Horn dramatically reduces the wear on the backs of your liners and by lacing your liners up prior to stepping into your boots will ensure that your foot is properly positioned.
Can I add boot heaters to my ZipFits?
Certainly, but take note that if you make an incision in your liners for boot heaters, that will void your 30 day money back guarantee. We recommend skiing in your liners for a week or so to ensure they are the right size and model before you add boot heaters. Additionally, heated socks perform well and don't require altering your liners. 
Are there any return exclusions?
Yes, if you alter your liners or make any incisions to them in the first 30 days, it will void your return policy.
How should I care for my ZipFits?
Great question, we built out an entire Care and Repair section to help our customers keep their ZipFits skiing longer.
Will I be charged for a replacement item?
If there is a difference in price of an item, you will be asked to pay the difference or receive the appropriate refund. ZipFit offers free shipping to the customer on our orders over $100, if there is a return, the customer is responsible for paying for return shipping.
How can I track my orders and payment?
When you place an order, you will receive a confirmation email followed by another email when the product ships. This email will contain tracking information. If you can only receive USPS at your address, please leave a note in your product order.
How do I add more cork to my ZipFits?
To learn more about adding cork to your ZipFits, visit our HomeFit page.
What size should I choose?
ZipFit liners come in half sizes ranging from 21.5 to 31.5. Typically, we advise skiers to choose the liner that corresponds to their ski boot shell size, or if the ski boot brand uses whole sizes, size down a half size (24.5 ZipFit in a 25 shell).
There are some exceptions, notably when skiers have down sized their shells aggressively (2 or 3 sizes smaller than their shoe size) — here we advise trying on a few different sizes for fit and comfort. Because ZipFits have a flexible neoprene toe box, we advise ensuring that the volume and fit of the instep and cuff are secure and proper, and if you can size up your liner to have more comfort in the toe box, your toes will thank you.
How do I fit my ZipFits at home?
We explain this on our HomeFit page, but basically the key is to warm the shells and liners so that the OMFit cork becomes easily malleable and takes the shape of your foot and lower leg once the foot is in the liner and the liner in the shells.
Should I use footbeds in my ZipFits?
Yes, we highly recommend using a good over the counter orthotic or custom foot bed in your ZipFits. ZipFits are designed to keep your foot and leg in the proper position within a boot, having the correct footbed for you will help immensely. We do not include a footbed as skier preference varies and we don't want to create excessive waste.
Are ZipFit liners warm?
Yes. ZipFits position your foot correctly so that your ski boots don't cut off circulation to your feet, this is the single best thing you can do to keep your feet and toes warm. Additionally, ZipFits feature a toe box constructed of neoprene, merino wool, and Thinsulate making for a far warmer fit that conventional foam liners. Neoprene naturally insulates, which is why surfers in the cold northern Atlantic use thick neoprene wetsuits. Pairing neoprene with thermoregulating merino wool and Thinsulate provide warmth without too much thickness, keeping your feet toasty without impacting your stability or reaction time.
What separates ZipFit from other aftermarket liners?
ZipFits far exceed the industry standard. Unlike the thermomoldable foam used in competing liners, ZipFit's OMFit cork composite material does not compress, meaning you'll get a consistent fit and your liners won't pack out, What's more? You can add more cork to the ankles or tongue of the liner to dial in your perfect fit. Unlike foam injected liners that are "one-and-done," you can tweak the amount of cork in your liners continuously and since ZipFits can outlast your shells, you can easily re-warm your ZipFits to make sure they fit perfectly in your new shells.
Is there a warranty on liners?
Yes, all ZipFits have a 30 day money back warranty as long as the liners show no more than 5 days of use or alterations. We want to help you get the right fit, if you buy a pair of liners and they're not what you're looking for after a couple of days on snow, we will work with you to get the right liner or give you your money back.
Are there any warranty exclusions? 
Yes, if there is evidence that you did not follow proper care instructions, or if it's clear that you skied the liners for more than 5 days, this may void your warranty.
How soon will my order ship? 
Orders typically ship within 3-5 days, if you want to request expedited shipping please reach out directly.
How often should you replace your ski boot liners?
Many stock liners will change shape and "pack out" after 50-100 days on snow. ZipFit liners often last skiers over 300-500 days on snow. ZipFit liners with the cork composite fill are dramatically different from stock foam liners as the cork material doesn't compress or "pack out." Read through our testimonials to learn more about how many days skiers get with a pair of ZipFits and how much better those ski days are.