Press Features, Skier Story, Shop Talk
ZipFit // SnowBrains - The Pro's Choice for Ski Boot Liners
(Feb. 10, 2022)
ZipFit worked with the team at SnowBrains to share the stories of different ski professionals using ZipFit ski boot liners. Check out the original story here or read on below. Words by Katy Shipley.
About Zipfit
Foot health and good skiing go hand in hand. It goes without saying that boot liners can make or break your performance and comfort. For those who find themselves in foot pain, ZipFit Liners are the answer to happy feet and longer days on your skis. 
ZipFit has quite the following in Tahoe with multiple retailers from Truckee to South Lake Tahoe. To learn more about the brand, I reached out to ZipFit's Tahoe-based athletes, Kyle Smaine and Aimee Doran. It was clear that these liners are key to their lifestyle and career. Thanks to Aimee, I was also able to learn about Zipfit's #1 retailer in the world – Olympic Bootworks. 

ZipFit is an acronym for Zero Injection Pressure Fit (system), developed by Sven Coomer, one of the most recognized ski boot designers in the world. As I researched the product, I could see the tech behind these boot liners is incredible. One thing I found unique was the self-molding cork composite (OMFit) that properly secures the heel and ankle in place. This is huge when it comes to controlling your skis. Compared to foam, the cork doesn't pack out and lose its fit. They also are durable, warm, and comfortable. It's no surprise professional skiers and Tahoe locals turn to these liners.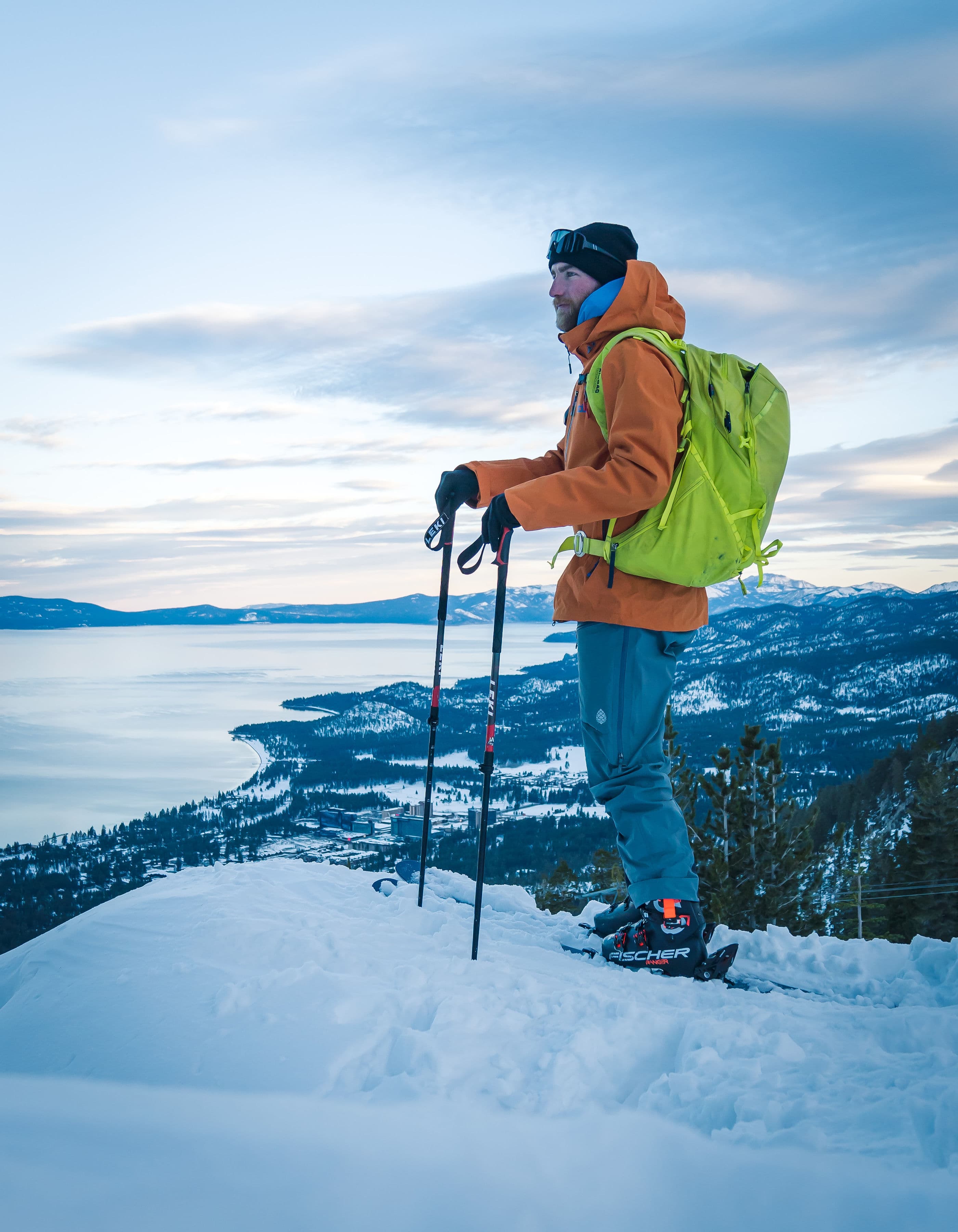 High Performance Touring with Kyle Smaine
Kyle Smaine is a decorated halfpipe champ and backcountry enthusiast. He hails from South Lake Tahoe and calls Sierra at Tahoe his home resort. In 2015 he was the FIS Halfpipe World Champion in Kreischberg, Austria. In 2018 he won the Mammoth Grand Prix, which was also an Olympic Qualifier Event. He rides for Fischer and Zipfit, a lethal duo that fuels his current backcountry adventures. Skiing at his level means high mileage days, big objectives, and 100% control. 
After years of competing, Kyle now spends most of his ski days in the backcountry. He has eyes on big peaks and deep powder, rather than groomed halfpipes.
"Since retiring from halfpipe skiing I've just come to love the escape and solitude of backcountry skiing. Plus you can ski soft snow for weeks after a storm which my body and my soul really appreciate after years of skiing 22 foot tall ice sculptures called halfpipes." – Kyle Smaine
Kyle's favorite backcountry ski setup is the Fischer Ranger 102 with Kingpin Bindings. He admitted it might be a little on the heavier side, but he is able to ski firm steeps and float in deep powder without any compromise. 
"I can charge variable snow, drop cliffs, or hit massive jumps like Pyramid gap without really questioning whether my equipment can handle it. I might have "retired" from contest skiing but I'm not ready to give up challenging and improving my skiing ability."
Zipfits are Kyle's liner of choice in his everyday touring setup. He mentioned how Zipfits have given him the feel and control over his skis that he used to have in high-performance plug race boots. His everyday touring boots have this feeling of control with better all-day comfort and warmth as well. 
"In the past I've struggled to find boot that has the performance I want while still having the comfort for long days on the mountain. I was alternating year after year of going smaller so I had a tighter fit and better control and then going back larger to have more comfort. The Zipfits solved that issue for me, I can run the boot that fits the length of my foot but get way better heel lock, and performance than my stock liners."

Kyle found that Zipfits solved his boot issues, allowing him to focus on the fun of long ski missions instead of foot pains and aches. He is looking forward to big objectives in the Eastern Sierra and sitting atop volcanoes in the PNW this spring. For him, it's also all about escaping the day-to-day and appreciating good company in the mountains.   
"… really it is being out there for enough hours to disconnect from the tedium of daily life and past the surface level conversations.  It just reminds me of how simple life can be.  How the places and the people in your life can really shape you."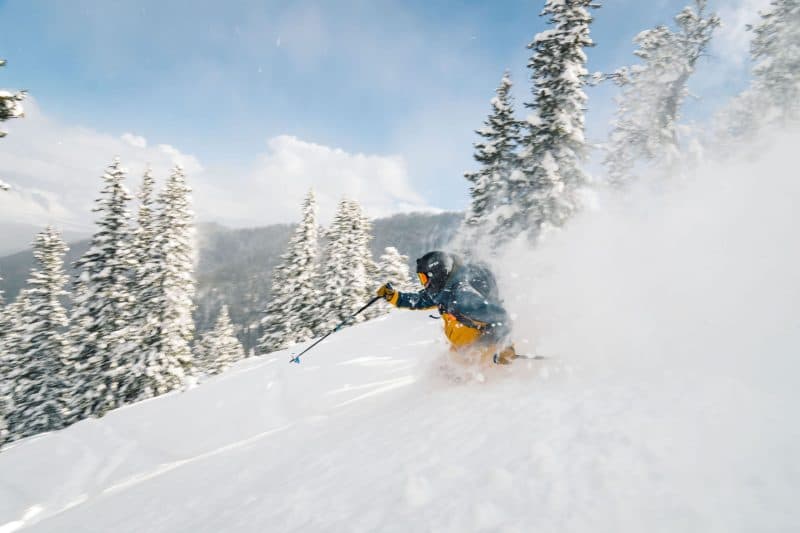 A Career in ZipFits with Aimee Doran
Aimee has been skiing in Olympic Valley and Alpine Meadows since she was two years old. In her mid-20s, she started competing. In 2015, she placed 3rd overall in the legendary Rahlves Banzai Tour. She also competed in the Freeride World Qualifiers. After an ACL injury, she turned to skiing for media and hasn't stopped since. You can find her in videos for companies like Backcountry.com, Ruby Mountain Heli, and High Fives Foundation. ZipFits allowed her to tackle competitions and spend long days in the field without sacrificing foot health. 
"Nothing would do and I needed the best custom liner on the market. I've never looked back and won't even try a boot on without my ZipFits." – Aimee Doran
When I asked her how she got into Zipfits, she had a story that others with low volume feet can surely relate to…
"My transition to Zipfits came out of necessity for gaining better control while skiing the insane race that is Rahlves Banzai Tour. My extremely low volume foot and ankle had me slipping around inside my stock liners. Having a proper fit has changed my foot health. I have definitely progressed in skiing, but ultimately I ski the same terrain, probably faster and smoother, but without having to stop and take my boots off. My toe bang used to be so bad I would have a nasty black big toe on either foot and bone spurs. Olympic Bootworks put me into their Heel Loc Power Transfer Orthotics and ZipFit and all of that went away. Happy Feet!"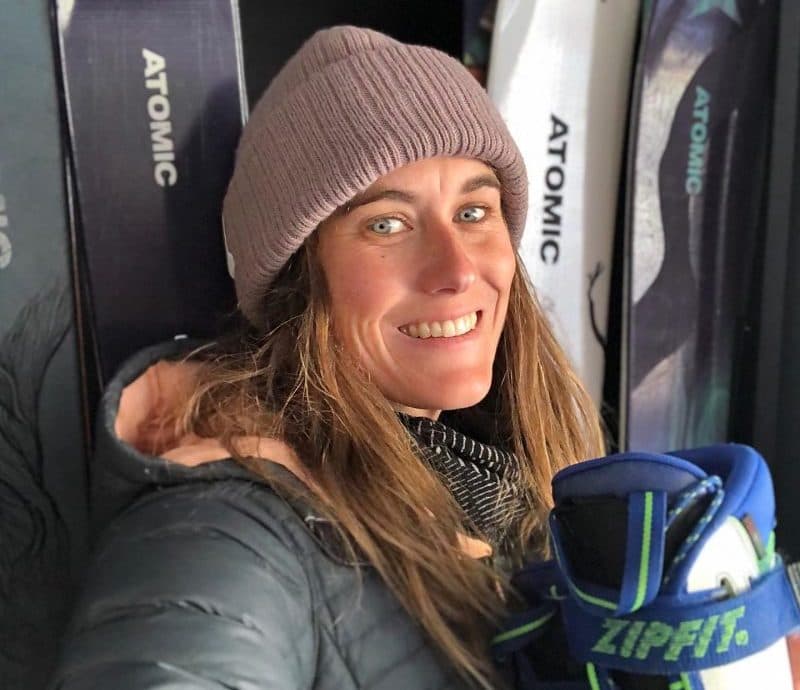 It was great to hear Aimee's testament to these liners. She went from bone spurs and discomfort to spending whole days in her boots without taking them off. It's inspiring for those who feel that foot pain is simply a way of life. ZipFits have an impressive way of getting people who have been in tremendous foot pain back on the slopes as happy skiers. 

Aimee is also the social media rep for Olympic Bootworks, the top ZipFit retailer in Tahoe. She had a wealth of knowledge about the shop and the boot fitting experience. I asked her what someone can expect when coming to Olympic Bootworks for a custom fit…
"You can expect to learn a lot when going to a boot fitting at Olympic Bootworks. Bring a thin pair of ski socks with you and be prepared to get hands-on experience. Employees will have you walk to see how your feet move and whether you are turned out or in. They will assess whether you would benefit from a custom orthotic, which I can attest to the answer is yes. They will measure your foot on the ground and find the boot that best fits your shape. Our team will size your ZipFit to your boot and go to work on making any adjustments to 'hot spots'."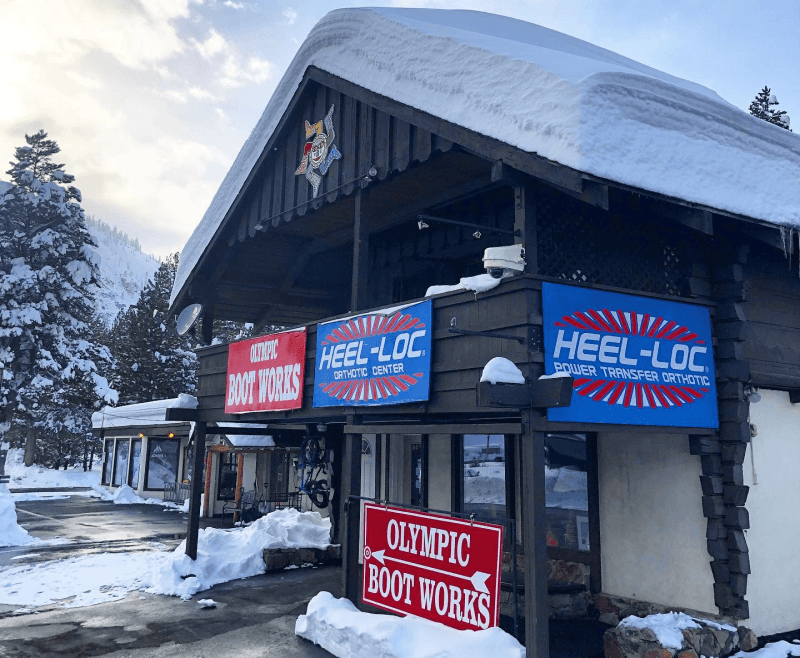 Happy feet are guaranteed at this place.  You can even go for a few runs and come back for more adjustments if needed.  In the ever-competitive ski industry, this shop is spearheading professional boot fitting. They have a staggering 62 five-star reviews on Google with no other types of reviews. The owner, Buck Brown, and staff are expertly equipped to fit, form, and fill Zipfits for their varied customer base
"We outfit Pros, Juniors in competition and teams, Industry Professionals, Weekend Warriors AND any folks with foot and boot issues that wish to have a better experience on snow. Get Corked!" – Olympic Bootworks
Olympic Bootworks now has two locations in the Tahoe region, Olympic Valley and South Lake Tahoe. The new South Lake location is a few years old and is easily accessed on Ski Run Blvd on the way to Heavenly. 
Olympic Valley Location:
1602 Squaw Valley Rd, 
Olympic Valley, CA 96146
South Lake Tahoe Location:
1235 Ski Run Blvd. ,
South Lake Tahoe, CA 9615
Alright, I'm convinced…
ZipFit Liners can appeal to any type of skier, from pros looking for that performance edge to casual skiers seeking improved comfort. When you pair these liners with a professional fitting at a shop like Olympic Bootworks, it's guaranteed your feet will thank you. It was fun catching up with Aimee and Kyle and seeing what they can accomplish with the right boot fit. It's great to see a brand like ZipFit changing people's skiing experience in such a positive way.