Product summary
Product details
Compare models
Reviews
Athletes in this liner
Corsa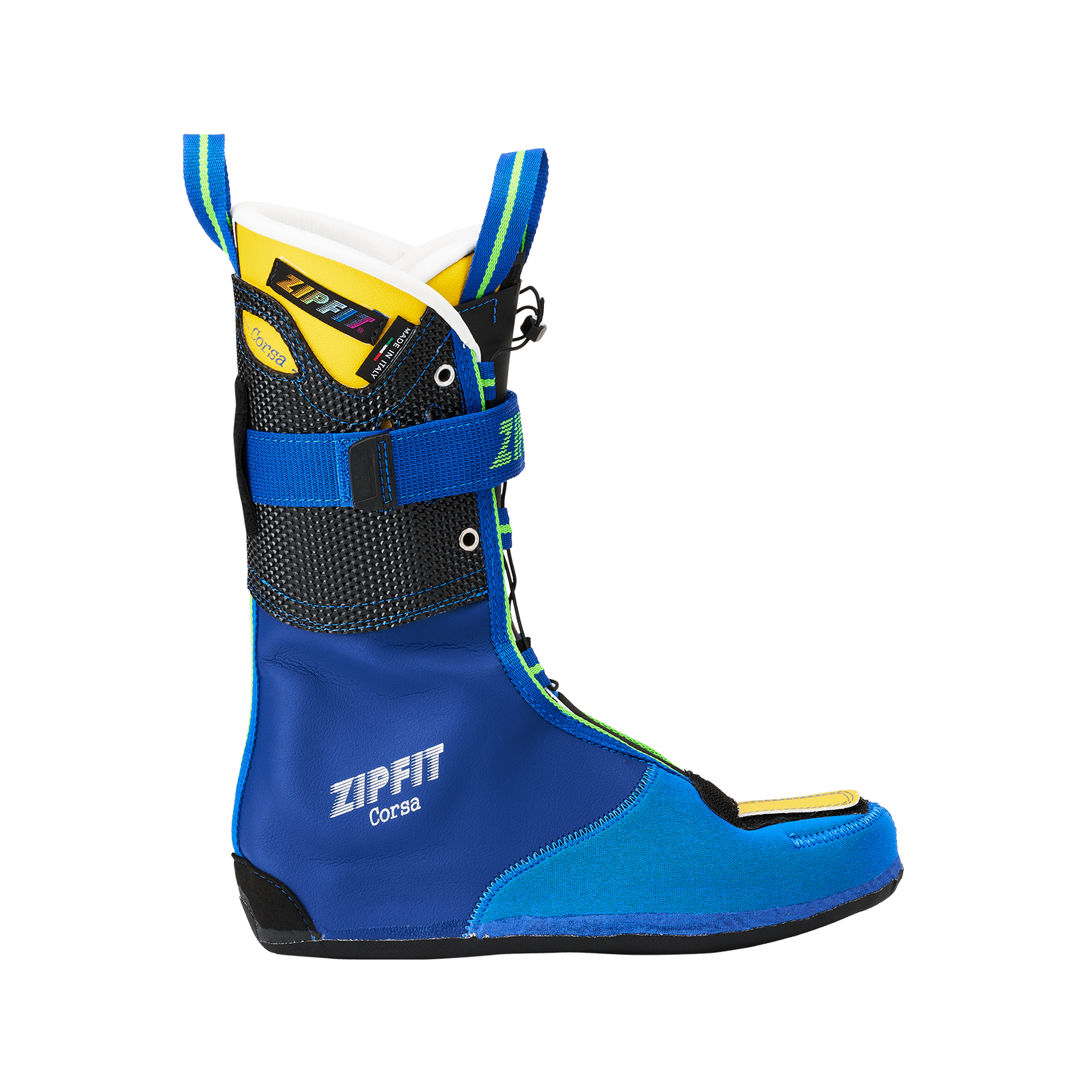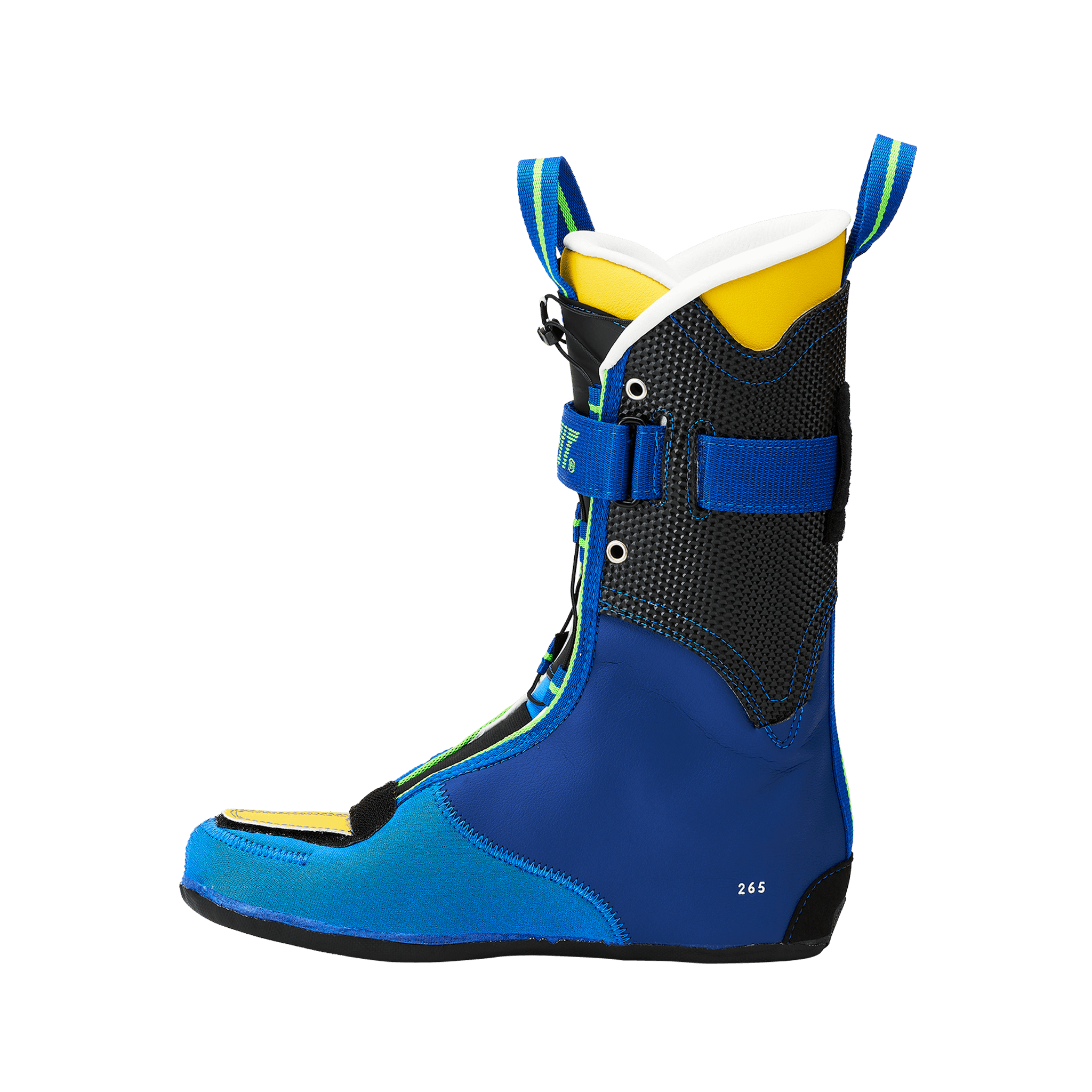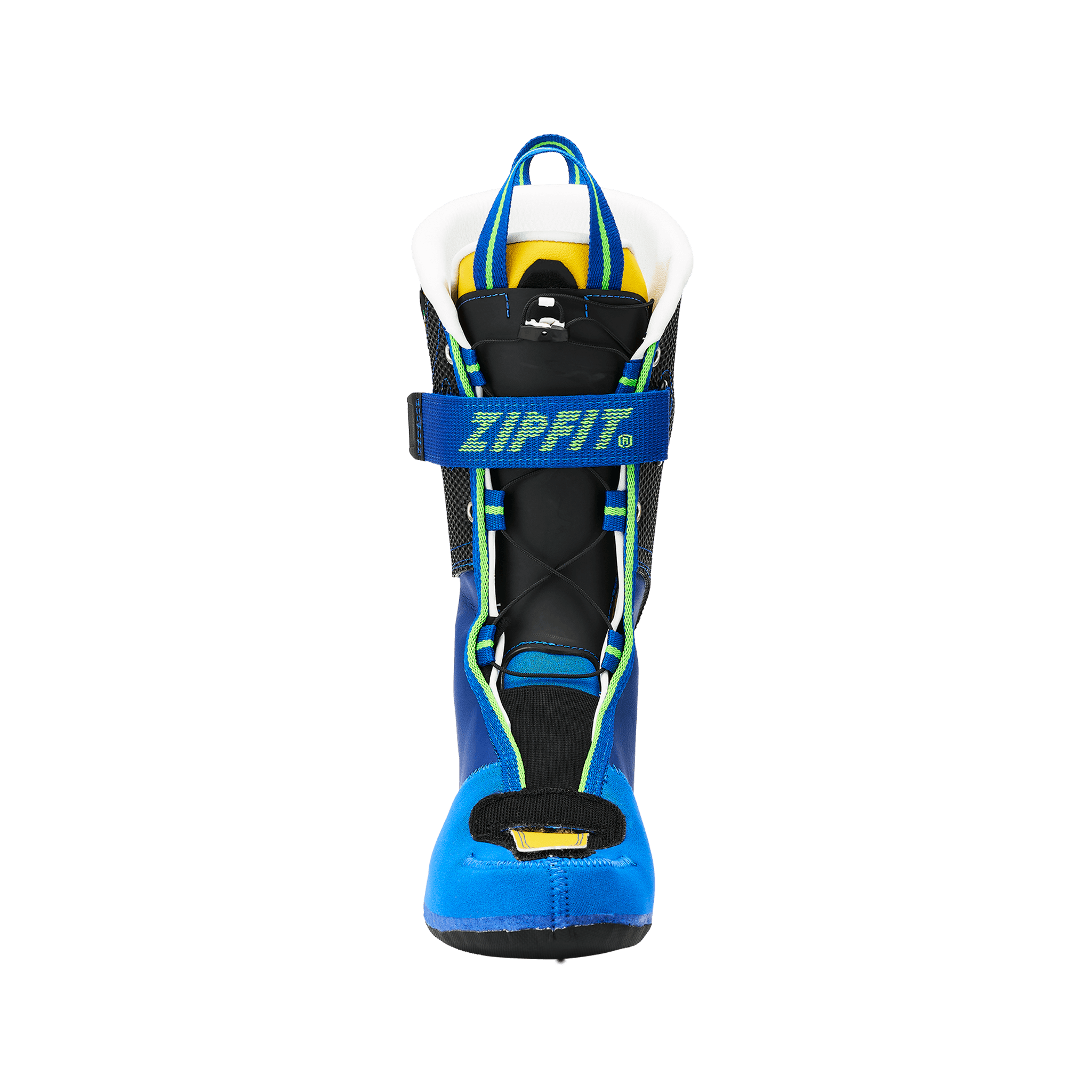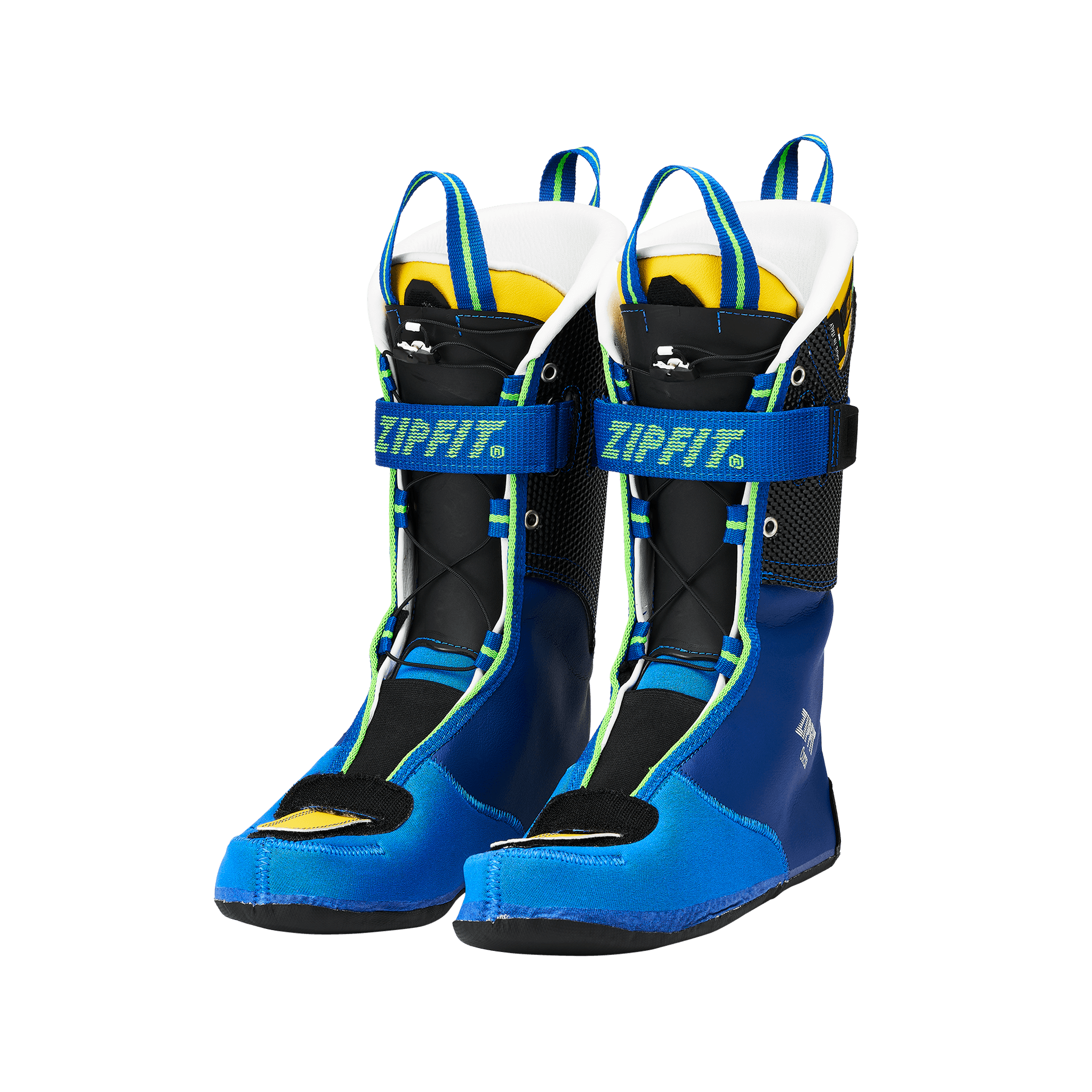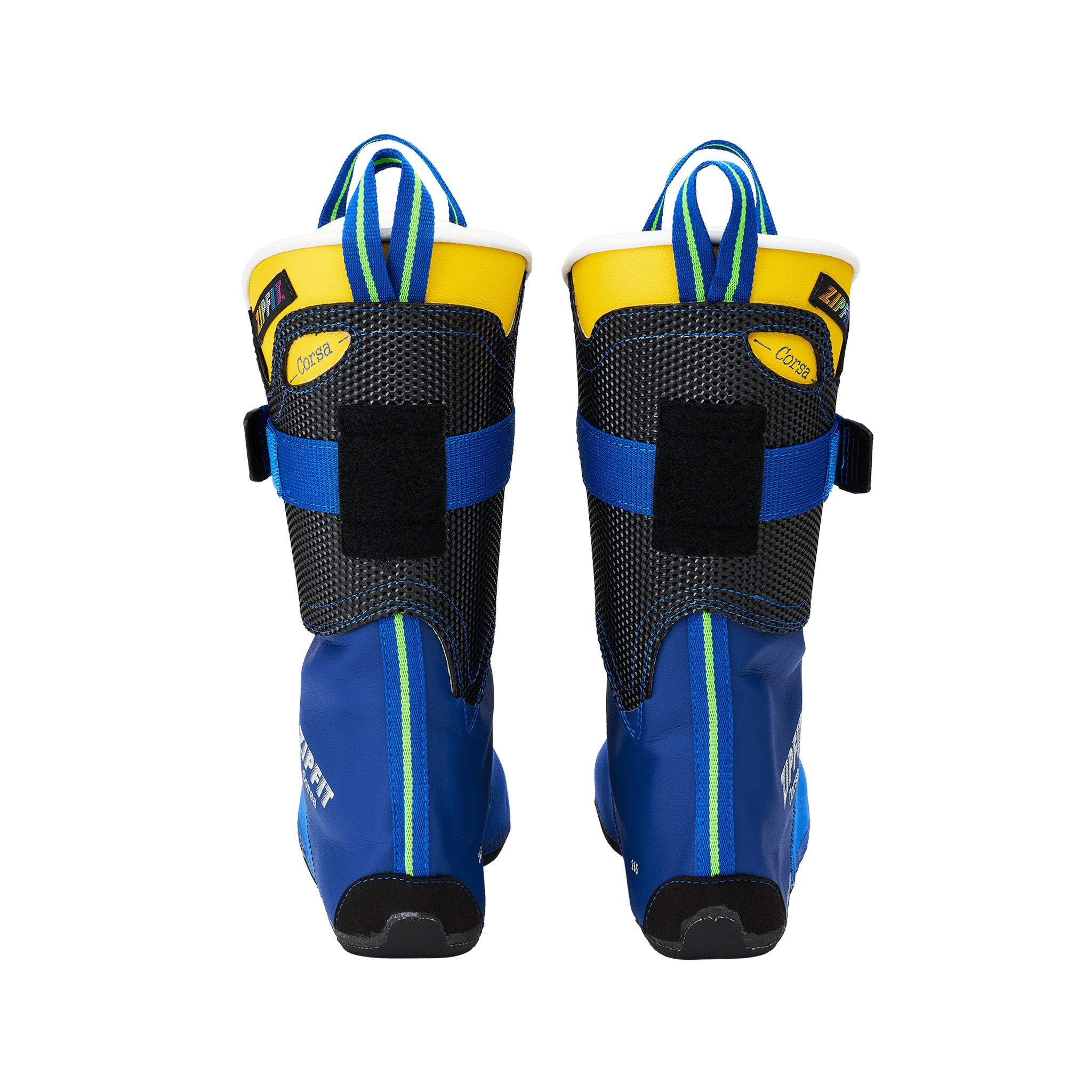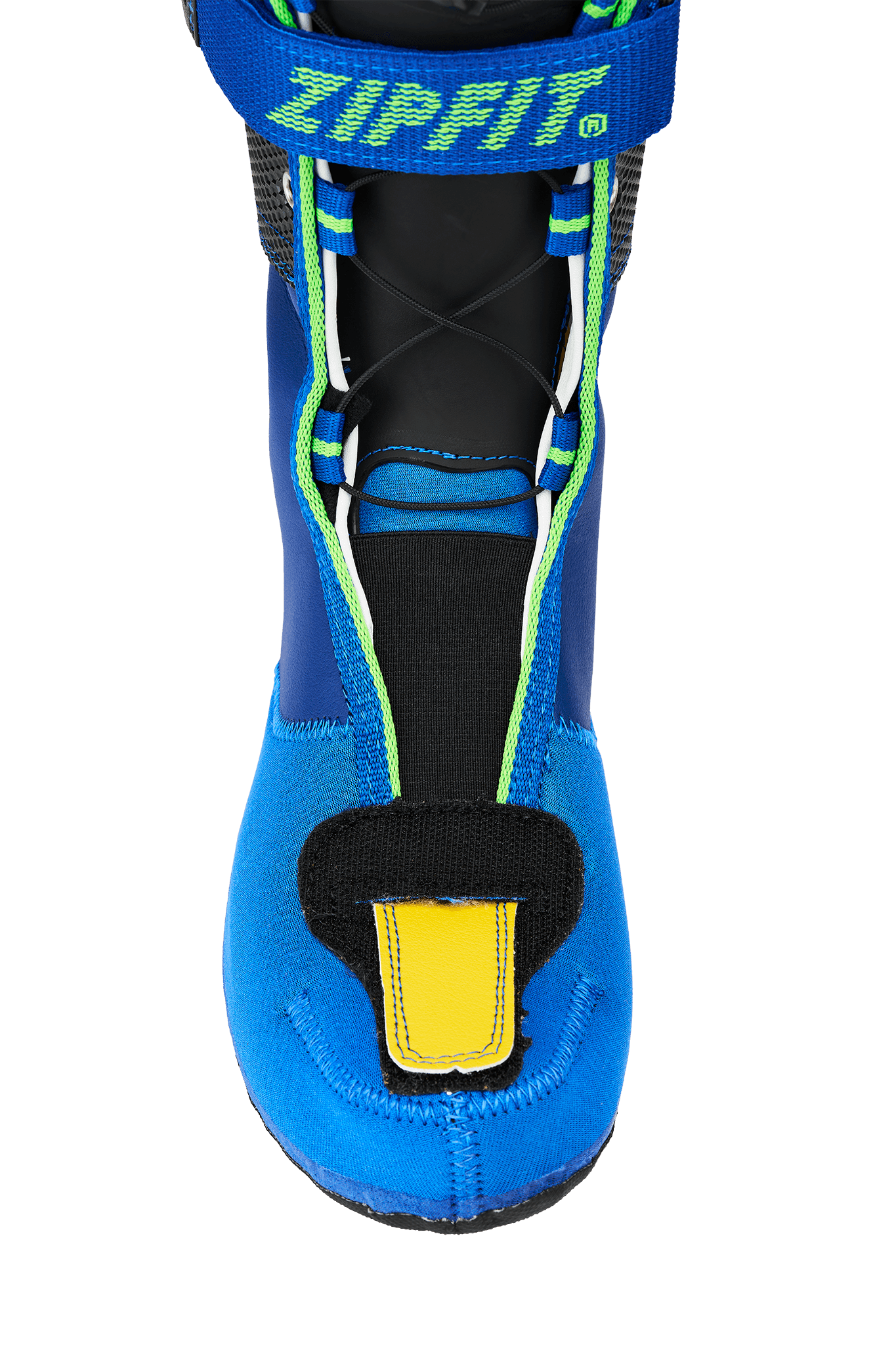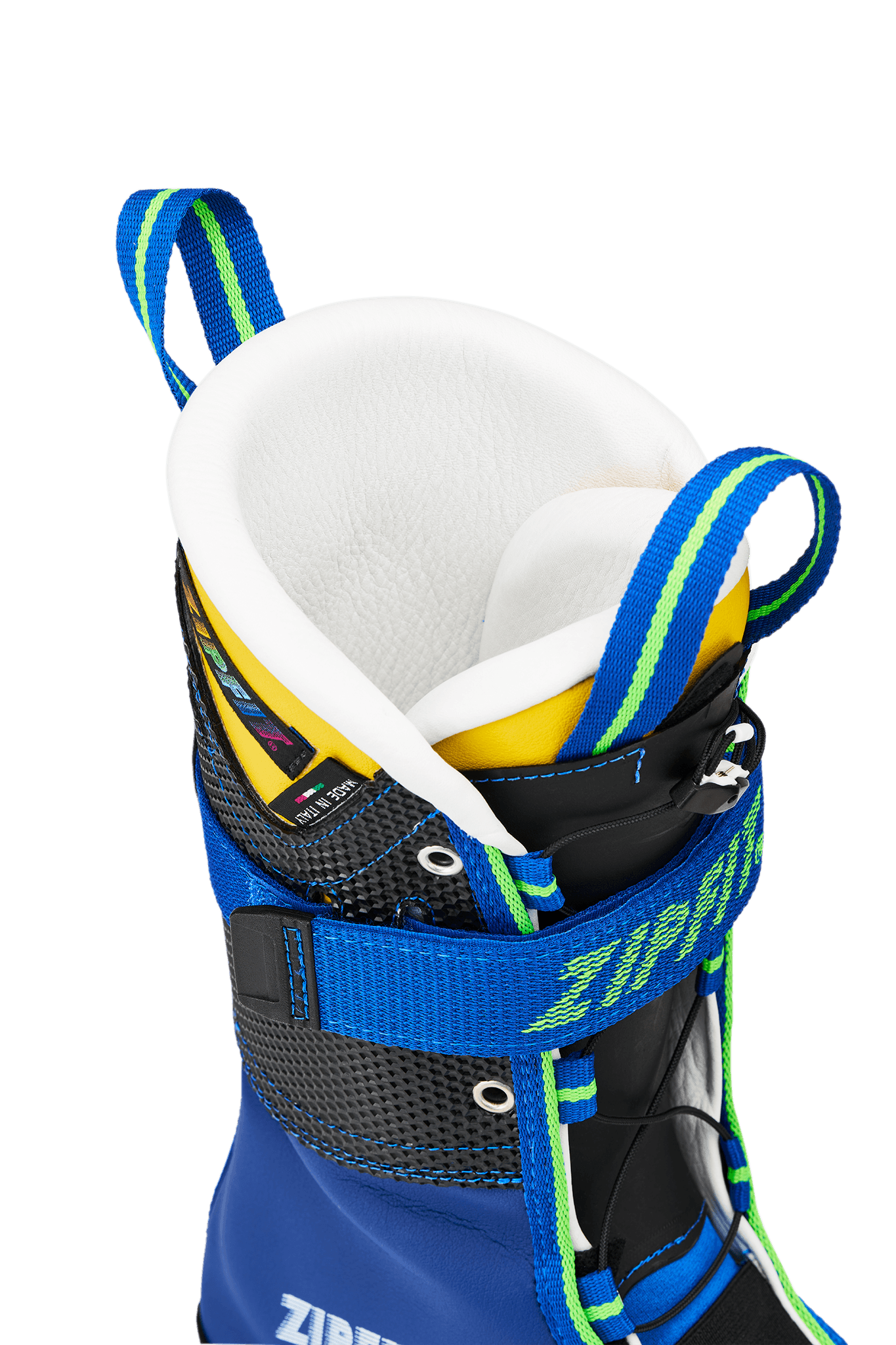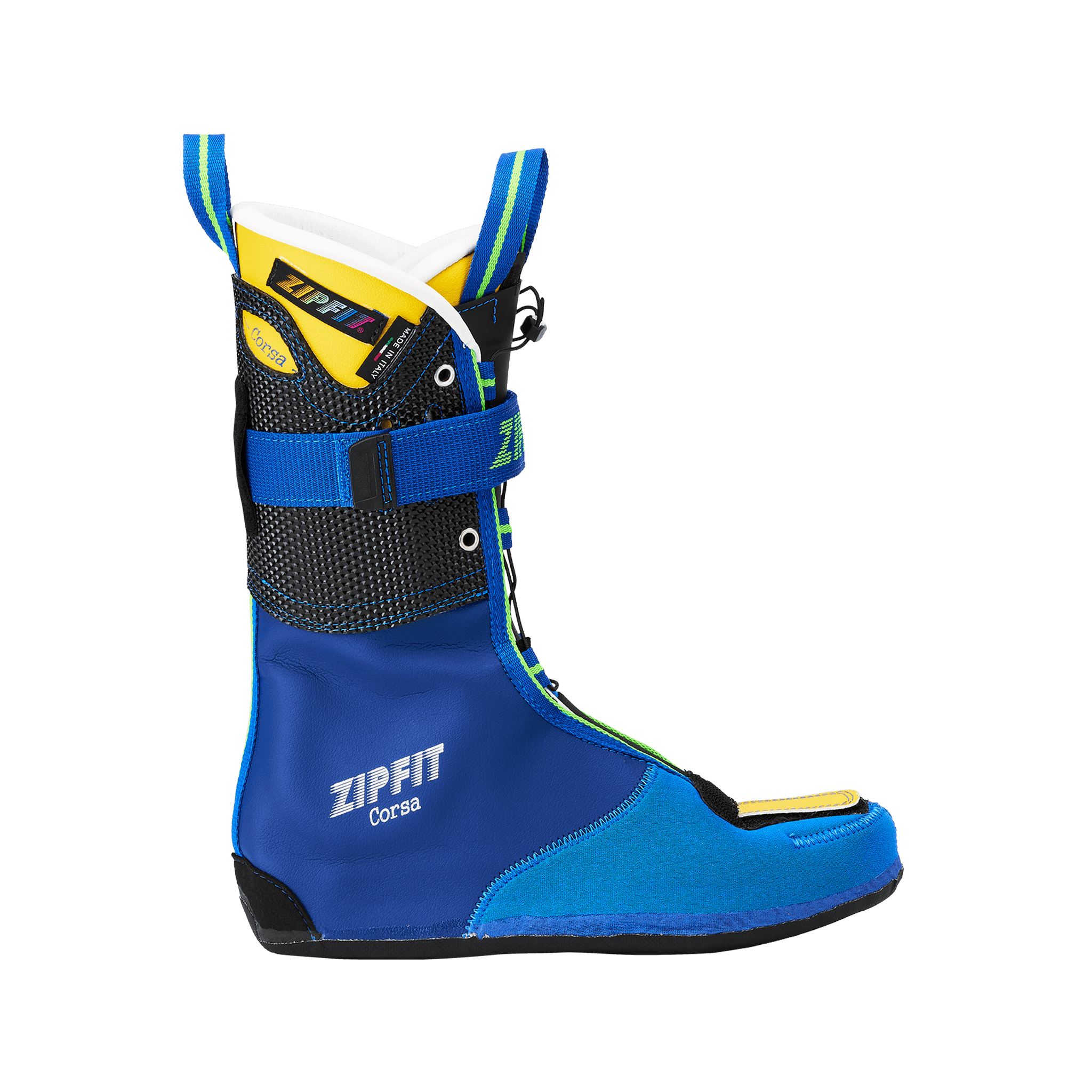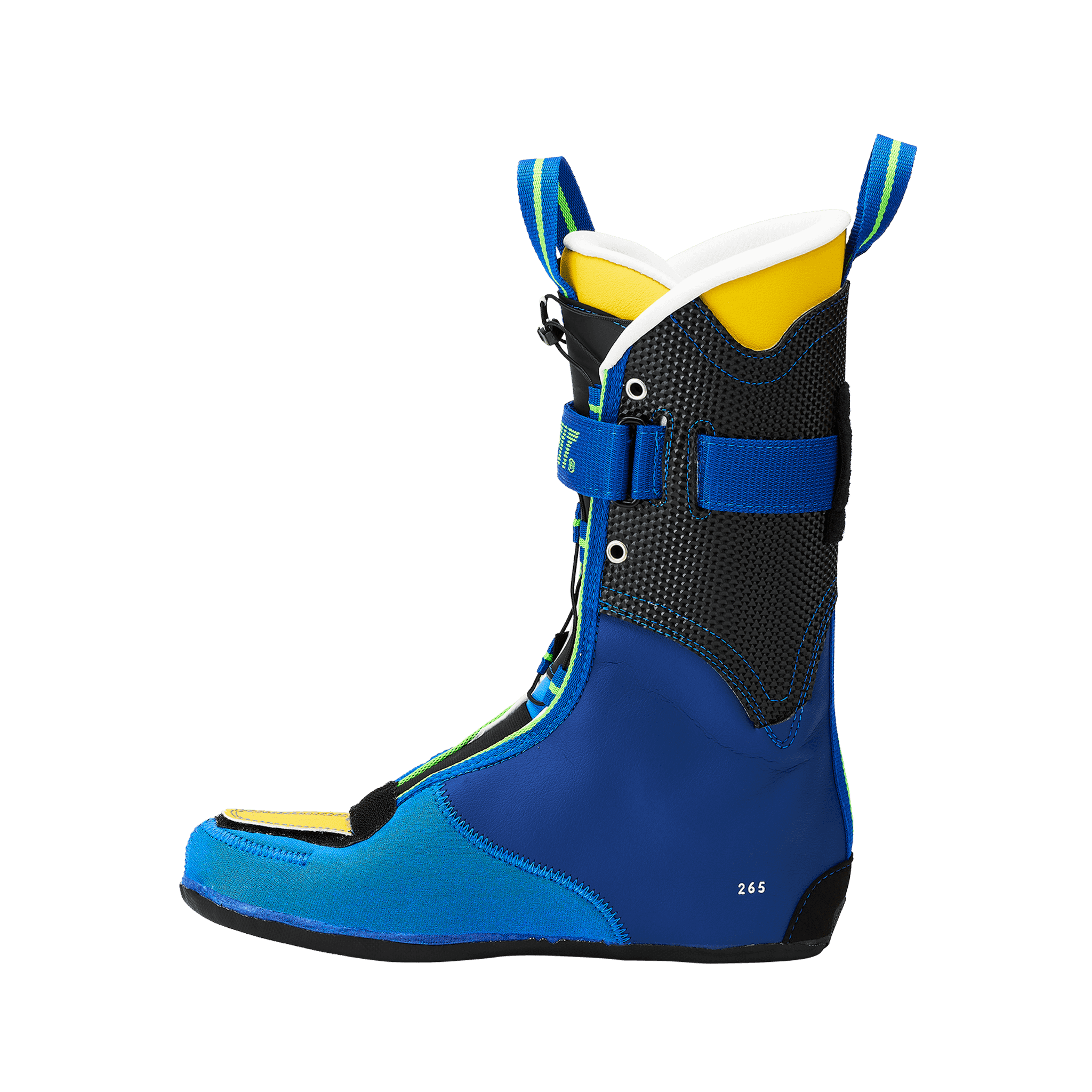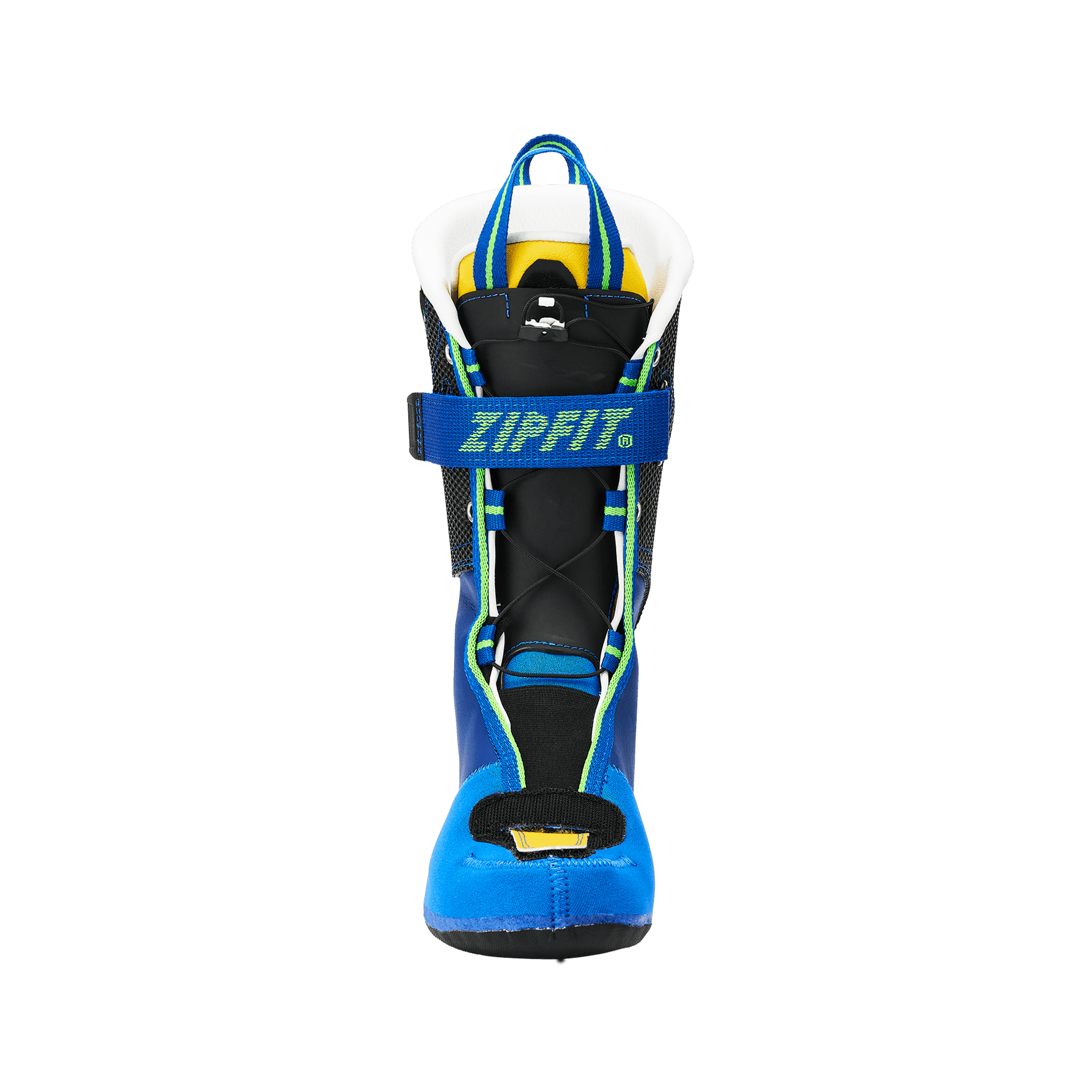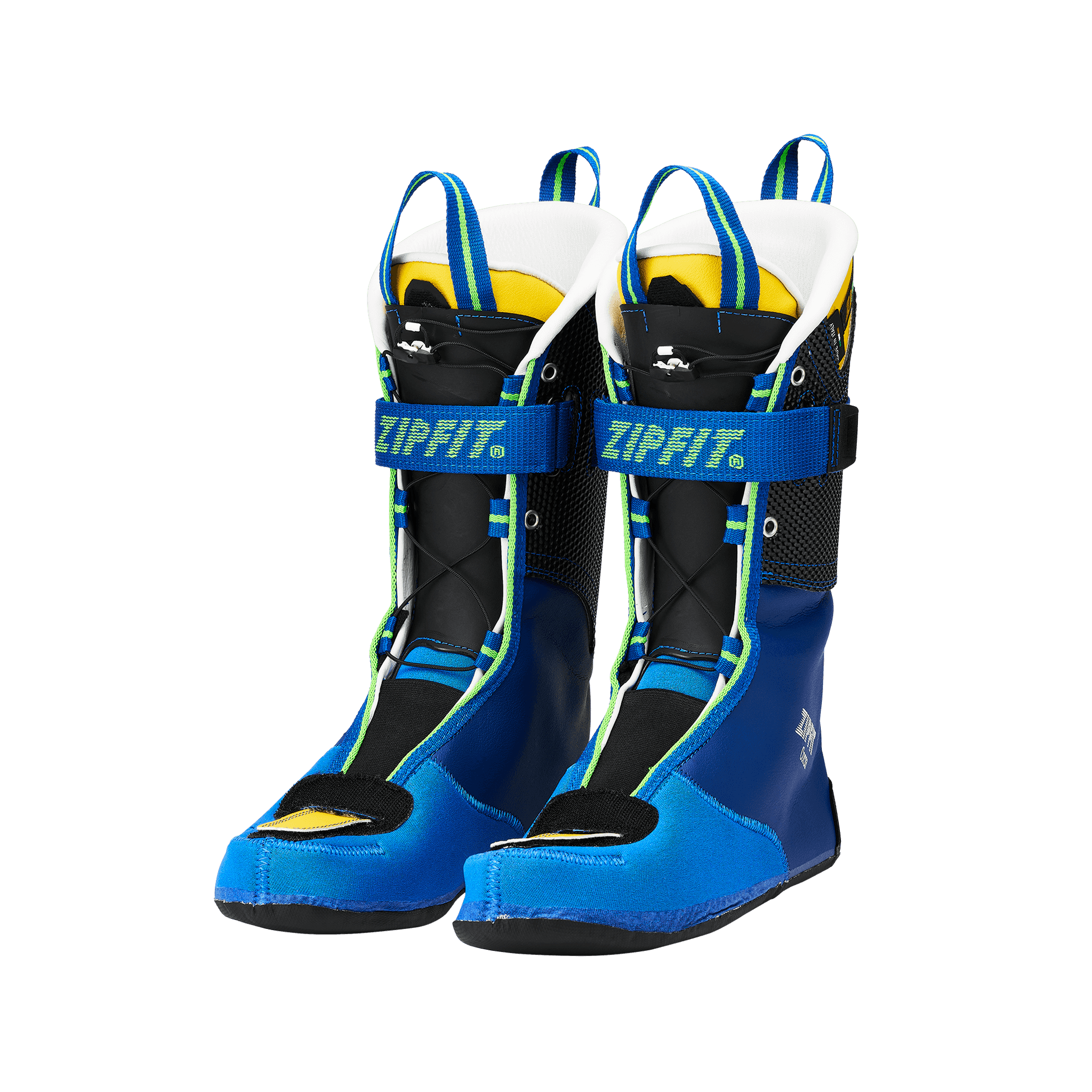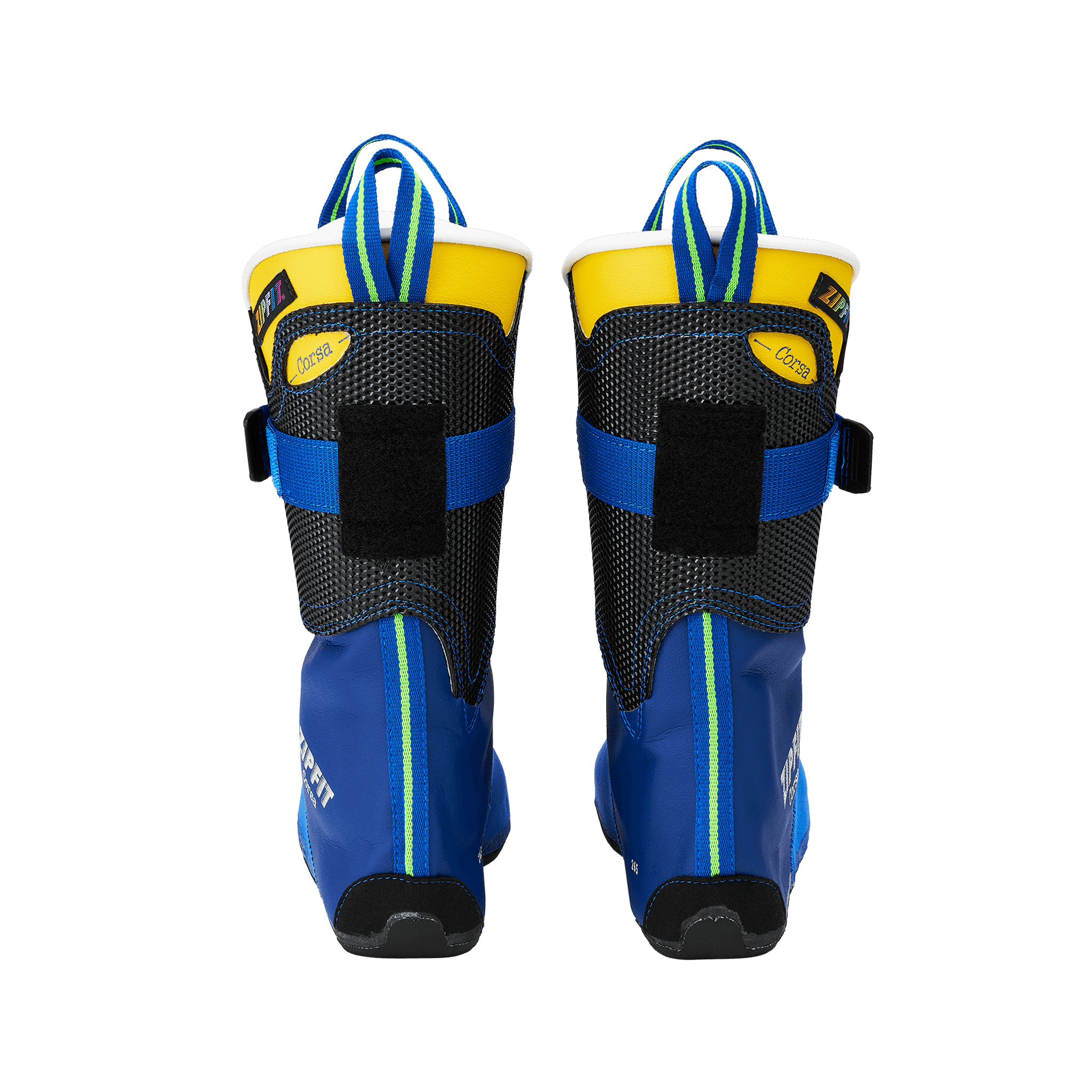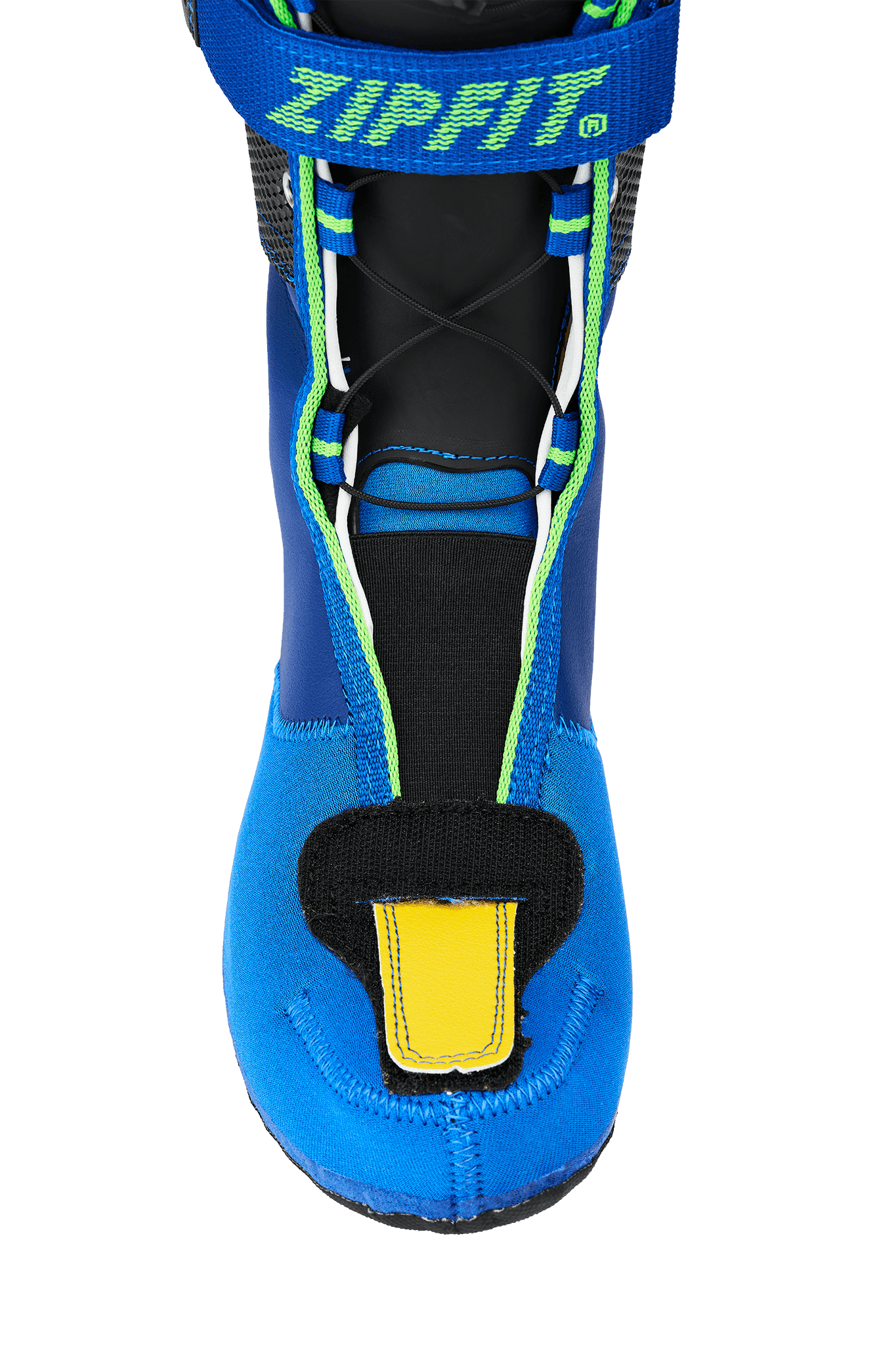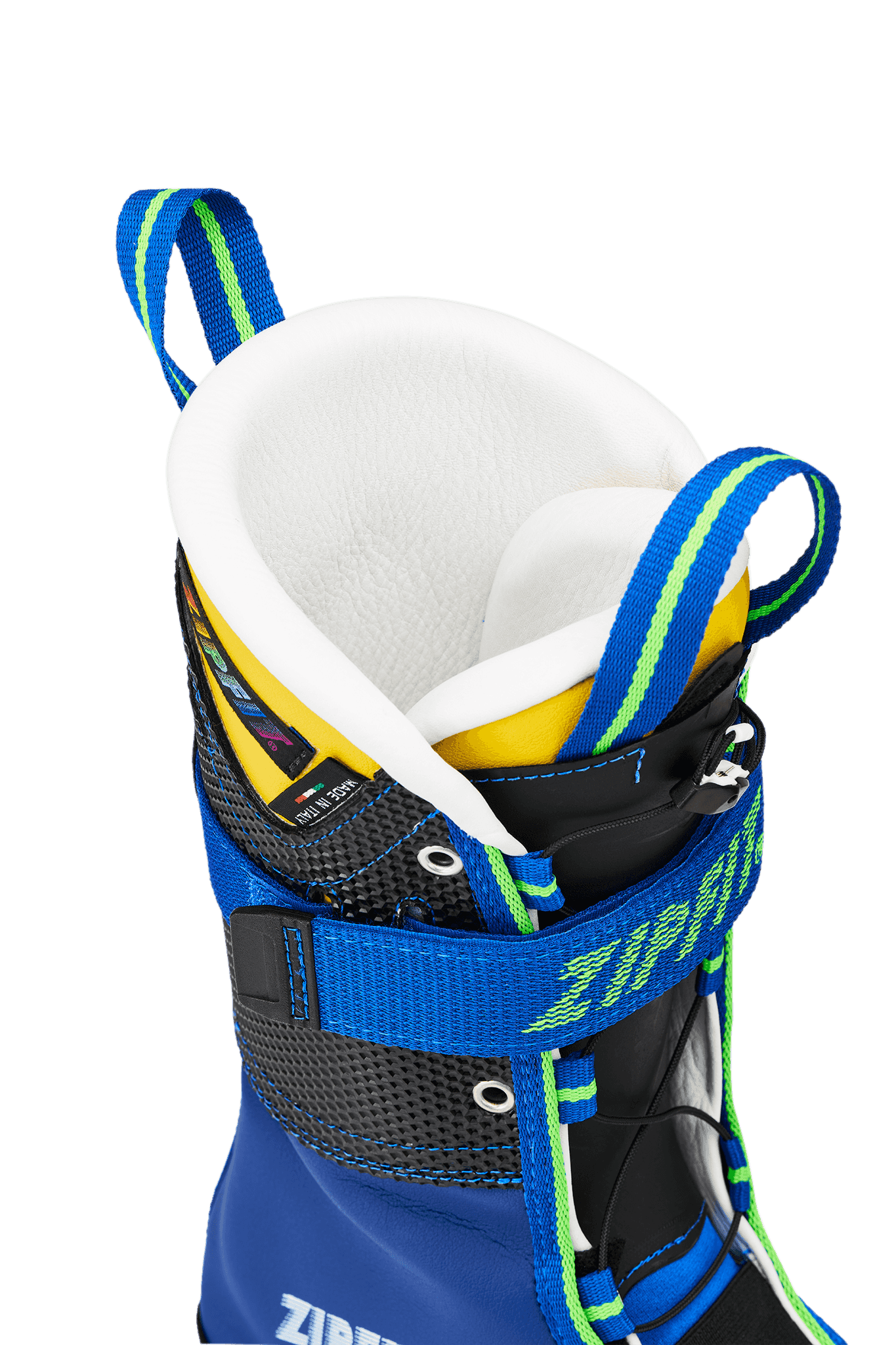 Corsa
Inspired by a race fit with the stiffest cuff and lowest profile, the Corsa provides increased sensitivity, stability, and responsiveness on the race course or in the run out of the cirque. Using thinner premium materials, the Corsa offers a heightened connection to the ski and will transform your 140 flex race shells into the ski boots you hoped they would be.
Size chart
Mondo sizes correspond to foot length in cm.

Select the same Mondo size liner as your boot shells. Use
| Mondo | Euro | Men's US | Women's US | UK |
| --- | --- | --- | --- | --- |
| 21.5 | 34 | 3 | 4.5 | 2 |
| 22.5 | 36 | 4.5 | 5.5 | 3.5 |
| 23.5 | 37 | 5.5 | 6.5 | 4.5 |
| 24.5 | 38.5 | 6.5 | 7.5 | 5.5 |
| 25.5 | 40 | 7.5 | 8.5 | 6.5 |
| 26.5 | 41 | 8.5 | 9.5 | 7.5 |
| 27.5 | 42.5 | 9.5 | 10.5 | 8.5 |
| 28.5 | 44 | 10.5 | 11.5 | 9.5 |
| 29.5 | 45 | 11.5 | - | 10.5 |
| 30.5 | 46 | 12.5 | - | 11.5 |
| 31.5 | 47.5 | 13 | - | 12.5 |
Select size
Not sure?
View sizing information.
CAD $630
Easy returns
Returns and refunds will be granted as long as the liners show no more than 5 days of use. See our Return Policy.
Product details
The interior is stitched with the highest quality leather, sourced from the same tannery that supplies Ferrari, so going fast is in these liners' DNA. Thinner and more flexible side panels provide a precision fit that perfectly reflects the shape of your foot and lower leg. For skiers seeking performance in race stock shells, the Corsa ski boot liners are the answer, offering unparalleled heel lock and power transfer. Paired with an enhanced lacing system and now featuring a power strap, spoiler compatibility, and a removable tongue, the Corsa ensures your feet are properly positioned within your boots so that you can make the most out of every turn.
Fit considerations
The Corsa is pre-packed with the lowest volume of OMFit self-molding cork composite in the ZipFit fleet, specifically designed for lower-volume performance shells. These are also the choice ski boot liners for skiers with higher volume feet (think big foot not chicken feet) as they will likely be compatible with that skier's shells. While the Corsa comes pre-packed with less cork, skiers can always add more cork to the tongue or ankle pockets to dial in their perfect fit.
Intended use
Carving, racing, extreme power
Tech features
Laces and power strap
Designed to keep your heel and midfoot in place, the lacing system and power strap align your foot within the liner.
Neoprene toe box
A flexible toe box conforms to your forefoot, regardless of the width. With your foot secure in place, this toe box design allows for toe movement, keeping your feet warm.
Merino wool and Thinsulate
ZipFit toe boxes are insulated with Thinsulate and real merino wool, keeping your toes warmer while still promoting breathability. 
Adjustable cork pouches
Three cork pouches in each liner (located behind the top of the tongue and on either side of the instep) allow you to adjust the cork fill to dial in your perfect fit.
Leather lining
1mm of fine leather lines the interior of this ZipFit, offering a precision fit and unparalleled heel hold
Velcro tongue
The removable tongue makes certain boot work easier. Additionally, the tongue can be repositioned for better contact against the shin.
Compare models
Corsa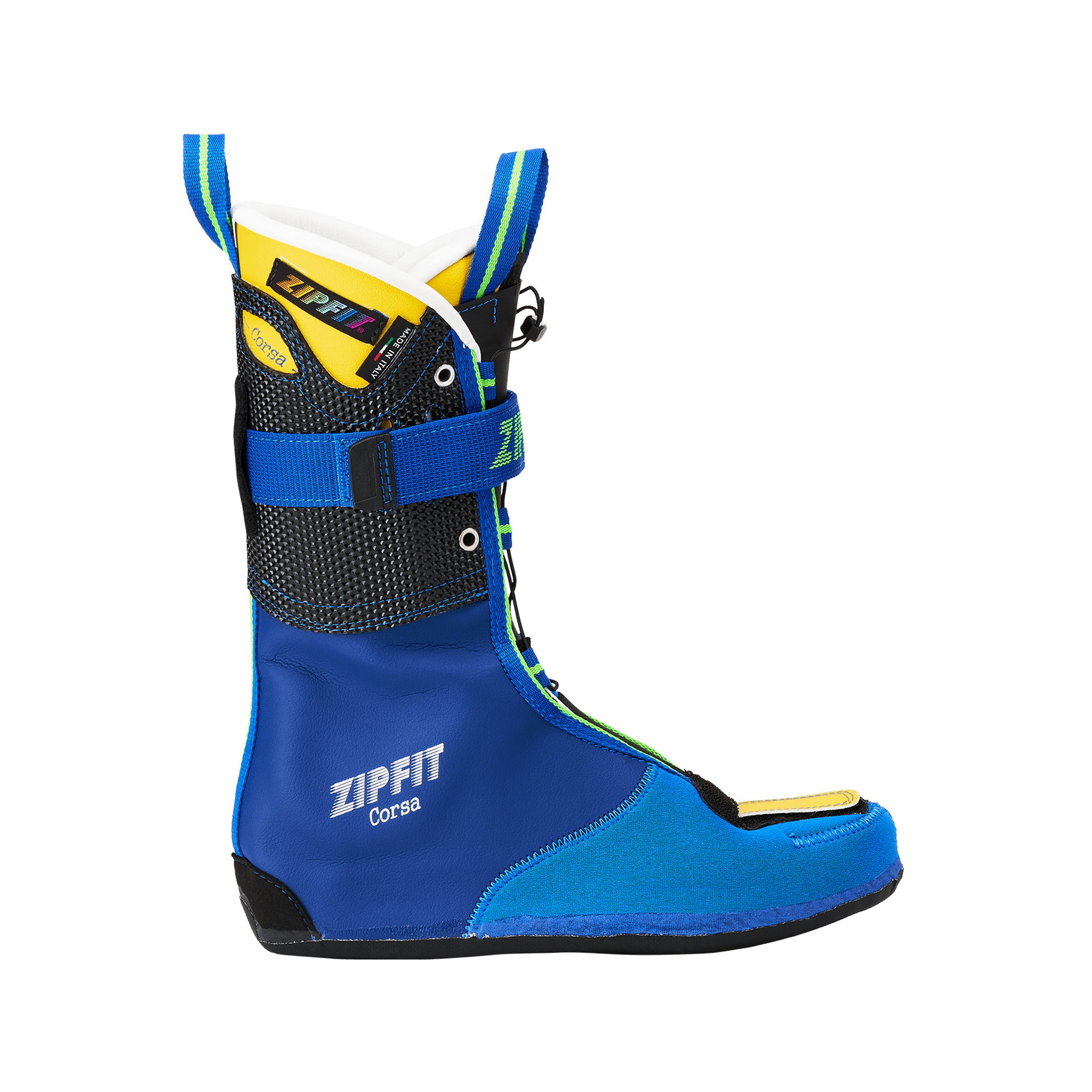 Unique features
Removable tongue
Leather interior lining
Leather tongue
Lower volume instep and toe box
Quick lock lacing system
CAD $630
World Cup Sidewinder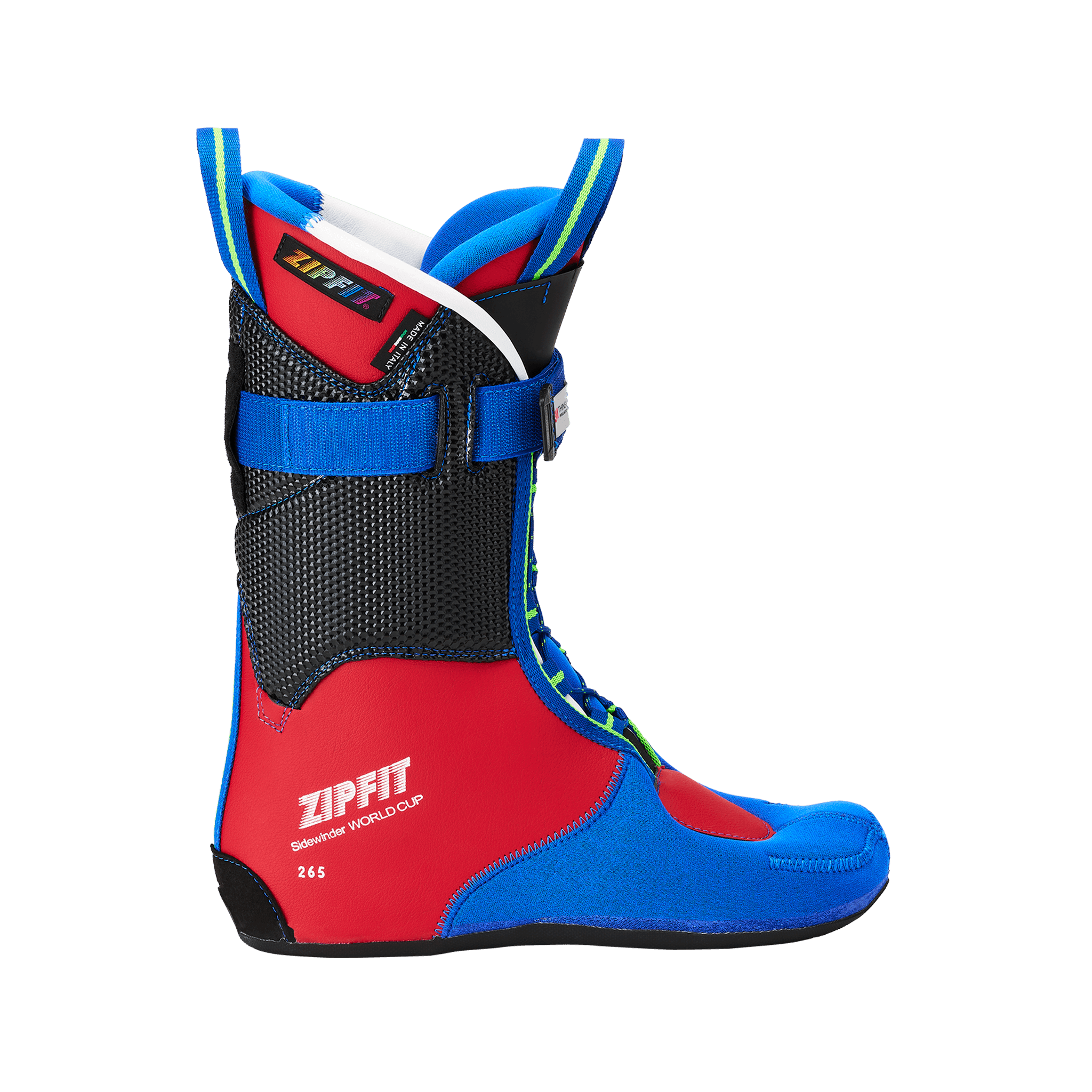 Unique features
Leather interior lining
Neoprene tongue
"Sidewinder" - stiffened medial side
CAD $640.5
Reviews of the Corsa
19 reviews with an average star rating of 4.95
My recently purchased ZipFit Corsa liners are my second pair. I already know they will get the job done. As a full time ski coach my feet are on the front line, hence I require the best liner available. ZipFit. The Corsa model allows m to ski a variety of shells, a 98 mm last high performance close fitting shell is my preference. Wearing the Corsa liners allow me to purchase and ski my preferred last width, plus the Corsa liner lasts a long time and is very well made. In a word; durable. Thanks ZipFit!
I've skied in them 12 days so far. Truly comfortable and a conforming fit. They fit in my plug race boot shells, which were ground to my feet, and previously used the Lange World Cup liner. The Corsas are a step up. They are even slightly warmer. I may add more material to one of the liners in the future. The leather lining is a plus, too. I use them with electric socks.
I have a pair of old Head Raptor 140 RS ski boots; the original liners were packed out, and I felt that the boot was a bit too flexible in the forward movements. I purchased a pair of ZipFit Corsa liners, convinced by the many great reviews and testimonials on several forums, and I am so happy with them! Not only I gained some extra support and stiffness, but I find my Corsa more comfortable than the original liners! I strongly recommend this great product.
The best liner for your ski boots. Why? 1- Warm. 2- adapts to your foot and ankle 3- the placenta of materials allows your foot to function naturally. Most liners I go it this. Placement of the neoprene especially and the type of neoprene used is unmatched in my opinion. I'll be using these liners in every boot for the next decade I believe. To get the same type of custom fit, comfort and performance I would cut my liners in all different places. Now for the first time ever I don't need to do that. Can't recommend enough. Get some Tom Gellie - I Big Picture Skiing
I have not skied these yet, but I am confident in my expectations. The product is high quality, leather, lambs wool, neoprene, designed to address fit, comfort and performance. The cork filler is a great solution that provides an amazing comfortable fit yielding absolutely no pressure points. I spent quite a bit of time getting familiar with the cork bladders and testing best methods to get into my shells with the liners already on; not an easy task but requires forcefully opening the forefoot shell and being patient. Getting the liners out of the shells is absolutely easy, no problem. I added cork to the bladders based on YouTube video, but it would be helpful to know more about the bladder shapes, etc. since they cannot be seen. I also found that the best way to warm the cork was to heat a liner in the microwave for 15 seconds. Would be helpful if the liners came with some instructions. Overall, I am excited for the snow!
I warmed up the liners in the oven at 50+ °C, wore them, and fitted inside my Atomic Redster World Cup 170. I did it 3 times, modifying slightly with my thumbs the regions that felt uncomfortable. I tryed them the last weekend on the Plateau Rosa glacier (Cervinia / Zermatt). Great sensations! Really precise foot locking without any sore. There are still a couple of places I'd like to retouch to get even closer to perfection, but even like that they are miles away from the original liner and even more precise than the BootDoc injection liner that I was using. Last Sunday wasn't cold at all on the glacier, but the sensation is that these liners are also sensibly warmer than my injected ones... Definitely a great product!!
After several bouts of frostbite my feet were very sensitive and my boot liners were constantly being cut out and repadded, I was skiing in pain. My zip fit liners have changed my life. I got over 100 days in last year and many of them were 6 hours of skiing. Comfortable and warm with ample room for my orthotic. Wish I had tried them before but have since had 4 in my family also switch. I am skiing without pain all day.
Love the Corsa! I was blowing through stock liners and custom liners, especially in the summer on Mt Hood. And I was always tweaking with bits of foam and neoprene, which would wear out and tear. These Zipfits are a Ferrari ready to go, and even when I'm in the comfy boots I wear these and they make those boots ripping and ready to go. Getting a second pair for the touring boots. What ski boot are you using this liner in? Fischer RC4 Curv and Technica Firebird Describe your foot, ankle, and lower leg in a few words. Athletic foot, Always struggling with too much ankle and shin space. In a few words, what type of skier are you? Look for jumps, and Arc Turn
"Buy Once, Cry Once!" These liners have redefined ski boot liners for me. Gone are the days of needing new liners after 1-2 seasons because they are packed out and gone are the days of using the excuse of "my feet don't fit these boots". These have been a true balance between weight, power, and fit, to the point where I don't think twice about taking them on 10+ mile backcountry days nor with ski in-bounds on variable everything.
I love this liner. Zipfits are one of the best upgrades anyone can do for their ski boots. Great heel hold. The leather interior takes longer to break in than the neoprene, but hold the foot in place beautifully. The neoprene forefoot allows the foot to relax up front and spread into the shell. And the wool lining is soft and supple on the foot. Would love to see a floating tongue on the corsa liner along with a little less curve in the tongue for more engagement tonight at the top of the cuff.
This liner is light years ahead of any original boot liner. Actual construction (shape, materials, last, details) all superior. The lacing system combined with the liner material allows the liner to form to foot much more precisely. Leather inner is incredibly comfortable and holds ankle/foot exceptionally.
I love these I have Atomic RS 130 shells. Low volume race boot. They work great together. What I like most is the percise fit that helps keep my foot locked down. I've been using a heat gun for forming.
If they would have fit in my boots, they would have been great, but there wasn't enough room . They are made extremely well and give a feeling of precise fit that may even be better than a foam liner.
Great in my Dalbello DRS 92mm last shells
The Corsas are my second pair of Zipfits. My first pair were the World Cups, which lasted me about 6 seasons at Alta with an average of 120 days per season. I cannot say enough about the lasting quality of Zipfit liners. Aside from that, I could spend hours in comfort with those liners while getting a more precise feel out of the boot and ski than with any stock liner. When it was time to move into some fresher liners, I went to a local Zipfit dealer that put me into, frankly, the wrong liners. I contacted the Zipfit crew directly and they guided me into the correct liner for my low volume shell style and graciously traded them out with the incorrect liners I purchased elsewhere. I cannot say enough about the customer service at Zipfit. They will get you into the right liner. Now, about the Corsas. These liners are very low volume and will not be for every skier. For someone with a tiny race boot and small foot/ankle/calf these will give you the precise fit with great ski control. My past Zipfits lived through about 4 shells (mostly Atomic Redsters), so it does help to know what shell style works for you. These liners will fill in only the necessary "gaps" of your shells. There will be no extra material to break down/move around in a larger volume shell. These liners were just what I needed. The break-in process was minimal and they have skied wonderfully. The last, incorrect-for-me, liners purchased felt huge and caused an "unskiable" amount of pain and numbness during the break-in process. *Emphasis on let the Zipfit crew help guide you*. These liners will offer more precise control over your skis. Some of my heavier and stiffer skis really came to life after putting in the new liners. My only criticism of the Corsas is that I think I would've preferred having the velcro strap like all other Zipfits have. I do feel the tongue flexing/moving when pushing into the boots. The laces don't offer the same stiffness that the addition of the velcro strap does. With that said, performance loss is minimal, if at all. The sensation is just different. Sorry for the novel, but I can't say enough good things about Zipfit. They make a product that will outlast any other piece of ski equipment. They are a company that should be supported and enjoyed by every lifelong skier. See you again in another 6 seasons!
My stock Head liners in my Raptors had a valve that broke on the mountain, and all the paraffin in the injected liners started coming up. I was pretty bummed about it, but the silver lining is it turned me on to Zip Fit liners. As soon as I put it on the first time I knew this was a whole different ball game. If you're looking for that tight heel hold and snug fit all around for performance, these are the way to go.
Really excited to have the chance to ski with the Corsa 92. I know I'll be happy going back to a leather liner after all these rears. I really appreciate the density of the cork material as well. Right now I'm working out all the fit details for a first day of skiing June 19th. I'll follow up with some pics and more feedback after skiing! Zipfit rocks!
These are nice liners, but getting your feet into them is a chore. The selection of the internal materials makes getting your feet in and out of them very difficult. The ankle support is probably one of the best I have experienced. Hoping they'll get better with Break-In. Overall I am satisfied and will keep them.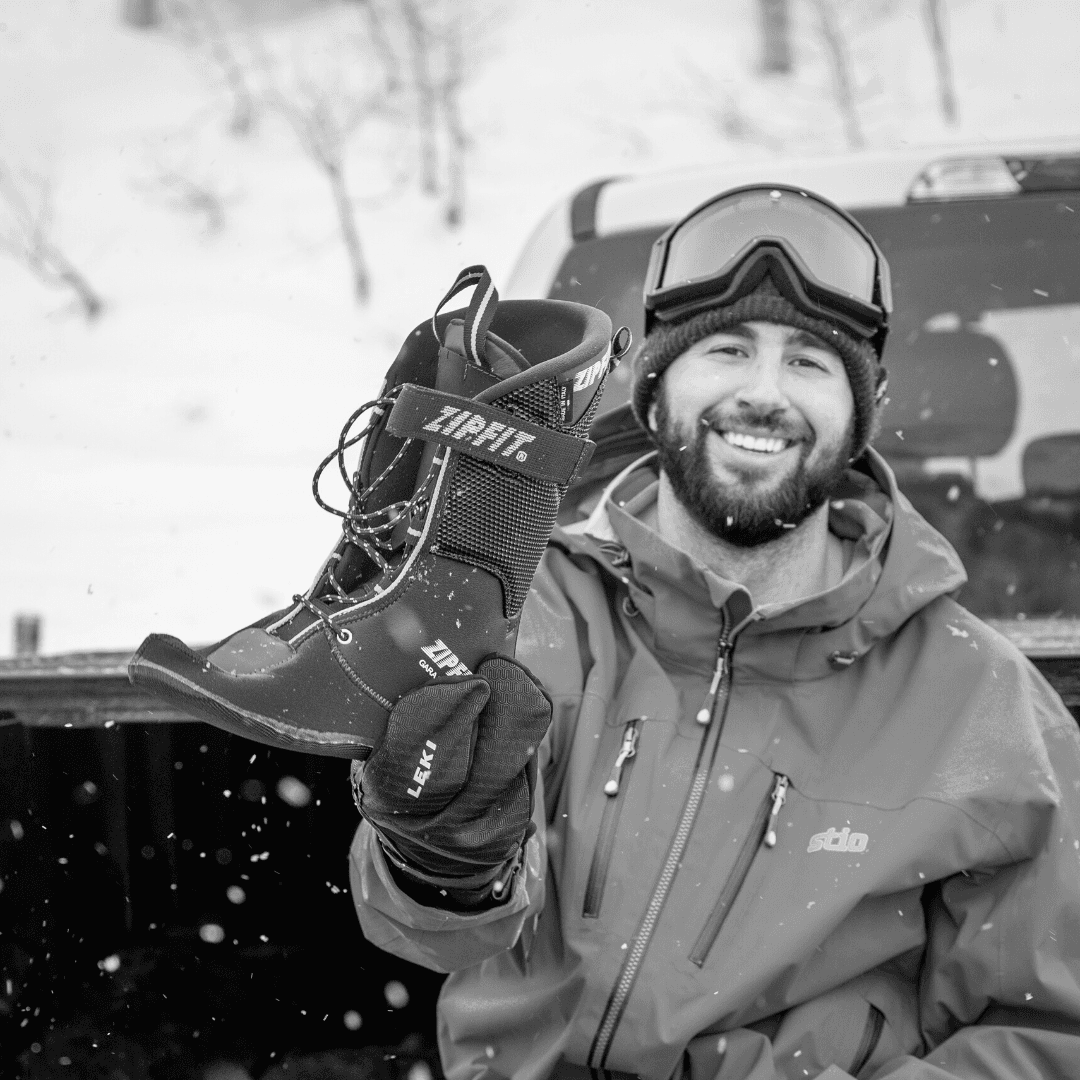 Giray Dadali
Boot setup:
Charging setup
What's better - leather or neoprene?
It all comes down to user preference.
Are you willing to lace up your liners and step into your shells before every use? Our leather lined ZipFits require this move, while our neoprene lined ZipFits are easier to step into. If your answer is "no way" – we suggest the neoprene ZipFits.
Leather offers a true to form fit meaning your ankles and shinbone will imprint into the leather, securing your lower leg and foot to the ultimate degree.
Neoprene has more natural cushioning, so while you can still get an excellent fit, they have a more forgiving feel when skiing.
Both interior liners can last a LONG TIME with proper care. While we think of leather as more durable, we know of a pair of neoprene liners with 1500 ski days.
For precision fit and performance, the leather has a slight advantage.
For ease of use and all mountain comfort, the neoprene has a slight edge.
Should you take your liners out of your ski boots?
Ski boot liners will dry better if removed from the shells, but what about the wear and tear of removing the liners and then stepping back into the shells? We recommend removing your ZipFits from the shell after skiing to unlace them and let them dry and then using the Ski Boot Horn to assist in stepping back into your shells. The Ski Boot Horn dramatically reduces the wear on the backs of your liners and by lacing your liners up prior to stepping into your boots will ensure that your foot is properly positioned.
Can I add boot heaters to my ZipFits?
Certainly, but take note that if you make an incision in your liners for boot heaters, that will void your 30 day money back guarantee. We recommend skiing in your liners for a week or so to ensure they are the right size and model before you add boot heaters. Additionally, heated socks perform well and don't require altering your liners. 
Are there any return exclusions?
Yes, if you alter your liners or make any incisions to them in the first 30 days, it will void your return policy.
How should I care for my ZipFits?
Great question, we built out an entire Care and Repair section to help our customers keep their ZipFits skiing longer.
Will I be charged for a replacement item?
If there is a difference in price of an item, you will be asked to pay the difference or receive the appropriate refund. ZipFit offers free shipping to the customer on our orders over $100, if there is a return, the customer is responsible for paying for return shipping.
How can I track my orders and payment?
When you place an order, you will receive a confirmation email followed by another email when the product ships. This email will contain tracking information. If you can only receive USPS at your address, please leave a note in your product order.